Opening day for the Buckeyes was far more important than the fact of just two wins.  It's a team game played with people, but every now and then a little personal success…matters just as much!
The fact that the Ohio State Buckeyes won both their games on opening day of the 2018 baseball season yesterday was important, yes.
It's always good to put the gremlins from a bad year behind you, albeit against a pair of teams that no one in the upper reaches of Division I baseball thinks about, or rarely acknowledges.
But in an even bigger sense Friday's 11-7 and 6-4 wins signified some redemption, at least for one day, on a personal basis, as well.  Because ten months ago, during the worst days of transfer Noah McGowan's first season as a Buckeye, days like yesterday must have seemed as far away as outer space.
A native of Houston, he was expected to come from McClennon Junior College, in Texas, with a big bat in the middle of the Buckeyes order.  And here and there it was big – a two home run day against Xavier early in the year.
But as the weeks progressed McGowan struggled, became frustrated, and eventually let his frustrations be known, to teammates and staff, alike.  And hitting .213 (for the season), he didn't have a lot of leverage.
In polite terms, he was given some time away.  In realistic terms…suspended…for a couple of weeks until the team captains and his teammates said, "It's time for Noah to come back."
He came back an entirely different Noah.
"I was thinking too much about me,"  he told Press Pros columnist Greg Hoard in a recent profile post.  "Myself and my numbers, how things looked for me.  It wasn't right."
More importantly, he set about the task of handling things 'right' in fall baseball and in winter preparations for Friday's opener.  He worked, he changed, and he learned to appreciate what opportunity – and a second opportunity – can mean.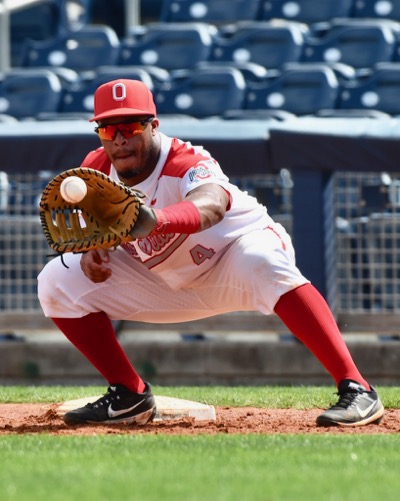 He came out swinging Friday, driving in a pair of runs with a 'Texas League' single in his first at bat.
He played on admirable first base, a position sorely in need of a stable occupant in the middle of the Buckeyes batting order.
And when the day was done, there was no bigger smile than that of Noah McGowan's.  Four hits, 10 RBIs, and the team's first home run of 2018 can do that for you.  Yes, it was just one day, but McGowan had provided a very impressive return on an investment.
"I just felt good,"  said McGowan, dwelling on the day and the fact of his team getting off to a strong start.
"I saw the ball well, I tried not to chase balls in the dirt, and I put some pretty good swings on it.  I just tried to make contact.  It was nice to see the pitchers throw well, everyone comfortable, and it feels good when everything comes together."
But make no mistake, it probably felt best to Noah McGowan, because a year ago Friday must have looked as far off as, well…outer space.
"It was better than you expect,"  he added.  "But I'm just happy that we played well together."
And to McGowan, coach Greg Beals, and 'Buckeye Baseball Nation'…many happy returns of the day.