The Shelby County League race will go down to the final night after Anna dropped Fort Loramie, this time on the road, for the second time in 18 days.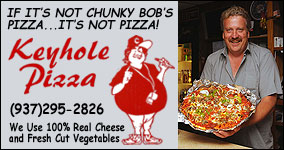 Fort Loramie – It was the game that many area basketball fans had been anticipating for the past three weeks.
Fort Loramie vs. Anna, the sequel.
Both teams are enjoying banner seasons, especially the host Redskins, who entered Saturday's rematch with a record of 19-1, 10-1 in the Shelby County League. Of course, the one came at the hands of Anna, as the Rockets came from 13 points down to hand Loramie its only loss, 54-50 in overtime back on January 24th.
The Rockets are also having a season to remember. At 16-4, their four losses had come by a total of 8 points. The Rockets had suffered two narrow losses to Russia, however, and needed to complete a season sweep of Fort Loramie to stay in the league hunt.
As it stands, three teams still have a chance to share the title after the Rockets bounced the Redskins 59-55, ruining Senior night for the state's second ranked Division Four team.
Who benefited the most from the outcome? The Russia Raiders, who despite a 66-59 defeat to Delphos Jefferson clinched at least a share of their fifth straight title. Russia can win the title outright by beating Fort Loramie at home next Friday. If Loramie wins and Anna beats Fairlawn at home, there will be a three-way tie for the title.

"You can't replace being in games like this," said Anna head coach Nate Barhorst after the Rockets swept the season series from Loramie for the first time since 2012. "It gives you so much going into tournament. What a battle. Anytime you talk Anna-Loramie, you know what kind of game it is going to be. Our kids fought all night."
"It was a good high school basketball game," Loramie coach Corey Britton said outside the Redskins' locker room. "Our kids played hard, played well. We missed some opportunities inside and that was the difference in the game."
The game was back and forth throughout the first half. Loramie used an 8-0 to build an early 13-7 lead, but Anna led 26-24 at the break after a half that featured 5 ties and 6 lead changes.
Anna took control in the third quarter. Riley Huelskamp scored 5 points in the period and Joel Cathcart and Bart Bixler added 4 apiece as the Rockets opened up a 42-33 lead after 3.
The Redskins, who played without 6-7 senior Tyler Siegel, who was sidelined by the flu, kept coming back. Dillon Braun hit a pair of fourth quarter threes and the Nick Brandewie added 5 as the Redskins twice got the lead down to 4. The Rockets answered both challenges, making 8 of 11 from the line in the final 8 minutes to nail down the win and improve to 17-4 on the season.
"I got nothing to say on that," Britton said when asked what impact Siegel's absence had on the game. "I was proud of the way we played. We adapted. We must have missed 7 or 8 layups, and if we don't do that, it's a different game. I'm happy with the way we played tonight."

"He makes a huge difference for them," Barhorst said of Loramie's senior post player. "He is such a good rim protector and defender down low. Bixler and Huelskamp were able to get to the rim, and that was a big benefit for us."
Braun led all scorers, making four threes on his way to a 23 point night. Austin Siegel finished with 8 for the Redskins.
The Rockets had great balance, led by Bixler with 14. Wyatt Bensman hit a big fourth quarter three and finished with 13 points, Riley Huelskamp had 10, nine coming in the second half, Drew Brodman had 9 and Joel Cathcart finished with 8.
Bixler, a sophomore who scored the basket that gave the Rockets the lead for good in the overtime win, called it a good win.
"You know, they are unbeaten except for us. They had a senior out, but we came in and did what we needed to do. When they got in front, we didn't panic. To come in here and get a win on the road is huge.
"I have been in and out of the starting lineup, and the best thing about our team is that we are unselfish. We all play our roles. I need to get in there and distribute, score when I can, and not turn the ball over."
"We knew they would be ready for us tonight," Barhorst said. "We had the same thing when we played Russia the second time. I think sometimes emotions work against you. What it comes down to is that we match up well with Loramie, just like Russia matches up well with us. The big thing is we have a chance to share the county title. We have a big game with Fairlawn Friday, and we can't take anything for granted."
Team-wise, the Rockets shot 51% from the floor, compared to 42% for the Redskins. Loramie was 7 for 17 from the arc, while the Rockets were 3 of 9. Anna was a solid 80% from the line on 16 of 20, While Loramie went to the line just 7 times, making 6.
Anna out-rebounded Fort Loramie 23-18, and had 10 turnovers to 6 for the Redskins.
While Loramie can not win its first outright title since 2004, Britton said winning a share is very important.
"It's our first goal every year, to win the county. We still control our own destiny. We have to go over to a very tough place to play (Russia) and play a very good team in their building. It's going to be all hands on deck and we are going to have to play our best to have a shot."
Britton saluted his five seniors, who played their last home game.
"Evan (Berning) and Tyler (Siegel) played as freshmen, hopefully it will be back to back 20 win seasons, we have been district runner-up and regional semifinalist. This class has put in the time and effort and these seniors deserve everything they have gotten and are working for. They deserve every ounce of it."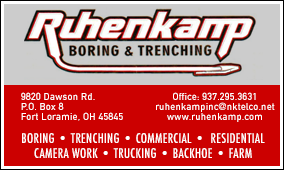 "This win shows us that we can play with anybody," Bixler said. "It really sets the tone for the tournament. We want to keep the momentum going and see how far we can go. We have a pretty good team."
Barhorst said the win comes at a good time, with tournament just a couple of weeks away.
"A win like this gives us a lot of confidence that we can play with talented, aggressive teams like Loramie.  Someone asked me the other day if the league prepares us for the D-III tournament, and I absolutely think it does. You have to be prepared and ready to play every night in the SCL. Add to that our non-conference opponents, and I think our schedule more than gets us ready for the tournament.