Tippecanoe withstood a strong challenge from Piqua and used a big finish at the end to knock off the Indians in GWOC American North play.
Tipp City – To prepare for the Piqua Indians and the conference's leading rebounder, the Tippecanoe Red Devils crashed the boards – and banged into each other – during practice.
The days leading up to Friday nights Greater Western Ohio Conference American North Division game featured physical practices. Tipp coach Adam Toohey split his team into even sides for rebounding drills. The losing team dropped to the court and cranked out some pushups.
Tipp senior Josh Wildermuth – who entered the game averaging 2.8 rebounds per game – smiled when asked how many pushups he had to do Thursday.
"My team won every time," Wildermuth said.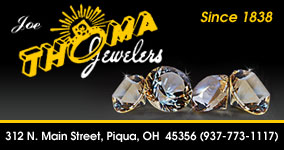 The 6-foot, 5-inch senior continued that trend Friday night. Wildermuth – who entered the game averaging 2.8 rebounds – grabbed two of the biggest boards in Friday's 73-68 victory over Piqua at Tippecanoe High School.
Tipp, which led by as many as 15 points in the first half, saw that lead evaporate in the second half. Piqua junior Qurri Tucker knocked down consecutive 3-pointers midway through the third quarter to cut the Red Devils' lead to 44-40. After Tipp's Caiden Smith and Piqua's Ben Schmiesing traded baskets, Tucker scored off teammate Devon Brown's steal. Brown then knocked down a 3-pointer with 2:49 left in the third quarter to tie the game 47-47.
Tipp never trailed in a game where the Red Devils scored the first nine points. But they again found themselves tied 67-67 with 2:09 left in the fourth quarter when Tucker hit one of two free throws after an intentional foul and Brown scored on the ensuing in-bounds play.
Tipp senior Cade Gingerich knocked down a pair of free throws with 59 seconds left to restore the Red Devils' lead to 69-67.
It was then Wildermuth who leaped into action. He pulled down Piqua's 3-point attempt that missed, which led to a basket by senior Noah Bledsoe and the 71-67 advantage with 10 seconds left.
Piqua senior Hayden Schrubb was fouled and went to the free throw line with 3.8 seconds. He made the first and missed the second, which Wildermuth clutched for another rebound. Wildermuth was fouled and hit both free throws with 2.2 seconds for the final.
"It was such an intense game. I don't usually crash the boards like that," said Wildermuth, who had a season-high six rebounds at West Carrollton on Jan. 26. "I had to get in there and get some boards after those misses at the end."
"Our practice yesterday got really intense," Toohey said. "As the rebounding picked up we stopped it at the end and told them that's how we always have to play. Our guys carried that energy over."
Tipp improved to 11-7 overall and 6-5 in the GWOC American North Division. Piqua fell to 7-11 overall and 4-7 GWOC American North.
Wildermuth finished with a game-high 25 points and was joined in double figures by Smith (15 points) and senior Tyler Skaggs (10).
"Josh is playing really well. The last couple of games he's really taken off," Toohey said. "His confidence has been huge for him. Those were huge rebounds."
Tippecanoe finished 18-of-25 from the free-throw line, including a 7-of-9 effort in the fourth quarter.
"Rebounding and free throws. If you win both of those battles you win most games," Toohey said.
Tipp did both Friday night. The Red Devils held a plus-12 rebounding advantage and doubled up the Indians from the free-throw line after Piqua finished 7-of-11 overall.
Piqua answered offensively with 24 points from Brown and 17 from Tucker. Schmiesing finished with 15.
"We're a small team so that's our Achilles heel, being able to get on the boards," Piqua coach Steve Grasso said. "That's the difference in the game, for sure.
"Our guys competed and I'm really proud of them. We can score in a couple different ways. We have Schmiesing inside as an undersized big man and our guards can get to the rim. It makes us a dangerous team."
Schmiesing entered with a GWOC-best 11.8 rebounds per game. The 6-3, 200-pound senior finished with eight on Friday.
"Trying to push him out of the lane is basically impossible," Wildermuth said. "You have to keep on him and hope your teammates can get in there, too. It's a team effort."
Wildermuth and his teammates have practice at trying to move a rugged force inside. They battle with 6-2, 260-pound teammate Bledsoe every day in practice.
"We think if you can move him you can move anybody," Toohey said. "Bledsoe and Zach Losey are pretty tough. We tried to have one of them on Schmiesing at all times. This guy is such a good rebounder we couldn't go (with a small lineup).
"That's my number one thing. It's not shooting. It's not ball handling or defense. It's rebounding and controlling the boards. Schmiesing is the top guy in the entire GWOC. We had to hold him off the boards and our guys did a good job of that."
Tipp has a week to prepare for Greenville next Friday. After that Fairborn, Troy and Butler finish up the regular-season schedule.
As for Piqua – which gave American North division leading Vandalia Butler a run on Tuesday before falling 59-46 – the Indians feel they're coming together with the Division I sectional tournament looming. Xenia, Greenville, Sidney and Troy remain on the schedule.
"We are progressively getting better throughout the season," Grasso said. "If you look at our scores at the beginning we were struggling offensively. We've gained a little confidence. Now it's the small things like offensive rebounds for the other team make the difference. We're not getting any 6-6 guys anytime soon. … Just to continue to compete and get better every day."