It was close for a half, but Marion Local's superior size and depth prevailed in the second half with a convincing win over outmanned Minster.
Maria Stein – Marion Local coach Kurt Goettemoeller was quick to point out the elephant in the room following Friday night's 70-44 Marion win over the visiting Minster Wildcats.
"Them not having Jarod Schulze was a big factor in the outcome,"  he said.  "It changed the game a lot because we're a team that likes to get points on the inside and we were able to do that tonight.  Obviously, if we're fortunate enough to play them again at some point the game is going to be a little different."
Perhaps.  But the fact of the matter is…that with or without 6'9″ Jarod Schulze, who sat out Friday's game with an injury, the surging Marion Local Flyers played very, very well.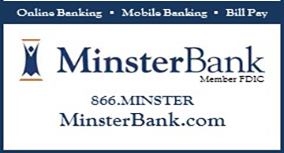 They shot 48% from the floor.
They got balanced scoring from no fewer than eight players – three in double figures.
They got 19 and 18 points respectively out of their own two 'bigguns', Nate Bruns and Tyler Mescher.
And, as expected, they played with the kind of physical energy and force that has come to define Marion Local basketball.  They may not win every game they play, but they always leave their mark.
They started like a house afire – Bruns, Mescher, and guard Tyler Prenger shooting lights out and accounting for 16 of the Flyers 18 first quarter points.  They led 18-10 after eight minutes.
But…Minster had some fire of their own concealed and fanned that blaze in the second quarter, outscoring Marion 20-15 on the strength of some high-degree-of-difficulty shooting by Isaac Schmiesing (a pair of 3's), Jack Heitbrink (5 pts.), Cody Frericks (5 pts.), and Jared Huelsman, who had 5 first half points.  They cut the Marion margin to 33-30 by halftime.

But many of those second quarter Minster points were on perimeter shots that bode the question of whether they could continue to hit difficult shots like that for the next two quarters?  And, could they keep up with the physical play of Marion Local at the rim without the presence of Jarod Schulze in the lineup?
The answer…was no!
Nate Bruns saw to it, personally, as Marion came out in the third and promptly went on a 13-0 run – Bruns scoring ten points in the quarter – and by the end of that eight minutes the Flyers had outscored Minster 23-6 and held a commanding 56-36 lead.  Game, set, and match…the bus driver headed for the parking lot.
And, Marion maintained their advantage in the final quarter, while subbing in reserves, but still outscored the 'Cats 14-8 for the eventual margin of 70-44.
Did Minster miss Jarod Schulze that much?
Definitely, because by himself replacement Cody Frericks was just no match for the interior onslaught of Bruns, Mescher (a thousand point career scorer), and Nick Tangeman, who got the rim enough himself to join Bruns and Mescher in double figures with 10 points.
"If we were to play them again the game would change a bit,"  said Goettemoeller afterwards.  "But you still have to give us credit.  You still gotta' find a way to score, depending on who you're playing on a given night.  And tonight we got a lot of easy baskets inside while moving Nathan out to the perimeter some to free him up athletically.  He made a lot of plays tonight, whether it was scoring the ball or just finding open teammates.  He had a very good game for us."
He (Bruns) found plenty of open teammates, while scoring 19 points himself:  Mescher finished with 18 points, Tangeman had 10, Tyler Prenger and Justin Albers had 8 each, Jack Buening had 4 and Collin Everman had 2.
Minster was led by Mike Ketner's 13 points, while Schmiesing added 10, Frericks and Jack Heitbrink had 6 points each, Jared Huelsman had 5, and Alex Lemkuhl completed their scoring with 4 points.
But more important was the fact of staying unbeaten, with no wiggle room, for the impending matchup next week with unbeaten Versailles and a chance to play for a share of the MAC title.  Marion improved to 12-3 for the year, but more significant, 5-0 in MAC play, the only other unbeaten team (in conference play) in the league.
"It was a big thing,"  said Tyler Mescher.  "Coach had been talking about it all week, it was big to be 5-0 after tonight, but also the win means a lot for our tournament draw.  It was a big game."
With another big game on Saturday night – a real Division IV tester – when Marion travels to play #4-ranked Fort Loramie, in Loramie.
"We're getting better every day," added Mescher, to the question of how far in terms of comfort the Flyers have come since we last saw them three weeks ago in a 53-49 loss to Anna. Since then they've rattled off seven straight wins.
"We're definitely clicking better than we were back then,"  said Mescher.  "Back then we were playing a lot of different guys and now we have a more set lineup.  We know tendencies, and we know each other a lot better now.  We want to become more consistent on offense.  And we think we have the outside shooting to go with our inside game – Tyler Prenger's an excellent shooter – and if we're on we can drain those outside shots."
Bruns, the younger brother of Ohio Northern standout Ryan Bruns, is beginning to evolve, teaming with Mescher to form a worrisome 1-2 punch in the paint, while exhibiting the athleticism to run the court and score in transition.  And with his length inside, he's a formidable shot blocker, as well.  He, like Mescher, was focused on the importance of staying in the hunt with Versailles.
"We knew coming in that it was important to win for that reason," said the Flyers' junior.  "But also because we could see these guys (Minster) again in the tournament.  It was big in the MAC, but also for looking a little bit down the road."
And likewise, he admits that they're a different team now than the team that last lost to Anna on January 6.
"We're fully out of our football mode now,"  he added.  "We're in our basketball groove, we've worked hard in practice, and we're just playing a lot better."
And that better will be tested on Saturday when they play Ft. Loramie, a team that has had Marion's number for the past couple of years.
"It's a huge game,"  Bruns admitted.  "We've lost to them the last two years – we were embarrassed by them last year.  They're a very good team and we have a lot of respect for 'em.  They can drive, they can shoot, and they've got size.  This will be a test to see how good we are."
And there'll be more tests, as St. John's, Versailles, and suddenly surprising Russia all remain on their schedule.  Hence, Kurt Goettemoeller's concern over consistency.
"From a defensive standpoint I like our team because we're versatile enough to guard the type of teams we're going to see, whether it's a team with guards or a team with size,"  says Goettemoeller.  "We can match up defensively with almost any team we play.
"The question becomes about offense.  I think we've got to get a ton better, offensively.  And as to how we compare with other Division IV teams, considering tournament play, it really becomes a game of matchups, and who matches up well with who.  Consistency at this point is what we're striving for, because we had the big lead last week against Fort Recovery and we didn't play so well in the second half.  We've made some changes and we're trying to grow with that.  But I'll be more comfortable as we get more consistent."
He won't have long to wait.  #4 Fort Loramie popped Houston 68-32 on Friday to improve to 17-1, and when Marion gets there on Saturday they'll face the full complement from one of the state's best teams in their division.
And for those who wonder…just how good now is Marion, a team of Division IV promise since day one?
They gave a packed house a glimpse Friday night against a team that narrowly lost to Fort Loramie in overtime two weeks ago, and on a night with Jarod Schulze in the lineup.  You do the math;  because Saturday means another team that they could easily face again…down the road.  It's that time of year!
Welcome to February.