The four-time state champion in football and former basketball forward for Marion Local has settled in more than nicely at Ohio Northern – leading the Polar Bears in scoring and blocked shots, and earning the reputation as the OAC's most dominating player as a junior.
Ada, OH – Ryan Bruns smiled broadly when former Marion Local athletic director Stan Wilker and I met him Wednesday at Ohio Northern's basketball arena – like a guy who was happy to see someone he knew from home.
Time flies when you're at college, and it's already been two years since Bruns was winning all those state titles in football at Marion Local and pacing the Flyers to the regional tournament in basketball.
He was a big deal at Marion – literally, a big deal.  At 6'7″ and north of 200 pounds he stood out in the MAC Conference as a football tight end for Tim Goodwin…and a front court player for Kurt Goettemoeller in basketball.  It wasn't hard to spot Bruns in the hallway at Marion.  He stood a head taller than anyone else in school.
He graduated in the spring of the 2015 and it was presumed that he would go to school somewhere and play basketball, at 15 points per game his most productive sport at Marion.  But there was no fanfare with his recruitment – no Division I schools breaking down the doors.  He had good numbers at Marion, but not great numbers.  Gifted athletically, one could see that he had a very high ceiling for improvement, but Division I schools want a sure thing.  The question was…who would take the chance on Bruns as a scholar athlete to play college basketball?
As it turned out it was Coach Rich Bensman and the Ohio Northern Polar Bears, an NCAA Division III school and member of the Ohio Athletic Conference, a league known for 6'5″ guys who could run and shoot – and for brutally physical play.
He played in 25 games as a freshman, started twelve, and averaged nearly 10 points per game.  But more, he developed a propensity for blocking shots, averaging almost three per game.
As a sophomore he grew…and he improved.  He started 23 games, led the team in rebounding, had a season-high game of 29 points against Baldwin-Wallace, and set an OAC and school record for 66 blocked shots as a sophomore.  For his work he was named 2nd Team All-OAC.
Now, as a junior, Ryan Bruns has metamorphasized, like the cocoon that became a beautiful butterfly.  Through 20 games this season he's averaging 25.2 points per game and averages nearly five blocks per game, and owns the school record for career blocks…with a year remaining to play.  Currently, he's shooting almost 60% from the field, and impressively, has hit 13 of 31 three-point attempts (42%).  He's hit 95 of 122 free throw attempts (78%), and averages 8.9 rebounds per game.  Ryan Bruns, in the words of Rich Bensman, has become "a dude".
"I've been fortunate,"  he said prior to Tuesday's 7 pm game with Baldwin-Wallace, one of the power teams of the OAC and an anticipated matchup for the 14-6 Polar Bears.
"We have some good players here like Joey Diorio, who shoots almost 50% from three-point range, and that makes it hard for teams to play us both.  They have to pick their poison.  If I get doubled in the post and kick it out to him it's almost guaranteed to go in most of the time.  It's nice to play with players like Joey and Nate Burger (Kettering Alter) because they can shoot.  And yes, this is a league with a lot of 6'5″ guys that can run and shoot."
He's become a dominating center among all those 6'5″ guys, having grown to almost 6'9″ inches tall and weight listed at 225 pounds.  Still athletic, he's worked hard to get stronger and develop good moves and coordination in the post.  And against B-W Tuesday he was easily the most athletically talented of all the big men on the floor.
The college game, even at Division III, can be a tough transition;  but it looks good on Bruns.  Having prepped in the ultra-competitive MAC Conference in two primary sports, his aptitude for challenge matches his physical attributes.
"I'm really enjoying it here,"  he says.  "But the one thing I miss is the crowds.  Back home we'd get a thousand people for a high school game, and here some nights we may get three hundred.
"I was a little worried at first because I didn't know how I'd make the transition from high school to college, because I got along with everyone on the team at Marion Local.  But here I get along great with everyone so that's been the biggest blessing I've had."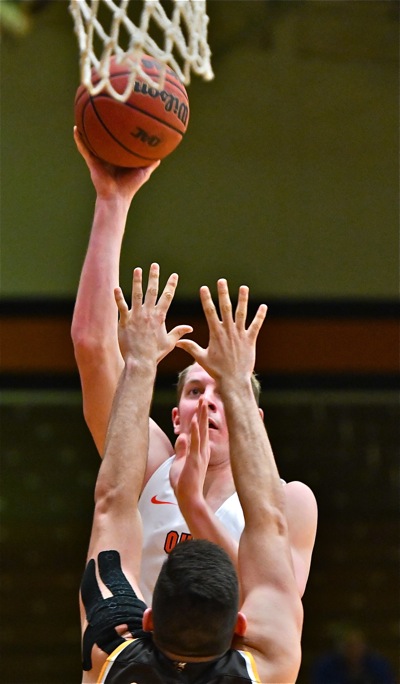 And at Marion he had to divide his attention between football and basketball.  Now, it's 100% basketball, and the Polar Bears, and Bruns, are both better for it.
"I always had the support of my mom and dad for doing both sports in high school,"  he says.  "There was more pressure in football because that was what we were known for, but I know that I could have been better in basketball had I devoted my full attention to it.  Obviously it was fun to play both, and I think it's good to play multiple sports, but coming here I've been able to focus on basketball and I'm able to practice and maintain my skills throughout the year because that's the only sport I play now.  I think that's the biggest factor in my becoming better."
His coach couldn't agree more.
"He was a two sport athlete in high school, and that's great because he won four state championships in football,"  says Bensman.  "But now he can fully concentrate on basketball and our strength and conditioning people have done a great job with Ryan.  And because we're Division III a lot of the off-season work falls on the individual athlete, and Ryan worked very hard over the summer on his conditioning and improving his skills.
"Plus, he knows he's gotten better, he's happier, and our system really works well for Ryan.  We play inside-out basketball.  He's athletic, he moves around the court well, and he embraces this system and what he's able to do in it."
Wednesday night he showed the 368 that showed up to watch exactly what all the hoopla about Ryan Bruns and OAC basketball is about.  Northern didn't shoot well from the field for the first half – about 25% – which allowed Baldwin-Wallace to sag inside and physically deny Bruns the basketball.
But in the second half Diorio and Burger started hitting shots, which loosened up the floor and created space for Bruns down low.  He responded by scoring 22 points for the half (he finished with a game-high 29), helped his team overcome a 15-point deficit to tie the game in regulation and force overtime;  and then he, Diorio and Burger scored all the points in OT for an 85-74 win.
"It's easier for me because I know that I can play loose and free – that if I miss shots like I did in the first half I'm not going to get yanked out of the game,"  says Bruns.  "I have talented teammates and I know they're behind me.  That's what helps me the most."
And it helped him Wednesday night!
He's majoring in civil engineering, and balances study and basketball with a healthy perspective.
"Basketball's a good diversion from school for me because there's nights when you do three hours of homework and it just gets old.  But then I can come to basketball the next day and it takes your mind off it.  It allows me to now worry about homework and exams, so it's the best of both for me."
So, if you wonder about what happened to Ryan Bruns, he 'bears' watching, as one ONU staffer put it on Wednesday.  He's not only alive and well in Ada, Ohio, he's making quite a name for himself as he builds on a record-setting resume'.
All that's missing are those crowds back in the MAC.  But now that you know where he is…..!