For a while it was predictable, then ugly, then compelling, followed by crazy at the end.  Russia loses a 10-point lead in the final two minutes…but holds on to nip Anna at the buzzer for a second time.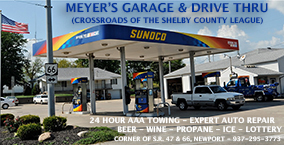 Anna – You really can't script things like this – basketball games the likes of Russia and Anna in 2017-'18.
In the history of the Shelby County League there have been dozens of them, like Tuesday's rematch between the two rivals – games that defied description.  A fan's dream, and a writer's nightmare.
Prior to tipoff league secretary Stan Evans said it best.  "This is the kind of game that's really good for our league."
Uh, yeah!
And if look tomorrow online, in Wikipedia, under Shelby County League basketball…you're likely to see a photo and synopsis of Tuesday's 66-64 Russia win, the second time this season that the Raiders have beaten the favorite, Anna.
And son of a gun…if it wasn't a near carbon copy of the first game, a 57-56 Raider win back on December 19th.
It started out that way, Anna getting inside looks at the rim in the first quarter and sprinting out to an 18-12 lead after first five minutes.
But Russia, under Spencer Cordonnier, has some kind of magic potion in the Gatorade, because while not being the biggest, the fastest, or the most talented team in area Division IV…they ALWAYS conjure a way to play themselves back into a basketball game.  And that's exactly what they did.

They changed defenses – they zoned Anna – in the second quarter, and the rim seemed to shrink on the Rockets while the Raiders found their sea legs.  They outscored Anna 14-8 on the strength of Jack Dapore's outside shooting and went to the halftime locker room with a 26-26 tie – an emotional boost for Russia, and some frustrating deja-vu for the Rockets.
It got worse for the team in green…as they came out in the third quarter to find that the rims were now thimble-sized.  They shot poorly, something in the 25% range, while Russia worked their halfcourt offense patiently, got good looks, and converted.  The Dapores, Mason and Jack, canned a pair of threes on the way to another 14-point quarter, and outscored Anna again, 14-9, to take a 40-35 lead into the fourth.
By now Russia was feeling it – that same emotional surge that somehow lifted them on December 19th, when fate seemed to be wearing blue and gold.
They went on an 8-2 run to extend their lead at one point to 12.
Anna pressed, tried everything to create some turnovers, some easy baskets, and a momentum change.
But fate sucks sometimes, and it struck the Rockets hard at the four minute mark of the final quarter when Joel Cathcart went full out to defend a breakout layup attempt by Russia's Jordan York, came down awkwardly out of bounds, and suffered an apparent knee injury that sent him to the locker room.  It was all Russia at this point – every bit of it – as it appeared to the green and white that lightning, indeed, was about to strike twice.
But at the two-minute mark the direction of things changed radically.  Russia led by ten, 56-46, and then promptly turned the ball over on three consecutive possessions.  Boom…bang…zing, and Anna was back in business converting on all three turnovers to cut the lead to six, and then four.
"Our inexperience decided to show up about then,"  said Spencer Cordonnier.  "We hadn't been in a situation like that before."
Anna went full court with their press.  It rattled Russia, and they turned it again, this time culminating with a Wyatt Bensman three-pointer from the high wing (his first of the game) to cut the Raider lead to one – 58-57, with 53 seconds left.
It went nuts on the Anna side.  It got a little tight on the Russia side.  And the action on the court amped up, as well.
On an inbounds pass to Russia's Jack Dapore he found himself trapped against the sideline and threw an inadvertent elbow in an attempt to break through a double-team.  The officials whistled a foul on Anna, but then an apparent double-technical over the elbow business.  Dapore went to the line to shoot the double bonus, which he made, but he split the technical shots.
At the other end Anna sent its best free throw shooter, Wyatt Bensman, to the line, to cut the lead back to two…but Bensman missed both shots.
From that point it became a game of fouls on Anna's part to try and extend the game, taking the chance that Russia would miss.  But to their credit, Jordan York, Mason Dapore, and Jack Dapore hit six of nine in a span of about 35 seconds to keep the game tantalizingly out of Anna's reach.
But Anna wasn't done.  They converted on a three-point play by Riley Huelskamp to keep the game to within a possession.
Back and forth it went in strategy, Anna sending Russia back to the line repeatedly, hoping to buy time;  and with the score 66-64 with just four seconds remaining Jack Dapore stood at the line with a pair of throws that could have iced the game.  But…he short-armed both shots.  They hit the front of the rim.  And the second one caromed off into the hands of Anna's Bart Bixler, who turned and sprinted up the sideline as the clock wound towards zero.  A step away from midcourt he rose to hoist a desperation shot as the horn sounded…and low and behold he banked it in from 50 feet!
But, the red light on the backboard was glowing as the shot left his hand.  The officials immediately, and correctly, waved it off.  Russia had won, 66-64.
It was so close that the Anna fans believed that they had won.  Bedlam, as people jumped, and scream, and hugged each other.  At the top of the key Wyatt Bensman first raised both fists in the air as a salute to teammate Bixler and the shot of shots – the unthinkable finish.  Then, just as quickly it sank in that the shot had been late, and his fists became arms outstretched and palms up, as if to say, "What happened?"
"We just dug ourselves too big a hole at the beginning,"  said Anna coach Nate Barhorst, thirty minutes later outside his locker room office.  "Then we dug ourselves an even bigger hole at the beginning of the second half.  We got down 12 with a little more than two minutes to go.  But I think it also showed something about the resiliency of our kids – an unbelievable effort out of everyone after Joel went down with his injury.  But as we talked about afterwards, that was the kind of effort that we have to have for 32 minutes.
"Credit Russia.  Their zone affected us, and obviously you can't foul as much as we did at the end to extend the game.  But we just couldn't find the plays to get us going in time."
Anna (13-4, 7-2 in the SCL) finished with Bensman as high scorer, with 15 points, while Griffin Doseck had 15, Joel Platfoot had 14, Joel Cathcart had 9 before his injury, Bart Bixler had 8, and Riley Huelskamp finished with 6.
Outside the Russia locker room Spencer Cordonnier rolled his eyes and drew a sigh of relief.  To their credit, the Raiders had given him one of their best defensive efforts of the year, holding Anna to sub-40% shooting, and frustrating them, surprisingly, for a second time in the same season.
"You know, we don't guard extremely well and we have to pick our spots when we do it, and tonight was one of those spots,"  said Cordonnier.  "It depends on the personnel on the other team, and we just don't have anyone as quick as Wyatt Bensman and Riley Huelskamp.  So we had to keep those guys in front of us, and for the most part all night we did a danged good job of it."
"Offensively, we were patient and tried to control the game.  We were scoring in the paint on them and I was surprised they didn't go to a zone because we WERE scoring in the paint.  But for us to be successful we have to go inside.  We may not score, but you have to go in there to loosen things up an that's what we did.  We were able to get some easy baskets."
That, and the ability to win the game at the foul line, hitting 16 of 21 in the fourth quarter, alone.
Jack Dapore had his best game of the year for Russia (9-5, 7-1 in the SCL) with a game-high 18 points, while Jordan York added 17, Hunter Cohee had 10, Mason Dapore had 9, Daniel Kearns had 4, and Dion Puthoff and Evan Monnier had 3 each.
So, was there some snake bite at hand?
"I don't know,"  said Nate Barhorst.  "We just didn't figure it out in both games, the way they came down to the wire like that.  We just have to figure out a way to turn those things into a positive, and a 'W'."
To the same question Spencer Cordonnier rolled his eyes again.
"Well, they're a really good team, and I look for them to make some noise come tournament time.
"And we're not done, by any means,"  said Cordonnier.  "We've got a big one on Friday when Botkins comes in and we didn't exactly run them off the floor the first time.  We don't run ANYONE off the floor.  That's just not who we are."
But snake bite?
"I'm just happy we don't have to play Anna anymore this year,"  he said.