After a disappointing junior year the Buckeyes leftfielder has been been given a vote of confidence – to come back in 2018 and prove he's the player coaches thought he was when he was recruited.  He's determined to not let himself, or his teammates, down.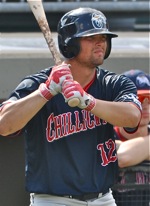 Prior to a Prospect League game last June, Tyler Cowles sat in the Chillicothe Paints' dugout and quietly, but emphatically, put his junior year with the Buckeyes into frank perspective.
"It was embarrassing (expletives deleted),"  he said.  "It's the worst experience I've ever had in baseball – the worst I've ever played.  I've never been through anything like that, and the harder I tried the worse it got."
And, well, he wasn't the only one who noticed.
As a team the Buckeyes hit just .260, collectively, compared to .285 by the opposition.  And Cowles, from nearby Grove City (via Sinclair Community College), didn't do a lot to enhance that figure.
Slated as the club's everyday leftfielder at the start of the year, he struggled, inexplicably.  Adjustment led to adjustment.  And questions, internal and external, went largely unanswered as to his inconsistency at the plate and lack of production.
By year's end his numbers bore out his own personal frustration:  a batting average of .190 (20 hits in 105 ab), four doubles, three home runs, and just 15 runs batted in.  These are numbers far below that expected from a corner outfield position – and a batting average well below the average corner outfield position in the Big Ten (.267).
The issue?
"I think I tried to be someone I wasn't,"  said Cowles recently.  "I got it in my head I had to hit for power instead of just hitting for hard contact – line drives – like I had hit all my life.  I think in the spring I thought I had to fit in, to be a power hitter because I was hitting the middle of the lineup, and that's not my game."
But when he arrived in Chillicothe in late May for the summer Prospect League season, he quickly determined to get back to the basics of being Tyler Cowles.
"I just focused on getting on base, hitting the ball up the middle.  Over the summer I discovered my swing again, and I know I had more fun.  That's something I got away from last year.  Coming from a JUCO I think I got away from who I was and tried to make a name for myself.  It didn't work out very well."
His summer adjustment began to pay immediate dividends.  Multiple-hit games became his new standard of production.  On that particular afternoon in June Cowles had three hits in five at bats, drove in three runs and score twice.
Two weeks later he reprised that performance, with a double, triple, and hard contact in all four plate appearances.  And more, it was very evident that Cowles was having fun playing baseball again, while laying the groundwork for a total makeover come the spring of 2018.  His sudden turnaround didn't go unnoticed.
"There's no question that Tyler has the tools to be our every day leftfielder and be productive in the middle of our lineup,"  said coach Greg Beals following fall practice.  "It's just a matter of him being the player we saw when we recruited him.  We saw flashes of that at times last year, but we need to see it on a more consistent basis.  We've talked about it, and he knows that.  And based on what he did in Chillicothe last summer there's no question that he can come in, be more relaxed, and play that way for us this year."
That's the plan, and Cowles did nothing in fall baseball to create any doubts.  He hit consistently, played with a different air of confidence, and looked every bit the part of a veteran player comfortable in his own skin.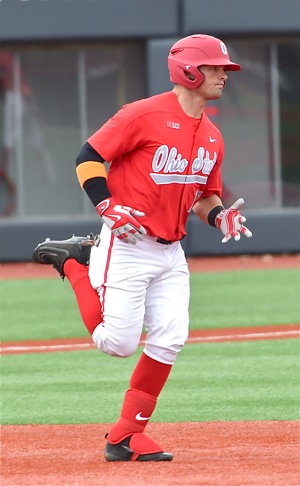 "Last spring was a growing up experience for me,"  says Cowles.  "For the first time it made me realize failure, and that I was so much better than this.  It made me go back to what I know. In our exit meeting last spring I told Beals the same thing – that I wanted to go play in the summer and get back to my best attributes as a hitter.  Just make hard contact and hit line drives."
If he does that the hits will come this spring, and Cowles plays a more-than-adequate left field, defensively.
"Our goal for Tyler at this point would be for him to come back and hit around .300 and drive in 35 to 40 runs for us this year,"  adds Beals.  "If you look at the other contending teams in our league, their power position players (first base, third base, left and right field) had those kind of numbers last year.  We're looking for the same thing from Tyler."
"That's pretty much what I heard in our meeting over the winter,"  Cowles concurs.  "They pretty much told me to come back and do what I did over the summer in Chillicothe.  Have fun with and grow from the frustration and failure I experienced last year."
If he does (and that's his plan), Tyler Cowles should be counted on to add significantly to a lineup that's already expected to produce a lot more offense in 2018.  No more embarrassment this year, and no more trying to be something he's not.  Now he knows…exactly where, and how, he fits in.  Tyler Cowles is on a mission to prove he's the player that Ohio State recruited.
The Big Ten will find out soon enough!