It took them 30 minutes to even get the lead, but a committed effort by St. Henry, and another superior effort by Tyler Schlarman, helped extend a win streak with a thrilling win over Wapakoneta.
St. Henry – Winning streaks are funny things, and magical sometimes.
Good ones don't even make sense – when things go your way even in the face of superior stats.
But take them for what they are, because winning isn't easy, and the latest evidence of that came Saturday night when the St. Henry Redskins extended their current win streak to nine games, beating a good Wapakoneta Redskins team (14-5), 53-50.
Winning isn't easy?  Well, it took St. Henry 28 minutes and 17 seconds to even tie the score (2:47 left in the fourth quarter), and take their first lead on a three-point play by Zach Niekamp.
And statistically, it didn't make sense.  They got out-shot from the floor, 55% to 50%.  They got out-shot from three-point range, 42% to 34%.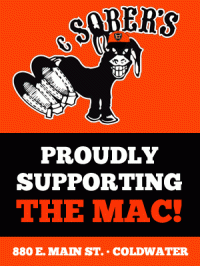 But they did enough little things right to win the game, anyway.
They committed five less turnovers.
They had more bench points – 12 to 5.
And in a tight basketball game it's important to make free throws;  and St. Henry narrowly did that, 83% (5 of 6) to 67% (4 0f 6).
That's how close the game was…eventually!
But at the start it didn't look good.  Wapak came out shooting lasers, going 8 for 8 from the floor in the first quarter, and led 17-14 after eight minutes. Their ball movement was crisp, decisive…and for the first four minutes St. Henry was simply a step behind.
But the Redskins held serve by shooting enough to stay within reach, and actually out-shot Wapak in the second quarter, highlighted by a Tyler Schlarman three-pointer from the wing as time ran out before halftime…that he 'banked' in.
At the end of sixteen minutes it was 31-27, even though St. Henry still shot a good percentage…55%.  But Wapak shot even better…65%!
Eric Rosenbeck called time outs, changed defenses from man-to-man to a 1-3-1 zone – anything to confuse and slow down the unconscious outside shooting of Wapak sharpshooters Aaron Good and Adam Scott.  Every time Good would heave one up from behind the arc the crowd held its breath…because he didn't miss many (4 of 6), and the ones he hit were long, high, majestic bombs.
Wapak came out in the third quarter and quickly went on a 6-2 run to extend the lead and further frustrate Rosenbeck and the Redskins.  Another timeout, another defensive change, substitutions to keep fresh defensive legs in the game…and to give Schlarman a rest, who was quietly having one of his better games of the season with 11 first half points.

Tyler Schlarman put on a show, hitting from three-point range, with fall-aways, and reverse lay-ups off the baseline.  Twice the Redskins got the lead down to two points, but always, always it seemed…Aaron Good was there to put up another bomb and restore a five to seven-point margin.
At the end of three it was 45-38, Wapakoneta.  But on three successive possessions St. Henry scored, while Wapak turned the ball over, or simply came up empty.  The margin again shrunk to two points as the two teams traded baskets, but St. Hank's pressure began to take its toll, fatigue beginning to wear on the efficiency of Good and Scott.
And finally, at the 2:43 mark of the fourth quarter, Zach Niekamp scored on a drive to the rim to tie the score at 48.  Fouled as he shot,  he then went to the line and gave his team its first lead of the game, 49-48.
Schlarman added a bucket, and his 27th point of the game to make the score 53-48.  Wapak scored to cut it to 53-50.  And then Schlarman was fouled in the open court, and had a one-and-one chance at the line to ice the game. But he missed, setting up a final possession for Wapak with five seconds to play.  The inbounds pass came to who else by Aaron Good, who caught the ball and put up a twisting 25-footer at the buzzer…that hit the back iron of the rim and bounced away.  Game over!
Sometimes win streaks don't make sense, and there's really nothing magical.  But they also say that hard work is rewarded, and afterwards Eric Rosenbeck credited his latest win to sheer 'grind' and determination.
"Mark Long, our JV coach, has instilled in the kids the ethic to go out and just keep grinding,"  said Rosenbeck.  "And that's what we do.  Credit Wapakoneta because they were so efficient with their offense.  We'd just watched them against Marion Local and saw that Marion changed defenses;  we're not as long as Marion but we have guys that can run and we went at them really hard.  We just kept grinding, and I give a lot of credit to 'the grind', and to Mark Long.  We kept grinding, we forced a couple of turnovers, they missed a couple of shots, and eventually we took the lead.  And, Tyler Schlarman had a phenomenal game.
"I know some of the media says things about the game, about fundamentals, and about how kids can't shoot anymore,"  he added with a grin.  "But tonight was a really good basketball game."
Schlarman was 11 of 18 from the field, shot 3 of 8 from three-point range, and finished with a game-high 27 points in 29 minutes.  Like the rest of the team, he just kept grinding, coming out only for short rests.  And in truth, he put as much pressure on Wapak as Aaron Good did on St. Henry.
"It was fun," said Schlarman.  "We kept changing up our defense, we got some stops and a couple of turnovers, and the stops led to some points when my teammates made plays at the end of the game.  We came in at halftime and Coach reminded us that we were only down four and they had shot the lights out.  Just keep playing.  So we chipped away at it in the third and the fourth quarter was ours."

Or it was Schlarman's, in fact, as he accumulated 8 of his 27 points in the final eight minutes, and twice he scored on fall-away, off-balance shots that looked like pure back yard.
"Honestly, I've watched Kobe (Bryant) for years," said Schlarman.  "I like watching him, he's a master of that shot, so I worked on it."
In addition to Schlarman's night (27 pts.), he had balanced help from Devin Huelskamp (7), Zach Niekamp (7), Curtis Ulenhake (6), Ryan Lutmer (3) and Ethan Thieman (3).  St. Henry finished the game shooting 50% (20 of 40) and hit 8 of 23 from three-point range (34%).
For Wapakoneta, Good finished with 20, Adam Scott had 10, and Gage Schenk had 8 as the 'other' Redskins finished with 55% shooting (20 of 36) and 6 of 14 from behind the arc (42%).
St. Henry's record improves to 13-2, and 3-1 in the MAC after Friday's win over Coldwater;  but more heavy lifting remains with Minster on Monday, Delphos on Friday, and Versailles a week from Friday.
"We have some work to do, and we've had some injuries with Curtis out and Caden (Niekamp) gettin' hurt,"  added Rosenbeck.  "We've got Minster now in 48 hours and they're an absolute load.  So we have to get rested and be ready.  But I know that whoever we have out there will play their tails off;  and that's what I'm most proud of with this group."
As it turned out, that's all they did to extend the streak – they played their tails off.  Credit the grind.
That, and a few moves from Kobe.  Like they say…magical!