Justin Ahrens got his points, but it was the Versailles defense that kept Minster's three-point shooting at bay in Friday's matchup of league unbeatens.
Minster –The chants from the Minster High School student section started soon after Versailles senior Justin Ahrens missed a shot near the rim.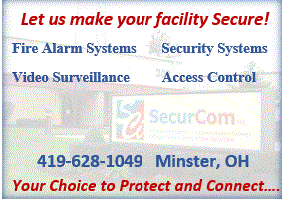 "Overrated!"
Later in the first half they tried to get him off his game when a Minster student held a pair of sneakers toward Ahrens as the Ohio State University recruit prepared to inbound the ball.
"Sign my sneakers?" the student asked.
And soon after, they tried to get into his head by chanting "AJ's better!" in reference to his twin brother.
Ahrens – the object of an opponent's attention both on and off the court no matter where he plays – shrugged off the verbal barrage with a game-high 24 points.
As for Versailles, they met Minster's chants with a tried and true saying of their own – "Defense wins championships."
Versailles took one step closer to the Midwest Athletic Conference championship with a 61-41 victory at Minster High School on Friday night. The Tigers' defense held the Wildcats to 18 points below their season average.
"They're so fast and they take a lot of chances," Minster coach Michael McClurg said. "They're out in the passing lanes and you want to keep adjusting. They're pretty quick. I think that cuts down the passing lanes. … Yeah, we were not sharp offensively at all."
Versailles entered ranked No. 2 in the MAC in defense scoring, holding opponents to 46.2 points per game. And they were facing a Minster team that thrived from the perimeter. The Wildcats entered with 84 three-pointers as a team, good for an average of seven per game.
On Friday, Minster connected on three 3-pointers.
"We preached all week in practice they were a really good offensive team," Versailles coach Travis Swank said. "We tried to make their guards be drivers tonight instead of shooters. They shoot the ball really well. We tried to make sure we stayed in front and made them drive to the basket."

Versailles (14-1 overall, 5-0 MAC) led for all but about a 45 second stretch in the first quarter, when Minster (9-4, 3-1 MAC) took its largest lead at 5-2. Versailles responded with a Justin Ahrens basket and free throw, AJ Ahrens basket, Justin Ahrens fast-break score and a drive and three-pointer from Carter May.
The Tigers led 14-5 after the 12-0 run. The Wildcats cut the deficit to 20-15 with 5:15 left in the first half thanks to a personal 6-2 run by Minster junior Cody Frericks.
But Versailles responded with a Keaton McEldowney basket, May three-pointer and Noah Richard free throw and basket. The Tigers restored the lead to 28-15 for its largest lead of the first half.
In addition to Justin Ahrens' 24 points,  AJ Ahrens added 12 and Carter eight.
Versailles led by as many as 19 points in the third quarter (twice) and 20 points in the fourth quarter (four times). The lead never dipped below 14 points in the second half.
"At halftime we said the first three minutes were going to be key for us. It could make or break us," Swank said. "We had to make sure we didn't relax and not be happy with an 11-point lead. They did the job they were supposed to do."
Versailles did its best to bang down low with Minster big man Jarod Schulze, a 6-foot-9 junior forward. He finished with a team-high 14 points as 6-3 junior Evan Hiestand went toe-to-toe with Schulze.
"He's undersized as far as height but he has a lot of heart," Swank said. "He did what we needed him to as far as bodying (Schulze), keeping him in front the best he could and making him shoot over the top. (Schulze) got his points but I thought it was a hard-earned 14 points.

"I think we got to show we're capable of being physical, too. No doubt about it Minster is a big, physical team. But we've got some kids who can be physical too and I'm glad to see we could play that type of style."
Minster fed Schulze in the fourth and he responded by scoring eight of his team's 10 points in the quarter.
"Last weekend between New Bremen and Fort Loramie he had some bumps and bruises," McClurg said. "He probably has some from tonight, too. He's working. Jarod is working his tail off. We just need to do a better job of supporting him."
Frericks added 10 points and Jack Heitbrink added eight points and Heitbrink eight, including two of the Wildcats' three 3-pointers.
"I just think we need to be more aggressive altogether," McClurg said. "Cody showed some spurts of it. Overall, we didn't have that mentality that we're going to go at them. … We didn't have the mentality tonight to win. It was not what we needed. I thought we were tentative from the get go, and that's on me."
The win was the fourth straight for Versailles after falling to Fort Loramie 48-46 on Jan. 9. Since then the Tigers have won their last four games by 15 (Sidney), 22 (Lima Central Catholic), 27  (Fort Recovery) and 20 points (Minster).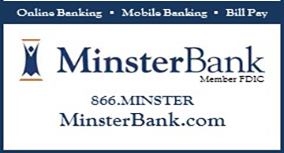 That defense will again be counted on in the coming weeks with key MAC battles against St. Henry on Feb. 9 and Marion Local on Feb. 12.
As for Minster, next up is St. Henry on Monday. Marion Local follows next Friday. Those games will go a long way in helping shape the MAC title chase.
As will the Ahrens brothers. While Justin struggled to get some kind bounces from the Minster rims, AJ picked him up with some solid play in the open court.
"Obviously Justin is pretty good. But AJ makes them tick," McClurg said. "He worked his tail off. He gets his hands on a lot of loose balls and we didn't. I thought for the most part we guarded Justin pretty well. We forced him to take some tough shots and he missed some tough shots. But when you close the gap on him you have to have other guys going 110 percent for loose balls and AJ cleans up a lot of that."
And on Friday night that kept the Tigers' record in the MAC spotless.