Stagnant at both ends of the floor for the first twenty minutes, Fort Loramie went to its bread and butter – defense – to change the momentum, and win, over Miami East.
Fort Loramie –  For a team that had won seven in a row, for the first twenty minutes of Saturday's non-conference matchup with CCC leading Miami East…it appeared that Carla Siegel's Fort Loramie Redskins (13-4, 9-0 SCL) had forgotten how to win.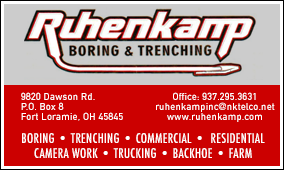 They were lethargic on offense, passive on defense, and allowed Miami East to take a slim 21-19 halftime lead.
More, East, behind the shooting of guard Morgan Haney, promptly came out in the third quarter and ran out to a 28-19 lead before Siegel called a timeout…"to change things up a bit."
What she changed was the tempo of the game, through pressure defense, and from that point for the next eight minutes Loramie went on an eleven point run of their own – took the lead – and cruised to an eventual 49-38 win.
"For us it's a matter of consistency sometimes,"  said Siegel afterwards.  "It's hard for high school teams to play with consistency for 32 minutes, and the first four minutes of the third quarter was really hard to watch.  They were scoring at will and we weren't scoring at all.  I made a defensive change and we became a different team on both ends of the floor.  Maybe I should have made the changer earlier."
The win boosted Loramie's overall record to 13-4 for the year.  They remain a perfect 9-0 in the Shelby County League.
East falls to 14-4 overall, and likewise, is a perfect 9-0 in Cross County Conference play.
Abby Holthaus led all Loramie scorers with 14 points, and stroked eight consecutive free throws in the fourth quarter to seal the win.  Marissa Meiring had 12, while Taylor Ratermann and Kennedi Gephart added 8 and 6 points, respectively.
For East, Morgan Haney was game-high scorer with 16 points, while teammate Haley Howard added 13.
Overall, one can make the case that free throw shooting actually won the game for Loramie (they shot just 41% from the floor), as the 'Skins hit an excellent 14 of 16 attempts from the line (87.5%).
"For whatever reason our pressure changed the personality of the game,"  added Siegel.  "Suddenly they were smiling, they were laughing, and having more fun playing than they had in the first half.  I guess I'll make a mental note of that."
Loramie's win over an impressive East team probably sews up the top seed in the upcoming draw for the Division IV Sidney sectional.  And league-wise, the Redskins have three remaining games…with Houston, Jackson Center, and Russia (7-2 in SCL play).