Eerily reminiscent of the their first game in December, Troy Christian withstood a fourth quarter comeback by Dayton Christian, gave up a comfortable lead…and then won on a buzzer-beating shot by Colt Tanner.
Troy – It was loud.  It was shrill.  And by the end of the third quarter the noise probably made a few heads ache.  Something like an old AC/DC concert.
But this was not heavy metal – it was basketball.
There was no AC/DC, no Malcom and Angus Young, the brothers that became Australia's most famous rock band.  As it turned out, it was two guys named Jackson Kremer and Colt Tanner who did the rockin'.
For you see, the Troy Christian Eagles beat Dayton Christian Friday night on a last-second shot by Tanner, 44-42, in a game that for the final five minutes looked to be a reprise of an earlier game between the two, in December, when TC had a comfortable lead, blew that lead, and saw DC come back in the fourth quarter and win.  And as Yogi Berra once famously opined, this looked like deja-vu…all over again!
If you haven't seen, or even noticed, their Friday win marks the 14th win of the season for Ray Zawadzki's Eagles, against just two losses.  No longer Division IV, they bumped up a division this year through the OHSAA's competitive balance initiative for the 2017-18 season.
And while very few have noticed, the Eagles have seemingly risen to the challenge and anticipation of better basketball by not only competing with, but beating teams like Dayton Christian, another Division III school with size and talent…and a 10-5 record after Friday's loss.
Without question Troy has built their current resume' around 6'9″, 275 pound center, James Anderson, a man-mountain in the middle who would average 20 points a game and that many rebounds if it weren't for the constant double and triple-teams he sees.  Even touching the basketball is an issue – and how to get the ball to Anderson – so intent are opposing defenses to deny him.
It began that way Friday night, as TC got out to an early first quarter lead, not on the play of Anderson, but that of 6'5″ forward Jackson Kremer, whose eight first half points staked the Eagles to an 11-4 first quarter lead…and a 21-16 advantage at the half.
They extended their margin in the third quarter, going up by as much as ten points, despite constant full-court pressure by Dayton Christian after made baskets…and a mugging of Anderson every time he touched the basketball.  Despite Kremer's success, Anderson finished the first half with just three made free throws…3 points.
And that pressure began to make an impact in the second half.  Troy Christian got loose with the ball in the open court, turned it over, and Dayton took advantage with points in transition, or points from the extra possessions.
As the turnovers mounted Troy Christian's lead diminished, to five points, four, three, and after a made-three pointer by Dayton Christian's Matt Welker with a minute left in the fourth quarter, the Warriors took the lead for the first time since 2-0 early in the game, 42-41.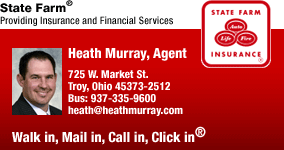 Troy Christian got the basketball, worked the clock, and took a timeout with 11 seconds remaining – while nearly turning the ball over twice in a span of thirty seconds.  Zawadzki inserted Connor Case into the lineup, and drew up a play where Case would get to the lane and throw up a runner as time expired.
They worked the play to perfection…except Case missed the shot, the ball caroming off the back iron and into the hands of, who else?  Jackson Kremer.
He must have had a clock in the back of his head, or at least an instinct that time was running out and defenders were hanging all over him.  Whatever, Kremer wheeled and zeroed a pass to the wing, foul line extended, to teammate Colt Tanner.  Tanner, in one motion, caught the ball and snapped off a three-pointer.  The noise in the gym was deafening, but for the moment time seemed to stand still as both teams stopped to follow the flight of the ball to the rim.
Tanner's shot touched nothing but net, it was that pure.  Colt Tanner had given the Eagles the lead, 44-42, with one second remaining on the clock while Dayton called a desperation timeout.
It was nuts, and louder than an AC/DC concert.  Elation reigned on the TC side of the standing-room-only crowd;  and dejection on the opposite side.  Of course DC had the ball out of bounds, and a second to work with, but the three-quarters court inbound pass went off the hands of the intended receiver and out of bounds as the clock struck zero.
It will be remembered as one of the fabulous finishes of this 2017-18 basketball season, and for a minute or so, no one really knew what to think – this while Ray Zawadzki, the coach himself,  took the microphone to introduce the live band that was to perform a post-game praise concert for the benefit of both school communities.
"This was a great basketball game,"  said Zawadzki to the quieted crowd.  "And the game is done and over.  But life and how we live it must go on."  The lights went down, the band came on, and just that quickly…one of the season's best games became the overture to a worship and praise celebration.

Minutes later, in his office, Zawadzki smiled broadly as he came back to the moment and recounted the game's fabulous finish.
"Well first of all, credit to Jackson Kremer.  The play was not designed that way," said 'Z'.  "He could have hung his head because he'd missed an easy shot at the rim on the previous possession, a play that we had set up for him.  But he didn't do that…he got us an offensive rebound and he found Colt Tanner.  And we have a rule.  If the ball's coming in and out you gotta' let it fly.  And Colt's been strokin' the ball really well in practice.  I'm so happy…not just for him, but for our team."
James Anderson righted himself to come back and lead the Eagles with 12 points, showing on one play his ability to catch the ball in traffic, tight-rope the baseline, and score on a beautiful reverse layup.  He also scored his 1,000th career point in the first half on a made free throw.
But he had plenty of help.  In all, six players scored:  Kremer finished with 10 points, Ben Schenk had 9, Tanner had 8, Cameron Strine had 3, and Connor Case had 2.
"You expect it that James is going to get that kind of defensive attention,"  added Zawadzki.  "But how nice is it to have Ben Schenk get 9, Colt Tanner get 8, and Jackson Kremer get 10?"
It was a win important not only for the fact of their record, now 14-2, but as Zawadzki emphasized…it was a learning experience, as well.  A month earlier they had lost a lead in an almost identical scenario.  This time Troy Christian held on to win.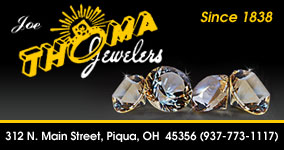 "It was like deja-vu, and I learned from that game,"  said Zawadzki.  "We had the same lead at their place, and here they came again tonight.  But this time I used every timeout that I had.  In the other game I still had three on the board.  I learned from my mistake and tonight I think we were able to gather ourselves after losing the lead.  We kept our composure, got into some sets, and got a couple of easy buckets.  Tonight it was just a little different scenario, yes."
Dayton Christian, now 10-5, was led in scoring by Matt Welker's 14 points, and teammate Anton Webb joined him in double figures with 11.  And make no mistake…Dayton Christian is a 'good' basketball team, with size, athleticism, a couple of outside shooters, and the quickness to press and make life miserable for teams with their pressure.
Which brings the inevitable, and yearly, question as to the quality of Troy Christian's latest sparkling record.  Just how good a win was Friday's thriller over DC?  And how good would Dayton Christian be if they were to play, say, in the Piqua sectional against the likes of Russia and Loramie?
"Well remember now that Dayton Christian and we are now in Division III,"  reminded Zawadzki.  "But DC is very good.  They've got five losses, but only one bad loss.  They've lost to us, Miamisburg, and some bigger schools.  They have four returning starters from last year's league champs, so they know how to play, and they know how to win.
"This was a huge statement game, and it says a lot about where we have come.  But I would feel very comfortable about putting DC up against teams in that sectional and the other Division III teams in the area, Versailles, Anna and Bethel.  Our league is the best it's been since we went to state in 2013.  It's not always the strongest, but every four or five years we have a moment, and this year 14 of the 15 all-league kids from last year came back.  That makes every team better."
Which leaves one to speculate just how good, how legitimate, Zawadzki's latest Eagle edition will be come tournament time.  They've never ducked anyone in the past, they play the best non-league schedule they can put together…and how many teams in any division can claim a post player like James Anderson, all 6'9″ and 275 pounds of him?
Yeah, they rocked after Friday's win…to a decidedly different beat, of course…and celebrated what Ray Zawadzki and the Eagles would proudly claim as a baptism by fire.  They had lost before, and they could have lost again to the exact same team, and in the exact same manner.  But they didn't.  They learned, like they learn every day at Troy Christian.
Life has its better ways…whether you lose, or win, a basketball game!