It was a game of high anticipation and defensive wills.  And in the end the Versailles Tigers had enough offense Thursday at the right times to hand Minster its first league loss in 30 games.
Versailles –  There's a lot to say about the meeting of the respective #1 teams in Divisions III and IV girls basketball Thursday night.
One, credit the fact that nearly 2,000 people came out to pack the Versailles gym to see it.  The game has come that far;  it was that anticipated.
Two, credit the fact that two very good basketball teams battled for 32 minutes in a struggle of defensive wills to determine the outcome.  There wasn't a lot of offense, or rhythm, to it.  It was just 'tough', and pardon the expression, ladies.  It was mano y mano!
Three, it had a 'champions' feel to it.  Jacki Stonebraker called it a regional tournament feel.  You knew there was a lot at stake.
Last, if you were profoundly sensitive to orange and black it wasn't the game for you.  There was a lot…of orange and black!
But when two #1 teams meet there can only be one winner, and Thursday, while not playing their best on offense, the Div. III Versailles Tigers (17-1, 7-0) generated just enough of it to complement their far better defensive effort in beating the Div. IV Minster Wildcats (14-2, 5-1), 46-39.  And here's how significant it was.
It marked the first league loss by Minster in thirty games, going back to the last seven league games of the '14-'15 season.  They were 9-0 in league play in both '15-'16 and '16-'17, and had won their first five this year.  Their last MAC loss came to New Knoxville on December 11, 2014!
"We didn't play as well as we would have liked, but what a great atmosphere for girls basketball"  said Minster's Mike Wiss afterwards.  "But no one died here tonight.  Tomorrow we'll get back in the gym and go to work."

Well put, and there are few in the business that are better stated than Mike Wiss.
But the fact is his team ran into a determined defensive buzz saw Thursday that saw Stonebraker's Tigers play nose-to-nose, take away passing lanes, contest every possession and every shot, and dominate the offensive boards.  Versailles wasn't exactly red hot, either, but they helped their cause by getting almost every critical offensive rebound…and with them, second chance points or free throws!
Simply put, they frustrated, they wore down, and in fact…they made Minster more tentative for three quarters than they wanted to be with a league title on the line.
"Their length gets at you sometimes, and we knew that could be the case,"  added Wiss.  "You can't bring that to practice, and it is what it is.  But take the length away and Versailles always plays hard.  Jacki has a class program, and for us to come back they way we did in the second half…I feel pretty good about that."
It was 13-7 at the end of one period, as both teams struggled to settle into the moment.  Kami McEldowney's three-pointer, one of three big ones she'd make in the first half, was the primary difference.
But in the second, McEldowney really went to work, hitting a pair of 'em from behind the arc at times when Minster appeared to be reeling on offense.  McEldowney had eight points in the quarter…and Kelsey Custenborder added four big points off the bench to extend Versailles' lead to 31-15.
"Kami got loose a couple of times, we helped too much on a couple of screens and left a kid (Custenborder) alone underneath,"  said Wiss.  "They got a couple of offensive put-backs, and little stuff like that adds up pretty damned fast."

Kami (McEldowney) also had a lot to do with a defensive surge that held Minster to just eight points in the quarter (they were outscored 18-8), one that seemed to put the 'Cats at a loss for finding ways to score.
"It was definitely fun to get after them with my girls,"  said a smiling McEldowney afterwards.  "Getting up in people's grill is one of my favorite things, and I think that intimidates teams.  Our defense helps start our offense and that's how we got going in the second quarter."
"I think their post players got some looks, and Courtney Prenger is a heckuva' player,"  said Jacki Stonebraker.  "But you've got to give up something sometimes in order to take something away.  Ivy Wolf (Minster's freshman guard) is a great player that doesn't play like a freshman, and we thought if we could take her out of their offense their team would kinda' roll with her…because she plays with such confidence herself.  And kudos to Ellen (Peters) for the doing the defensive job she did on Ivy Wolf."
How good a job?  Well individually, or collectively, they held the Wildcats' energetic freshman to just one field goal and a pair of free throws for the game…four points!
But to their credit, Minster is not ranked #1 in Division IV for packing up early, or shrinking in the face of a challenge.
Little by little they cut that 16-point deficit down to twelve, then ten, and hovered at nine down for the last two minutes of the third and the first four minutes of the fourth quarter.  Finally, at the 1:05 mark of the fourth Wolf hit that pair of free throws to cut the lead to 44-39.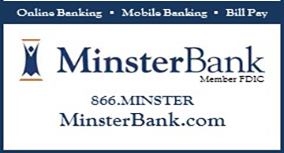 But on the ensuing possession Versailles' Caitlin McEldowney was fouled and went to the line for a critical one and one…and hit both to extend the lead back to seven.  That took the wind out of Minster's sails…and they couldn't challenge in the final minute.
"I was pleased with the way we handled the deficit, and how we fought back,"  said Wiss, matter-of-factly.  "And we'll get to practice tomorrow, so I'm OK with that."
Versailles won it by shooting just over 40% and a balanced complement of scoring behind Kami McEldowney's game-high 15 points.  Liz Ording added 8, Kelsey Custenborder had 7, Lindsey and Danielle Winner each had 6, and Ellen Peters and Caitlin McEldowney each added 2.
Minster lost it shooting below 40%, with Taylor Kogge and Courtney Prenger scoring 14 and 12 points, respectively.  Demaris Wolf had 6;  and Ivy Wolf finished with 4.  Alli Fischer had 3.
The #1 Tigers weren't at their best, but credit Minster for some defense of their own.  And when you have Kami McEldowney's example of gettin' in people's grill, and hitting three-point daggers at the opportune times, you can beat good teams, anyway…even another #1 team.
If you didn't care who won, it was was entertaining, with a flavor of something old…something new!
"Kami and Ivy Wolf are mirror images of each other when Kami was a freshman,"  smiled Jacki Stonebraker.  "I was interested to see how they would respond to each other tonight, because I knew it was coming.  Minster is a team that always gets in our way, and the way we played in the first half…I thought it was really good basketball.  I think if we can play like that against a really good Minster team, we can play against anyone."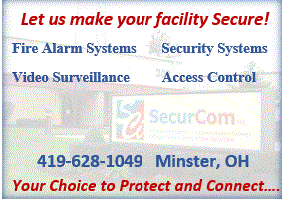 It was, in fact, just about everything you'd expect from such a showdown, and both teams left buoyed with something from the outcome.
Versailles, for sure, stayed perfect in league play, with the confidence they can compete with anyone they see between now and the second weekend in March.
Minster drops a game behind in the MAC, but moves forward with added incentive to start a new win streak after Thursday's loss.  With a week left in January and no less to play for than Versailles, they go back to work tomorrow with this sage observation from their coach.
No one died!