Someone wrote that you can't go home again.  Well, that's really not the case where the values are generational.  I found that the faces are different now, but basketball is still king with the Fairland Dragons, in Proctorville, Ohio.
Proctorville –  I've never actually read the Thomas Wolfe book, You Can't Go Home Again, but I know the gist of it.
The novel, published in 1940, was Wolfe's account of the residents of his hometown community and how they had changed – the changing American culture of the post-depression '40s, the illusion of prosperity, and its inability to cope with the passing of time and the heartbreak of war.  Hence, his perception was that of never again feeling comfortable with going back.  Home was no longer a positive, welcoming place.
Well, this is a story written for dreamers, with a hint of 'Hoosiers', if you will – about going home from a different perspective, drawing on many of the pleasant memories of my adolescent years living in Lawrence County, Ohio.  Of memories connected with high school basketball in Proctorville, Ohio, coach Carl York, and in the winter of 1960-'61 the talk of the tri-state…the Fairland High School Dragons.
It was my third grade year, and while I was not a student in the Fairland district, my father had graduated from the old Rome Township High School (later to become Fairland) in the 40s, my mother had taught there in the 50s.  Our family still enjoyed many close relationships with that school and the Proctorville community.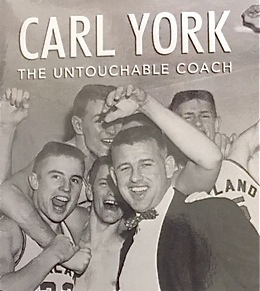 And so it was in the spring of 1961, when the Dragons swept through the local post-season tournaments, the regionals, and on to the state Final Four at the new St. John Arena on the Ohio State campus, it seemed everyone in Lawrence County (including Dad, Mom, and me) joined the car caravan up route 23 to see the Dragons bring home the state championship.
Except…it never happened that way.  No, Fairland built a big first half lead, then saw Ayersville High School chip away and win the game in the final minute, sending all those people from Proctorville, Miller, Athalia, Crown City, and even Chesapeake, back down 23 in a green funk.  How could the Dragons, the royalty of southern Ohio basketball, lose?
They were special to watch and they packed gyms wherever they played.  Basketball was big in those rural Ohio River communities.  I remember my uncle, Armour Simpson, from Ironton, once saying that there really wasn't much to do during a Lawrence County winter…except go to revival meetings, fox hunt, and watch basketball, and not necessarily in that order.
And oh, how I remembered the Dragons…how they came out in stunning green and white warmup suits (a rarity for local basketball at that time), and went through a Harlem Globetrotters passing drill as part of their pre-game routine.  They were so drilled, and so entertaining, that it mesmerized people, and even some who came to just watch them warm up before the game.  Other teams just didn't exhibit such showmanship with high school basketball.
Their uniforms included state-of-fashion satin pants, white at home and green on the road, with FAIRLAND stitched across the chest of their jerseys…not that common back then, when other teams simply had numbers on the front and back.  And knee-high stirrup socks, with alternating stripes, green and white.  They were the class of region and represented the pride of tiny Proctorville every time they took the court.  But they were also the target of every team on their schedule, that longed to say they knocked off Fairland!
However, as Thomas Wolfe wrote about, time can change even the best memories of your youth.  After Carl York left Fairland in 1978 the program would play for years thereafter in relative anonymity.
"They became average for a while," says current coach Nathan Speed, who graduated from Fairland in the early 90s. "There was some turnover in coaches, and it was just different.
"Then Coach Harris (Jack Harris) took over for a few years and they enjoyed some success,"  adds Speed.  "Roger Snyder was athletic director back then, and he did a great job of keeping things stable and the interest up.  It got back to where they were going to the districts on a regular basis, and to the regionals a few times."
But area basketball, nonetheless, seemed to switch epicenters, to nearby Ironton…and Chesapeake, just seven miles west on route 7, where coach Norm Persin was regularly taking the rival Panthers to the regional round of the  tournament.  Then Persin left a decade ago, for Oak Hill, just 50 miles up the road, and won the Division IV title in 2009.
Then, at about that time, after years of 'average' some of the old magic began to reappear at Fairland.
Their girls went to the Div. III Final Four in 2014 and '15, losing both times in the semi-final round.
And a young man named Nathan Speed, who grew up in Proctorville and played at Fairland, took over the boys program in 2009 and began building, culminating in their appearance in the Div. III Final Four last March, the first time since that memorable, and magical, day in 1961…nearly 56 years to the day.
Again, it didn't go well.  Facing perennial state power, and seven-time state champion Villa Angela-St. Joseph out of Cleveland, the Dragons were blown out – no match for the bigger, more experienced Vikings.
But the die was cast, as Speed and the community reached back into history for a little of the old to help enhance that which was again new and exciting to the legacy of Fairland basketball.
"One of the things we did as a staff was embrace and reach out to "The Untouchables", the nickname given to that 1960-'61 team,"  says Speed.  They included Ronnie Kingery, Doug Curry, Vic Lewis, Joe Blazer, Junior Waldo, Joe Heinz, Eddie Capper, and Joe Heinz.  Harper and Heinz would ultimately go across the river to play at nearby Marshall University.
"A lot of those guys came in,"  adds Speed.  "They were nice to us, and we wanted our kids to see and understand the history of Fairland basketball.  Because ten years from now, the kids now can come back and help kids the way "The Untouchables" came in and helped us."
Their experience from last year's Final Four, even for those that still remembered, was hardly the disappointment of March in 1961.  Afterwards Speed was positive, even magnanimous, in putting the experience into perspective – as a learning experience.
"You have to come down and see us in Proctorville sometime,"  he said to me as he left Schottenstein that afternoon, extending an invitation to revisit my basketball roots.  "The town has changed a lot, but the people haven't.  We'd love to have you."
He's right, of course.  The people haven't changed in Proctorville.  There's just more of them.  And land that used to be planted in corn and apple trees is now planted with new houses.  Agriculture has been replaced by more hi-tech employment across the river, in Huntington, West Virginia.
But basketball is still king.  The old, original Fairland gym, which might have seated 500, has been replaced with the building of the new high school a decade ago.  Named the "Carl York Center", the new gym seats about 1,500 and it's a busy place on game nights.
"It stays pretty crowded now,"  says Speed.  "People here are so supportive.  They like to come out to see good basketball and we do the best we can to give them good basketball.  I think there's been one year when we haven't made it to the district round since I've been here.
"And, there are still some old-timers around,"  he grins, "They come in and talk basketball, they catch our games, and some of them travel with us.  They've been to Myrtle Beach, Dayton, and they follow us all year, at least the last three or four years;  and there's still people from all around southern Ohio that come to watch us."
Two weeks ago, after their appearance at the Flyin' To The Hoops tourney in Kettering, Speed reminded me of his invitation.  "We've got some interesting games coming up.  Feel free to come down."
Tuesday night I made it happen.  Making the four-hour drive from Miami County, I stepped foot inside Fairland High School for the first time in a half century, this time to see them play another area favorite, the Ironton Tigers.  The Dragons, with 6'8″ center Kollin Van Horn, are good again in 2018 – very good!  Ranked in the state's top ten, they put on their usual up-tempo show and won in convincing fashion, 91-52!
It was vintage Carl York, Fairland basketball.  They ran and they shot, hitting 19 of 30 three-point attempts, nine by guard Luke Thomas himself (27 points).  They shot 58% overall, and the people of Proctorville, like sixty years ago, were loving it!
"It's how the other half plays," said an onlooker, emphasizing the southern Ohio tradition of run and shoot;  and shooting the 'three'.  "I don't know how they do it up north, but down here we 'shoot' the basketball."
Van Horn, the Dragons' soft-spoken behemoth in the paint, finished with 25 points and scored his 1,000th career point.  He received the game ball to a standing ovation.
"I think we're actually better than we were last year because we're more experienced,"  said Speed afterwards, despite now playing up in Division II.  They've lost three games, but to teams in a Myrtle Beach holiday tournament, and two weeks ago to Villa Angela-St. Joe, 81-79 – losses against superior talent.  A rarity in high school basketball anywhere, the Dragons start three players who've already eclipsed the career 1,000 point mark – Thomas, Van Horn, and Isaiah Howell.  Yes indeed, they do like to shoot the basketball down on the river!
"In all my years of playing and coaching at Fairland I haven't seen basketball players of this level.  It's all they do, they play basketball.  And, with the exception of Keedrick Cunningham (point guard), they're all home-grown."
Many of the old faces from Proctorville are now gone, those that once graced the gyms in the winter for Dragon basketball, then talked about it the rest of the year.  But there were some, including a couple of "The Untouchables", Doug Curry and Ronnie Kingery, who shared their time to reminisce.
"We had so much fun back then playing basketball,"  recalls Kingery, now in his 70s.  "We got along so well as a team and liked each other, and we've stayed pretty close throughout the years."
We talked about the magical season, sixty years ago, and Kingery shared his biggest memory, and regret.
"We came back to Proctorville feeling like we had let everyone down,"  he added.  "It was such a big thing in the community, and they had a big welcome for us when we got back here.  They had a big sign that called us 'their champions'.  I've always regretted not winning that game."
Now established as their head coach, Speed appears to be winning hearts in the manner Carl York once did.  Playing in one of the area's best facilities, the people proudly turn out for the Dragons, ever-optimistic of another magical run in the post-season.
They've won the sectional championship 23 times since 1960.  They've won the district title six times.  And they've won their region…twice.  Still, they wait for a day, someday, when a trip to Columbus will come back to Proctorville with fulfillment.
"I hope it happens, but I don't know,"  says Doug Curry.  "You know, now you have to beat so many of the Catholic and private schools that draw players from everywhere.  They way things are now it's different than it was when we played."
And indeed, it's even different at Fairland than it was back then.  Many of the kids who walk the halls no longer have the familiar community names, a concession to modern school districts and open-enrollment.
But basketball along the river is again king, make no mistake.
"Hope you'll come back and see us,"  Athletic Director Jeff Gorby said as I left for my car Tuesday and the trip home.
"Tell your mother I asked about her,"  said a family acquaintance who had learned typing from her…60 years ago.  A remarkable experience, I thought to myself, as I walked to my car in the cold river air.
Thomas Wolfe was wrong, at least about Proctorville, and Fairland High School, where there are no illusions about prosperity, or coping with the passage of time.  They have their memories of the past, and the optimism for a still brighter future.
I'm told they don't fox hunt much anymore.  But as long as they have revivals and basketball…they'll be just fine!