The Flyers ride the steady game of sophomore Trey Landers, and pull the surprise…a 65-64 win over visiting Davidson.
DAYTON — If you say the word 'pressure' in front of Trey Landers, he looks askance and says he can't define it, he can't spell it, he can't pronounce it and it isn't in the Landers/Merriam-Webster's Dictionary.
Pressure is something felt by somebody else, but not by Landers, the 6-foot-5 sophomore guard for the University of Dayton.
"I never say pressure, I don't know what that is," he said after his, uh, pressure-packed performance in UD Arena Tuesday night carried the Flyers to a 65-64 upset of Davidson. "I don't like the word and I don't ever use it. I might say the word panic, but never pressure."
So, Landers, feeling no pain and no pressure, carried the Flyers late in the game when panic mode might have set in. And he did it offensively and defensively.
Offensively, he only scored 16 points, but his timing on most of them was impeccable. And he guarded Davidson star Peyton Aldridge. He averages 20 and scored 24, but Landers made him work extremely hard to get those 24.
Said Landers, "He had to really work for 18 of those 24. Peyton Aldridge is a great player." Early in the second half, Dayton owned a 38-28 lead with 17 minutes left in the game. There was an out-of-bounds play. Landers and Aldridge were standing side-by-side, smiling and chatting amiably.
"He was giving me credit, saying I did a good job defensively," said Landers. "He made some tough shots and I gave him credit and he gave me credit. Basketball is about competing, but it is always about meeting people and giving respect."
Then they both went back to work. Davidson hadn't led in the game after falling behind 12-0 to open festivities. But with 13 minutes to go, Davidson grabbed its first lead at 40-39 and it was Landers time, even though he was playing with three fouls.
He hit one from outside to recapture the lead for the Flyers, 41-40. Darrell Davis stole a pass and led Landers for a slam dunk and a 45-40 lead. Then Landers hit a three, scoring seven of UD's nine points in a 9-0 run.
That gave the Flyers a 48-40 lead with 9:45 to go but Davidson wouldn't go away. It was 52-46 when Landers stuck the Wildcats with a dagger.
The Flyers, trying to puncture holes in the Davidson zone defense, passed the ball on the perimeter — pass, pass, pass, pass, pass. There was 0:02 left on the shot clock when Landers, standing 30 feet from the basket, dug a pass off his ankles, went up and shot it at the buzzer. Swish. A three.
"It was a panic shot because the clock was running down," said Landers. "It was a shot, not a throw. I got under it and it just happened to go in. I don't know what was going through my head. Darrell (Davis) passed the ball at my ankles and I knew I had to grab it and get into the air. It felt good and when it went in I said to myself, 'I'm good now.'"
That gave the Flyers a 55-46 lead and they still lead 58-50 with five minutes left. That's when Davidson freshman Kellan Grady awoke from a game-long shooting snooze.
He shoots 50 per cent and averages 16 points a game, but at his juncture he was 1 for 11 from the field. He scored twice and Aldridge scored twice and Davidson led, 61-60, only their third lead of the game.
Once again the Flyers fought the shot clock and when it reached 0:03 freshman Jalen Crutcher launched a three-pointer that bottomed out with :55 seconds left in the game, a 63-61 UD lead.
Davidson missed a lay-up and a tip and the Flyers owned the basketball long enough for Landers to get fouled with 23 seconds left. He swished both free throws, no pressure, and the Flyers snapped a two-game losing streak and ended Davidson's five-game winning streak, all Atlantic 10 Conference wins that had the Wildcats at 5-and-1 in league play.
Of his two clinching free throws, Landers said, "Pressure? That word again. No pressure. All I was thinking about was my free throw routine. It wasn't nothing to me."
It was something for the Flyers, who cleaned up their game for this one after committing 21 turnovers in Saturday's loss at home to Rhode Island. On this night they committed only six turnovers and played defense as if they meant it.
Landers' 16 points led the way and he received aid from Josh Cunningham (15), Darrell Davis (14) and Jalen Crutcher (12 points, six assists).
"Our guys came out with great focus tonight," said Flyers coach Anthony Davis. "From start to finish, our ability to lock in on defense was really good. Offensively, Davidson is one of the best in the league.
"Davidson is very efficient and our guys made them work for what they got," Grant added. "Landers battled all the way through. He made some big plays offensively and we gave him the assignment to guard Aldridge, a league player-of-the-year candidate. He got 24 but he earned everything he got and Trey did a great job of battling him. Trey picked up three fouls early but was able to still make Aldridge work for everything he got."
Of the two free throws Landers made to clinch it, Grant said, "Those were big. Those were grown-men free throws."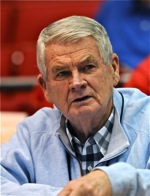 And of Crutcher's huge three late in the game, Grant added, "He might be a freshman, but he wants to take those shots. He is a very confident kid in his the belief of his ability to make shots at crucial times."
Grant was most definitely pleased with the outcome against a very good team and said, "We earned the win. Great game."
It was the first time this year the 9-and-9 Flyers won a game when they scored less than 70 points and that, says Grant, is what defense can do for you.