A few words of consideration regarding people who criticize an obsession with winning, while maintaining an appreciation for individual milestones.
In anticipation of Versailles senior Justin Ahrens breaking the all-time MAC scoring recording on Friday night (1,744 points, held by Kyle Gehle since 2004), I heard from several who wrote asking if Press Pros be there to document the occasion.
And, I want to thank those who wrote to make sure that we were aware.  I agree with many who also added, "It's a big deal in area basketball."
But Ahrens' milestone does bring to mind an issue with which I personally struggle, given the modern politically correct culture of thought…that it's not whether you win or not, but rather, how you play the game.
Now read me accurately here. I'm not saying that anyone who wrote to me this week is against winning. Far from it, because I know many of them. They're competitive people who appreciate achievement.
But I also hear from others who tell me that we spend too much time glorifying 'winning', and not enough on the student/athlete who just does the best he, or she, can.
"Those kids deserve just as much credit," says my online critic, Syl, from Dayton. "Everyone is a winner for just trying," she recently wrote.
I enjoy the banter back and forth with Syl. And personally, I think she does, too. That's why she writes.
But if she, and others, really believe that winning doesn't matter, doesn't it stand that there would be a hall of fame to mediocrity somewhere? And indeed, if there was such a hall…wouldn't the membership would be so great that individuals would be lost in the list?
No, I really don't believe it…that people really like mediocrity, because we enjoy 'records' too much. We love to introduce people as the "world record holder", and love meeting them.
We love having plaques and the hardware in the school trophy case. And we're really not naive' enough to believe that without such high standards there's hope for future achievement.
Remember, the politicians tell us daily that if we don't go to school twelve months a year we can't keep pace with the Chinese, and the rest of the world. So, in that sense they certainly have a sense of competitiveness.
And all those administrative fat cats in Columbus and Washington, pushing mandatory testing and evaluation down our throats – why would they be doing it if they weren't keeping records for achievement?
It really is about winning, folks. And records of achievement (of distinction) are first cousins to winning, regardless of what Syl thinks.
So kudos, first, to Kyle Gehle for setting a standard in the Midwest Athletic Conference that stood for 13 seasons.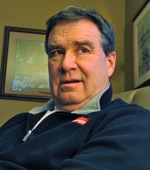 And congratulations to Justin Ahrens, and his family, for believing that a higher standard is important enough to shoot for. For now, yes. But more important, for the next kid who comes along who wants to be, and isn't ashamed to be…great!
"Kyle (Gehle) worked hard for his record, and Justin is still working hard. And for the little kids that'll be coming up, they'll be doing the same thing,"  said Ahrens' father, Kevin, who's coached them both.
Let's hope.
Kids that want to be like Justin Ahrens, who by the way…loves to win!