It was back and forth, and it was tied at the end of regulation.  Fort Loramie and Minster had to go to overtime to determine backyard bragging rights…and Loramie came out of it with its perfect string still intact!
Fort Loramie – To his credit, perhaps, Loramie coach Corey Britton never uttered a word about his team's still unbeaten streak, now numbering 14 games, following Saturday night's 52-51 win over backyard rival Minster (8-3).
Nope, all he could talk about (and proudly) was the manner in which team had survived a quality opponent, in overtime, for the second time in two weeks.  Just twelve days ago Loramie had handed Versailles its first loss in an overtime outcome, and the comparisons were eerily similar.
"That was a battle,"  said Britton, outside his locker room.  "We just battled, and battled, and battled.  Minster's really good, and I think we're getting to the point where we can be really good…and it was just two good basketball teams going at each other.  It was great for all the people that were here."
And there were a few.  Both sides of Loramie 2,000 seat gym were full, highly partisan, and charged up to see a favorable outcome.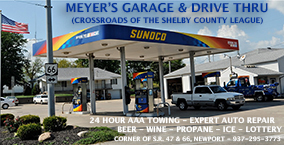 Minster started well, behind the 12-point first half of 6'9″ center Jarod Schulze.  In a head-to-head matchup with Loramie's 6'8″ Tyler Siegel, Schulze kept getting the ball deep in the post, where he turned and deftly flipped in those points over Siegel and whoever else could get there to help.
But state-ranked Loramie responded, thanks to a 10-point second quarter by guard Dillon Braun, who shot his team past a 12-6 first quarter deficit to a 22-20 halftime lead.  He did get some help from Nate Raterman's lone three-pointer of the game – and a pair of points from Siegel inside – but for all intent, the second quarter belonged to Dillon Braun.
The third quarter turned in Loramie's favor early when the Redskins went on a minimal 5-2 run;  but the bigger issue was Schulze being assessed his third foul of the game.  It marked a turning point because from that point on the Minster big man was in and out of the game…and struggled to get back the scoring rhythm he had enjoyed in the first half.
And, Tyler Siegel had something to do with that, too.  Suddenly, Siegel became more active in denying the post, and eventually he would limit Schulze to just three points for the remainder of the game.
"That goes on Tyler,"  added Britton.  "He was matched up on Schulze all night long, and we did do a better job of getting our help side defense over there, but Tyler just battled and battled.  And it wasn't like they were playing each other at arm's length.  It was a full-out war…bumpin', and hittin', and bumpin' and hittin'.  So yeah, it goes to Tyler for the job he did in the second half of denying him the basketball."
Others for both teams stepped up to the challenge.
For Minster, Jared Huelsman, Ike Schmiesing, and Mike Ketner all hit huge second half threes to either give the Wildcats the lead…or tie.
And for Loramie…in two words, or perhaps two names…it was Braun and Siegel who rang the bell.  Braun would tally for 11 of his game-high 23 points;  and Siegel caught fire in the post to score 12 of his 17 points over the final 20 minutes.
To give you an idea of how tight it was:  The lead changed five times in the second half, and it was tied four times!
"It was a great atmosphere,"  added Britton, respectful of the energy displayed by the crowd.  "It was good for us.  They threw a punch, we threw a punch, and it's good to be in these kinds of games where you have to battle and handle adversity.  I mean, we weren't smooth, but we didn't have two kids last night, we didn't have one starter tonight, and we're battling the sick bug.  So to find a way to suck it up and play 36 minutes against a team like Minster tells you a lot about our kids."
The game as a whole was tied 11 times;  and there were 10 lead changes.  And as fate would have it on this night, Minster had the ball with 15 seconds remaining in regulation with the score tied at 46-46.  But guard Mike Ketner was whistled for a player control foul by referee Todd Trainer, turning the ball back to Loramie with about five seconds on the clock.  The ball found its way into Evan Berning's hands, but his shot at the buzzer was rejected by Jarod Schulze and the game went into overtime.
It wasn't a classic overtime – hardly rip-roarin'!  Saddled with four fouls, Schulze wasn't as aggressive at the rim as he'd been in the first half, and every time he touched the ball Loramie's help defense swarmed him.
On the other end, Dillon Braun got to the foul line six times and converted four of his six attempts;  while Tyler Siegel scored the only field goal for Loramie over the final four minutes.

But Minster would struggle, too.  Schmiesing would connect for their only field goal.  Ketner would hit a pair of free throws, and by the barest of margins Loramie simply outlasted Minster in the final period, 6-5.  Still, Minster had a couple of shots at the end that could have given them the lead, and the game.
Their target, of course, was to get the ball in Jarod Schulze's hands…and they did, for a wheeling left-handed shot at the rim from close range.  But it was off-line.  "Whew", for Loramie, as the home stands let out a collective breath, their unbeaten string still intact.
"It was a great game,"  sighed Minster coach Mike McClurg afterwards.  "Foul trouble killed us, and I won't talk about officials to the media.  But Jarod was having a great game, and we had to sit him, bring him in and out, and he never got into the flow of the game at the end because he had pretty much sat for most of the fourth quarter.
"But, we're going to grow from this because those were adversity moments, and that's what I told the kids in the locker room.  We were in a huge battle last night, and another, different type of battle tonight where it was situational and a battle of strategy.  Tonight it was about timeouts, and substitutions – all that stuff, and it was good for all of us.  We couldn't have gotten a better look at the end…it just didn't go."
Loramie won it by shooting 50% from the floor, on Dillon Braun's 23 points, and Tyler Siegel's strong second half that saw him add a complementing 17.  40 of their 52 points as a team came from that tandem.
Minster lost it by shooting just 33% from the floor, and 26% from three-point range.  And, the age-old issue of making hay at the foul line…Minster was 3 of 6 from the line in the fourth quarter, and 11 for 16 for the game.
Both coaches alluded to it…and it cannot go without mention that what doesn't kill you ends up making you stronger, as the saying goes.  Minster drops to 8-3 for the season, but is still unbeaten in MAC play, and hosts Versailles next Friday night.
Loramie stays unbeaten as it prepares for the final eight games on its schedule, with a trip to Anna coming up on Tuesday.
It wasn't smooth, as Corey Britton said, but it was highly reminiscent of those sectional and tournament games that test teams' resolve – of how to overcome adversity.
Minster still has the heavy lifting of its schedule ahead, buoyed by the confidence of having played the state's best team in Division IV to within a point Saturday with its best weapon on the bench in foul trouble.
And for the second time in two weeks Loramie beat a good opponent with the pressure of overtime…and believe it, they love the ranking and the dream of an undefeated season.  It hasn't been this good since the title days and Dan Hegemier.
Whew!  Take a breath, and for a time, at least…braggin' rights.  It could have hardly been better!