The Buckeyes junior lefthander is being counted on heavily for 2018, and no one is expecting more than Connor Curlis himself. And he has plenty of reason.
Buckeyes head coach Greg Beals recently sat back in his office chair at Bill Davis Stadium and considered the question of pitching for the spring of 2018.
And in the course of the discussion…the conversation worked its way to Connor Curlis, junior lefthander, and the progress he's shown since the spring of 2017 – his improvement – as the squad entered January workouts with its eye on the February 16th opener in Florida.
Beals' response?
"Well, you have to like what you saw," he said. "From where he was at the start of last spring, to where he finished in May, and considering the summer he had and what he did in fall baseball…I'd say Connor Curlis has had a pretty good year."
The numbers themselves, though solid, may not blow you away. Curlis, out of Findlay High School, won 5 games, lost 3, and pitched to a 4.12 earned run average.
But, that comes from within the framework of twenty appearances in which he pitched 62 innings…and gave up less than a hit per inning. That's good.
In his 62 innings (eight starts) Connor Curlis also struck out 58 hitters, while walking just 19. That's good.
And perhaps better, over those 62 innings opposing hitters batted just .237 against him.
To characterize his year one could easily sum it up in three words – good, better, and hopefully now…best!
"He competes," said Beals, speaking of the attributes that he will expect from the Buckeyes' three weekend starters for this season. And, he expects Curlis to be one of the three.
"From the time I saw him in high school until now the thing I've liked about Connor is his willingness to compete. He's gotten steadily better along the way, and with the summer he had after last season – and with what he showed in fall baseball – there's no reason that he can't come on this year and have his best year as a Buckeye."
Good? As a freshman in 2016 in appeared in just four games and pitched a total of six innings. But he struck out ten in those six innings and finished the year with a winning mark…1-0.
Better? From six to sixty two innings is by itself a ten-fold improvement, notwithstanding his five wins in 2017 and his other complementing stats.
So is the best yet to come in 2018?
There was a start at Michigan last spring, that bodes large in determining the answer to that question.

In the second game of the Buckeyes' three-game weekend series against the Wolverines, Curlis pitched five innings as the starter, surrendering just two runs on three hits.  He eventually took the loss, 5-2, but it seemed to signal the beginning of a work in progress having taken the next big step.  Importantly, he gave his team a chance to win. He pitched well, and confidently.  And over the remaining two weekends of the season – and through the summer Prospect League in Springfield, Ohio – he got better with each time out.
"He gave us a chance," says Beals. "He was as big as the moment and pitched confidently that day. We just didn't score enough runs."
And was that a turning point for the 6' 2" Curlis, who's easily recognized by a determined jaw and his scruffy beard?
"I think I would agree," he said last week. "Up to that point I hadn't pitched as good as I could, and on that day against Michigan I felt like I had everything working. My fastball command was good and I was able to get in on their right-handed hitters, especially. Unfortunately we didn't come out on top, but it was something I was able to carry on in my next start against Indiana (two runs, four hits in a 7-4 Buckeye win)."
And the following weekend against, Iowa, as well, where Curlis threw six innings, surrendering one earned run in an eventual 12-7 Buckeye win.
From there he moved to Springfield, Ohio in the summer Prospect League and was one of that league's most consistent pitchers for coach and former major leaguer, Rick White.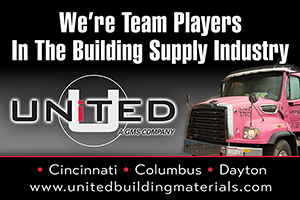 "He opened some eyes," said White at the time. "Suddenly Connor Curlis was on the radar of scouts who came to see him pitch."
It wasn't magic. He just threw strikes…he just competed.
"There were times prior to that I felt like I tried to throw too hard, be something I wasn't," says Curlis. "I don't throw 95, so I started to rely more on my natural fastball with some cutting motion on it, working it in and out."
He's also got the breaking ball – the old-fashioned curveball – and it's a good one!
"Yeah, but I started throwing the slider last summer, had success with it, and right now I rate it above my curveball," he says. "It was good for me in fall ball."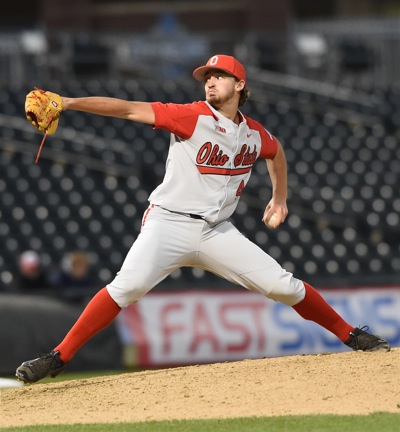 The past six months have been important, and good, to Connor Curlis. He's not only a candidate to be one of those three weekend starters…he's being counted on.
"I don't know that he's going to be the Friday night starter, yet," says Greg Beals. "But I want him to want to be. I expect him to compete like that."
Which will start in exactly one month when the Buckeyes open their 2018 schedule in Port Charlotte against Wisconsin-Milwaukee and Canisius in a four-game weekend series. And don't be surprised to see Curlis take the mound, significantly, for that opening game.
"It's what I worked on all summer," says Curlis, recalling last week his matriculation as a pitcher after that day against Michigan, and subsequent starts against Iowa and Indiana.
"I pitched with a different confidence after the innings I got last year. Now, every time I go out there I feel like I'm getting better and better."
And it all seemed to start in Ann Arbor, a fact that highly pleased Greg Beals, and caught his attention.
"If there's a team that you want someone to compete against, it's against that team up north," he says with a smile.
The day that Connor Curlis started to become his best!