I admit to being older.  I admit to being cynical in my view of culture.  But when I watched the conclusion of Sunday's Saints-Vikings game…for the life of me there's no way I could bring myself to understand two very obvious issues.
The NFL, as most of us are willing to admit, has some problems.
In terms of everyday character, there have been too many Ray Rice incidents of domestic violence.  Even old Buckeyes, like "Zeke" have been bitten, wrongly or not.
And in terms of its legitimacy, it's awfully hard to see the replay of the the conclusion of Sunday's Vikings-Saints game and wonder if professional football is on the up and up.
That is, whether Stefon Diggs caught the game's final pass or not, all Saints defender Marcus Williams, a rookie out of Utah, had to do was grab Diggs by the shirt and hold on.  Make SURE it was the game's final play.  There was no time on the clock and Williams KNEW it was the final play of the game.  Make the play – make some kind of play…and you win.
But no, Williams ducked his head and appeared to dodge Diggs, at least from the replay.  And in fact, it appears that he actually blocked a teammate (Ken Crawley) out of the play, as well.  So Diggs runs 60 yards for the game-winning touchdown.
As for legitimacy, the internet was immediately alive with people claiming the gamblers were responsible for the game's outcome.  Some screamed the game was FIXED?  How in the world could a player like Williams, who had made an interception earlier, not understand that all you have to do is grab the receiver and hang on?  What?  He had no arms?  Instead, he demonstrated the worst possible football technique possible.  A high schooler from Marion Local understands form tackling at that moment;  but apparent Marcus Williams did not.
You're going to hear more about this…because the NFL is going to hear more about this.  This was not the 'immaculate reception' from the Oakland-Pittsburgh game years ago where Franco Harris picked off the deflected pass and scored.  It just looked fishy.  In fact, it smelled.  No wait…it just plain stunk!
And the reason a lot of people, like me, don't watch!
The other issue I don't understand involves Stefon Diggs and his post-touchdown reaction.
One, he took off his helmet and slung it aside.  OK, in the heat of the moment…..
But two, I cannot understand the modern phenomenon of athletes standing there with your arms crossed against your chest, staring at the crowd with a mad, sullen look.  Like…look at me.  "I'm the biggest 'bad-ass' in the world."
Again, I am a product of my generation.  In my view you'd want to believe that Diggs was at least prone to smile.
Or, where are the rest of my teammates?  We just won…let's celebrate.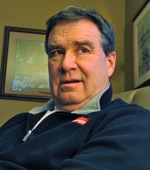 But no, let me stand here like no one else has ever made a play to win a football game and call as much attention to myself as possible.  Only Odell Beckham made a bigger spectacle of himself this year by celebrating like a dog peeing on a fire hydrant…because he said later that people treat him like a dog!  And a very rich dog, at that.  He was fined $12 grand for doing it, but big deal.  Beckham has that kind of money in the console of his car.
Again, I welcome any modern athlete to share with me the necessity, or the reason, for acting like Stefon Diggs.  If it's a culture thing – if it's 'gangsta' – I need to know, because I do understand the importance of what he did, and the emotion of the moment.
I just don't get Diggs.   Even 'gangstas' smile…when they win!