A quick rummage through the closet reminded me of a life-long journey around baseball and men who have shaped my love for the game.  Thankfully, after all these years I still have the evidence to prove where I've been.
Annually, it seems, I write to express my appreciation for the yearly Versailles Diamond Club baseball fundraiser held Saturday night at the K of C in that town.
If you haven't heard of it before, or attended, it's headlined by major league pitcher and Versailles native Craig Stammen, who for years has devoted his name, his time, and his resources to see that benevolence through baseball is alive and well in his hometown community.
Craig and his supporting cast have raised tens of thousands of dollars for youth baseball, facilities, and scholarships benefiting the kids of Darke County, and I commend them for their efforts.
Saturday night's banquet featured hall of famer, and Press Pros columnist, Hal McCoy as featured speaker – along with Hal's close friend and former Red, Eric Davis – and for the baseball enthusiast who never tires of war stories…their collective tales from the dugout during the Big Red Machine days were riveting.
And as with most fund-raisers of that kind, there was a silent auction of baseball memorabilia, and principally baseballs autographed by numerable personalities, past and present.  For some reason I'm prone to pick such articles up and think about the circumstances over how they were attained – where they came from, the moment, and the explanation as to why it was necessary for that person on the ball to give his signature.  Baseball players, you see, don't just smile and sign anymore.  Many, like Pete Rose, will tell you, "I'll sell you my signature, just in case you're planning on selling it, too."

It made me appreciate that big cardboard box of signed baseballs sitting in the back of a closet in my house, the reminder of my own days around baseball, and the wonderful opportunity of meeting, talking with, and obtaining signatorial proof from the heroes of my youth.
I have dozens of them – Don Drysdale, Ernie Banks, Mike Schmidt, and Nolan Ryan.  And there are many others, while not totally obscure, that the average contemporary fan can claim he never knew – never heard of.
But more, I have the one personal baseball memento of my childhood – the first baseball my dad very bought for me, at C.M. Love's hardware store, in Hungtington, West Virginia.  Baseballs back then were $2.00.  Now a professional-grade ball costs ten times that much, or more.
I have baseballs signed by people who had fleeting fame as a professional.  One of the best is one from Larry Sherry, the MVP of the 1959 World Series between the Los Angeles Dodgers and the Chicago White Sox.  Sherry completed all four Dodger wins in that series, winning two and saving the other two.  Years later when I was umpiring in Triple-A I met and talked with him during a rain day in Oklahoma City.  I remember two things.  He was a fascinating story teller;  and he smoked a lot of cigarettes.
There are many others – Steve Blass (Pittsburgh), who was so good in the '71 series against Baltimore.  And then…he simply got the 'yips'.  Couldn't throw strikes anymore, and faded into obscurity, later to comeback as a popular Pirates broadcaster.
There was Bobby Richardson, the old Yankees second baseman, and later coach at the University of South Carolina.  Richardson was a devout Christian and I approached him in 1977 during an old-timers game being staged by the Charlotte Orioles in the old Southern League (AA).  Many of the old-timers who came in for the night were sitting in the dugout prior to the game and I asked Richardson, an iconic member of the great Yankees teams of the 50s and 60s, to sign a baseball.
"God loves you,"  said Richardson, as he signed and handed me the ball.
"Enough to get me to the big leagues?"  I asked, thanking him.
Richardson smiled and added, "His will be done."
But among all the baseballs at my house – among all that old leather – the one I pick up the most (and keep out of harm's way) is one signed by my high school coach, Jim Hardman.  For anyone who played for 'Coach' during his thirty-year tenure as coach and English teacher at Piqua, I don't have to tell you the kind of impact he had on an impressionable adolescent like me, and one bitten by the baseball bug.
He was a good coach, yes.
He was a great story-teller, oh yes!
But Jim Hardman was a man who promoted the 'love' of the game better than anyone I've ever encountered.  He used to come into room 102 of old Piqua Central High School for our first meeting of the year, carrying a uniform jersey on a wire coat hanger.  "Boys," he would say.  "Take a good long look at this uniform, 'cause you're going to miss it when you can't wear it anymore."
He also once told me, "You can only play baseball for so long.  But you can love baseball for forever."  He was right.
He'd bring in a brand new baseball and pass it around, so everyone could hold it, feel it, even take a whiff of it right out of the box.  New baseballs, and baseball gloves, had a wonderful leather fragrance.  Still do.  And I've never forgotten it.
Years later, when 'Coach' was approaching the end of his life I stopped by his house on Carol Drive one day to visit, as I often did.  Only this time I was packing a baseball.
"I want you to sign this for me, as a remembrance of what you taught me,"  I said.
Jim Hardman was a tough man, a "dude" in modern vernacular.  He'd seen it all in his eighty years of baseball, of people, and life's successes and misfits.  His eyes moistened as he took the baseball and carefully inscribed his name, and Piqua High School, 1970…my graduating year.
"Thank you for remembering,"  he said with a smile.  "And thank you for always calling me 'Coach',"  he added.  "You know, it always pissed me off when former players would call me 'Jim'."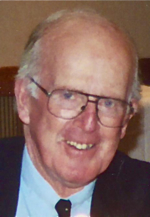 We laughed, shared a beverage, and talked about the old days and old teams and teammates.  And not surprising, before I left Hardman was on his feet with a baseball in his hand, showing me for the thousandth time why I hung my curveball…because my stride was too long.
I swear to you…all of this washed over me Saturday night in Versailles.  In the midst of such greatness – of Hal McCoy, Eric Davis, and Craig Stammen – it was still the days of my youth, memories of the obscure, and my time with Jim Hardman that brought to me the greatest appreciation for what Stammen and his subordinates were doing.
It reminded me, if nobody else, that sometimes it's not a matter of money.  It's just baseball, and baseball people, that matter most.
The memories…and old leather!