Neither team shot well, except when shots counted the most.  In a game of different heroes, Fort Loramie remained unbeaten with an impressive will to win…over unbeaten Versailles!
Versailles – Some people might have walked to their cars afterwards Tuesday night saying that it was an ugly basketball game;  and mostly Versailles people, one might guess.
After all, the previously unbeaten Division III Versailles Tigers had just fallen for the first time in 2017-18, in overtime, to Division IV Fort Loramie…in an improbable overtime.  And then, they lost the game in overtime on an improbable shot and circumstance of having called a timeout when they had none, giving Loramie the opportunity to win it at the line with no time remaining…which they did!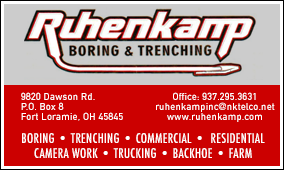 But it was far from ugly;  and it was far from a game that one can write about, or describe, in statistical terms.
For in fact, both teams shot poorly.  OK, more accurately, both teams shot awful at times.
But the beauty of this game, despite sub-40 (percent) shooting was in the manner in which both teams competed.  It was rough.  It was physical.  It was adversarial.  In short, it was a contest in which one or the other was destined to win through sheer will;  and the Fort Loramie Redskins (11-0) turned out to be the last man standing.
As for the poor shooting, it was that rare night when Ohio State recruit Justin Ahrens (averaging 20-plus per game) would struggle with every shot possible – layups, mid-range, three-pointers, and even free throws – and finish with just twelve points.
And it was a night when the presumptive interior of advantage of Tyler Siegel for Fort Loramie, would find it just as tough at the rim, where he does most of his business.  Siegel did finish with 10 points, but they were well-spaced…a pair of field goals in the first and fourth quarters.
It was a night when both teams could have won the game in regulation at the free throw line…and didn't.
But, it was also a night of improbable contributions from those one might not have expected.
In the absence of his twin brother's normal efficiency, Versailles A.J. Ahrens was spectacular in scoring a game-high 21 points, literally shooting his team back into contention in the second half with drives to the rim…and a pair of huge three pointers not normally in his resume'.
As for Loramie, it was the balance of double digit scoring from Siegel (10 pts) and Dillon Braun (16 pts), yes…but when it mattered the most it was a different hero, Evan Berning, who stepped up with .4 seconds on the overtime clock to break the local hearts, and turn 'Tigerball' into 'Tiger-fall'.  Berning had just five points previously and had had a spotty night at the free throw line.
Close throughout, Loramie led by just 9-5 at the end of the first quarter.
And after a whirlwind second quarter the Redskins led 20-14 at the halftime break, thanks to Dillon Braun's 8 first half points.
It got more interesting in the third.  After an opening 8-2 run by Loramie, Versailles eventually came back to tie the game at 28-28 until the final possession, when Austin Siegel would score his only two points of the night to have Loramie retake the lead, 30-28.

The fourth quarter was a see-saw affair that saw the other Ahrens, A.J., surge his team into contention with 8 of his 17 second-half points, including long three pointers from the top of the key and the deep corner.  The lead changed hands twice, and it was tied three times, Loramie tying it for the final time to send the game into overtime…40-40!
Versailles quickly took the lead in the extra period on baskets by Justin Ahrens and Keaton McEldowney.
But Loramie's Nick Brandewie had a tough reverse layup, and Cody Barhorst split a pair of free throws.
On the other end Carter May and Noah Richard split a pair of free throws.  It was Versailles 46, Loramie 43, as the climactic finish presented itself.
With eight seconds on the clock Evan Berning dribbled the ball upcourt, looking for teammate Dillon Braun on a designed screen and shot opportunity.
"It was supposed to go to Dillon, but I dribbled down the court and no one picked me up on defense,"  said Berning, afterwards.  "No one was guarding me and I shot it."
Improbable again, because Berning had struggled to score all night.
"I didn't shoot very well tonight,"  he said.   "But that shot felt good when I let it go."
Degree of difficulty?  Well, considering the circumstance of trailing with the game on the line, and A.J. Ahrens rapidly closing on him, even a Russian judge would have given him high marks.
"We got frazzled a little bit,"  said Versailles coach Travis Swank.  "He (Berning) got open as we were trying to get back to our men (on defense) and he hit the shot."
Frazzled?  With the scored tied at 46-46, the Versailles bench called a time out with .4 seconds on the clock to set up some kind of answering play.  Only…they didn't have any timeouts left, and were assessed a technical foul.
Braun, one of the area's best shooters, stepped to the line for Loramie and coolly canned both to end the game.
"I called the timeout, and I got the technical,"  said Swank.  "It is what it is and I take the blame for it.  I'm the one who did it.  We lost the game."
On a technicality…they lost the game!
It shouldn't have ended that way…because in the end it diminished one of the season's really special competitive exhibitions in front of a packed house – 2,100 fans everywhere you could sit, stand, lean, or prop yourself up.
Loramie coach Corey Britton called it special for the fact of winning when his team had to overcome adversity, and the worst possible kind in basketball – when you can't make shots!
"It was just a very good high school basketball game, on a Tuesday night with 2,100 people watching…against a very good Versailles team…it was just a dog fight,"  said Britton.  "We knew it would be.
"Adversity…it was the first time we've trailed in the second half all year.  We had to come back.  We'd tie it, then make a bonehead play, or turn the ball over.  But it was adversity for us and it was huge to have it now in January, because it's just going to make us better in the long run."
On the three-point shot by Berning at the end:
"It was a broken play,"  said Britton.  "To be honest we were trying to get a pop back to Dillon, but Justin (Ahrens) took it away and Even just stepped up and made a big shot.  Then Dillon stepped up and made the big free throws on the technical.  Those guys have been in it since their sophomore year.  They battled through an overtime game in the district championship as sophomores, so they had that experience.  We needed a break tonight, and we got it.  It's not the greatest way to end a game like that, but it happened and it's tough to step to the line like Dillon did and hit a pair of monster free throws with 2,100 people watching and the game on the line.  I'm proud of them."
Versailles dropped their first game of the season (10-1) with A.J. Ahrens leading all scorers with 21 points.  Justin Ahrens had 12, Keaton McEldowney had 7, Carter May had 3, Evan Hiestand had 2, and Noah Richard had 1.
Loramie improved to 11-0 with Dillon Braun's 16 points, Tyler Siegel had 10, Nick Brandewie had 9, Evan Berning had 8, Nate Raterman had 3, and Austin Siegel had 2.
It sets up another huge challenge against another good Division III team, Anna, this Friday, as the Rockets seek to gain a share of the Shelby County Conference lead.  9-2 overall, Anna's lone league loss came three weeks ago against Russia.
And no time to savor Tuesday's win, or even consider what it means in light of any who question how Loramie will rank now among the rest of the best, state-wide, in Division IV.  Their focus is squarely on the challenge at hand, of living up to their own expectations – of making the most of what appears to be a very special season.  From coach to the last man on the bench, they're all for one and one for all.
"We don't talk about things like that,"  said Britton.  "We'll just go back to work tomorrow after school and try to get ready for Anna."
Which ironically is word for word what Evan Berning said, when asked if he wouldn't at least think about that three-pointer (at least for a while) that knocked Versailles from the ranks of the unbeaten.
"Nah," he said.  "We're playing Anna on Friday, so I'm not thinking about this game anymore."
And credit Corey Britton for one great job of coaching.  They not only play like he wants…they talk like him, too!