Fort Loramie continued its stingy defensive play and got double-digit scoring from Tyler Siegel…to knock rival Russia from the ranks of the unbeaten in Shelby County League basketball.
Fort Loramie – The good news for the Shelby County Athletic League is seven of the last eight boys basketball champions have suffered at least one loss and sometimes two. So there's still time for the field to catch up to Fort Loramie.
But judging from the Redskins' fast start – which on Friday included a 47-32 victory over four-time defending champ Russia – the field might not want to wait too long to hang an L on Loramie. If they can.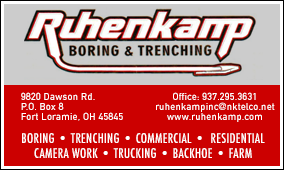 Fort Loramie (10-0 overall, 5-0 SCL) knocked Russia (7-4, 5-1 SCL) from atop the league standings with an inside-out game that generated just enough offense to send the Redskins fans home happy. Loramie struggled to do that in recent seasons against Russia, dropping five of the last seven games on their home court to the Raiders.
Not this time. And not in front of this crowd of about 2,000 spectators that left the gym nearly standing-room only.
"We had a big crowd tonight and that was a lot of fun," said Fort Loramie senior guard Evan Berning, who scored 10 points in the win. "It's probably the biggest crowd I've seen in our gym."
The win was pretty big, too.
Fort Loramie ended Friday night as the lone undefeated team in the SCL standings. The last team to run the SCL schedule unscathed? Jackson Center did it in 2011-12. Anna also did it in consecutive seasons in 2007-08 and 2008-09.
"It's early," Fort Loramie coach Corey Britton cautioned. "It was a good week for us. This was the only game we had this week so we were able to focus. Our kids did a great job on the defensive end of the floor. It's a great win."
With 6-foot-7 forward Tyler Siegel and 6-2 forward Austin Siegel working the post, the Redskins wanted to get the ball down low. They did it enough times Friday – including consecutive times in the third quarter to establish a 35-18 lead – to prevent Russia from chipping away at the Redskins' 26-16 halftime lead.
Tyler Siegel finished with a team-high 11 points and Austin added five.
"It's always a point of emphasis for us getting the ball inside. We want to play inside-out," Britton said. "I thought at times we did pretty well and I thought in the second half the reason we sputtered is we didn't get any post touches."
Russia pulled within 39-27 to start the fourth quarter. Fort Loramie went to a clock-controlling offense that kept the ball out of the Raiders' possession for decent stretches of time.
Russia junior forward Daniel Kearns led the Raiders with 10 points in a bid to keep the team close and senior guard Jack Dapore added nine. The Raiders managed just seven points in the fourth quarter – the Redskins had only eight themselves – as Loramie slowed down the tempo.
"They guard very well. They're a very talented group," Russia coach Spencer Cordonnier said. "We knew it was going to be difficult, but I think we made it difficult on ourselves too. … We have three guys that score the majority of our points. We don't light up the scoreboard by any means. If we don't execute and get those guys in position to score it's going to be a long night."
Russia took its only lead at 6-5 midway through the first quarter. Fort Loramie junior guard Eli Rosengarten keyed an 8-0, quarter-ending run by hitting a three-pointer with 1:11 left and – after getting fouled – the ensuing free throw. Senior guard Dillon Braun also contributed a pair of first-half three pointers.
The win continued a trend for Fort Loramie. After beating Jackson Center for the first time in eight attempts on Dec. 29, Britton said Friday's win snapped an 0-for-8 regular-season streak against Russia. Fort Loramie has logged a pair of Division VI sectional tournament wins over the Raiders in 2016 and 2017, though.
"It's big. They beat Anna and Anna is pretty good," Berning said. " We have to keep playing and trying to get wins in the county. (Russia) has won it the last four years so we have to beat them again. … Every game is a new game against these guys. It's a big rivalry."
Fort Loramie – which opened the third quarter with a 9-2 run for that 35-18 lead – finished with 47. That was some consolation for Russia, which held the Redskins to their second-lowest point total this season. Loramie scored 43 in a 43-30 win against Jackson Center.
"Defensively I'm happy with 47 points. Our trouble is scoring points," Cordonnier said. "We got open looks outside that we didn't knock down. Offensively we didn't play the way we need to play. We didn't execute like we need to beat good teams."
Russia – just like the rest of the SCL – gets another crack at Fort Loramie again. Cordonnier, though, couldn't tell you win. He's now focused on a game plan for next Friday's opponent in Houston.
"A lot of times I know who we play next and that's it. I know who we have to play yet, but I don't know when we play them," Cordonnier said. "I know we have Houston next week and we have to get ready for them. The league's very competitive this year again. We have to be ready to play and if we don't execute we can get beat by any one of them. If we execute we can beat any one of them. Defensively we stay in games. Offensively we're struggling."
For the record, the rematch is Feb. 16 at Russia in the game of the regular season.
"It's Russia-Loramie. It's going to be a dog fight," Britton said. "It's always a physical, defensive battle."