Can't teach an old dog new tricks?  Ridiculous!  But where there's a Wes, and some tasty incentive, there's a way.  Read on and I'll share a valuable New Year's tip that I've learned.
The phone rang recently and Wes Farno, from Minster, was on the other end.
"How about lunch at Skyline in Troy?"  he asked.  "Meet you about noon."
Fine, for in fact I rarely turn down an opportunity to munch on Skyline's cheese coneys…and marvel over inflation.
Inflation?
Yes, inflation.  The first Skyline cheese coney I ever ate was in Fort Lauderdale, Florida,  in 1976, my first summer of minor league umpiring, and they cost 35 cents back then.  Perfect for a minor league budget when you got paid $650 a month, with no per diem.  Currently, I think the same six inch hot dog, with chili, onions and cheese goes for about $1.65.
And if you're interested, my partner and I would split ten coneys and a six-pack of Pearl, which back then cost $1.79.  That was the meal of the day, and man that was livin'.  I always feel uneasy about telling young aspiring umpires about how great the minor league umpiring is, if you're fortunate enough to get a job.  I think back on those cheese coneys, and the heartburn, and tell them to consider their options…wisely.
But back to Wes Farno.
At the appointed hour we met at Skyline and he was waiting for me.
"I'll take a medium three-way (spaghetti, chili, and cheese) and a couple of coneys, loaded,"  I told the waitress.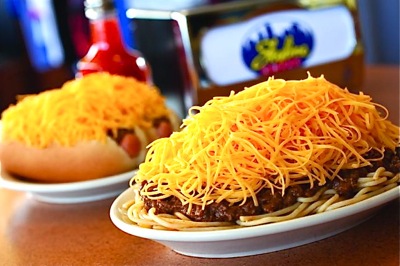 "I'll have a large three-way, 'inverted',"  said Farno, who has a consulting business in Minster.  "And a medium drink."
"Inverted?"  I asked, after the waitress had left.
"Sure,"  said Wes.  "Works best that way."
I tried to hide my ignorance.  What he meant was…he wanted the spaghetti and chili on top of the cheese.
Now, I've had my share of Skyline over the years.  I, like many of you, find it to be a great 'comfort' food on those days when nothing else will do.  But I'd never considered having cheese on the bottom of the dish.  Everyone else has it on top and just sits there and proudly admires that big pile of cheddar when it comes, as if it's an annual disbursement check from Edward Jones.
When she brought our orders the waitress asked, "You want bibs?"
"Don't need one,"  said Wes.
"Nah,"  I added, joking.  "I'll use my sleeve if I spill something."
The fact is, the very first bite I took I had chili and sauce down the front of my shirt…not that it was something out of the ordinary.  I'm a card-carrying member of the Rocket Cleaners' hall of fame.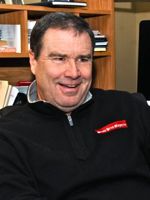 But Wes?  Another story.  The reason you order it 'inverted' is because the spaghetti and chili quickly melts the cheese, forming a solid base underneath, allowing you to conveniently cut it up bite-size, and cleanly fork it to your face with the spaghetti sitting on top .  No mess, no drip, no need for a bib…or a clean shirt when you're finished.
"OK, now I get it,"  I told him.
"It's not my first time,"  he smiled.
Which is why he's in his field, and I'm in mine.
Words to the wise – if you've read this far – for 2018.
When it's Skyline time, you want it…'inverted'!