You're accustomed to reading our coverage of area high school basketball, but Friday night marks a special back-to-the-future moment worth noting, as hall of famer Hal McCoy returns to area gyms.

We've covered many Tipp basketball games from Pat Wampler Arena over the past six seasons, but none in the manner of tonight's (Friday's) matchup between Adam Toohey's Red Devils and the Xenia Buccaneers.
For Friday night's game marks the re-debut of one of the area's iconic writers to his sports journalism beginnings.  Hal McCoy returns to do high school basketball.
"I'm looking forward to it,"  said the Cooperstown hall-of-famer this week, an inductee to the writer's wing of America's most prestigious sports hall of fame (The J.G. Taylor Spink Award) in 2002.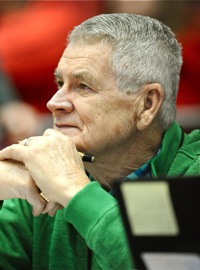 "It's the first time I've written a high school game since I covered Belmont High School during their glory days in the 60s, with Bill Hosket and Don May.  This should be fun."
Fun, and fun for coaches, players, and fans alike, who for the past 50 years (some of them, anyway) have grown accustomed to his inimitable style of covering the Cincinnati Reds for the Dayton Daily News.  Author of My Half Century With The Cincinnati Reds in 2015, McCoy left the daily beat coverage of the Reds at the end of the 2009 season, this after suffering a stroke to his optic nerve in 2003 that left him legally blind.
"I still wanted to work," said McCoy at the time.  "And I was not forced into retirement.  I was offered a very generous buyout for doing nothing – something that I'm very competent at doing.  They just couldn't afford to send me coast-to-coast to cover the Reds anymore."
Since 2009 McCoy has written a daily blog for the Dayton Daily News, while occupying his down time as an increasing contributor to Press Press.
For the past five seasons he's written the University of Dayton Flyers basketball for the website, and this past fall added coverage of Flyer football to his Press Pros duties.  But high school basketball, and the quality of area high school competition, is something that he will address, starting Friday, with curious optimism.
"It'll be different to go back to where it all started for me,"  says McCoy.  "I really enjoy my relationship with Press Pros and this will be like going back to my roots."
McCoy also lends his name to the annual Press Pros scholarship award (The Hal McCoy Award, $2,500) for area graduating seniors interested in following in his footsteps as a journalist – in journalism, communications, or even those who want to be a high school English teacher.
And if you take the time to stop and say hello, you'll quickly find out why even today, he's still one of the Dayton area's most popular journalistic figures.  He's never met an engaging sports fan yet he didn't like.