Tuesday's announcement that Marvin Lewis would return to coach the Bengals was no surprise, so why will Bengal fans feign upset that he's returning?  I guarantee, you'll come back for more.

It was no surprise to me.  I've met Mike Brown.  I've listened to him repeatedly over the years.  And I know that among all the NFL owners he's the one man among them who believes that you measure football success the same way you monitor your mutual funds.
Some years you make 6%.  Others years you don't do so good.  But if you keep those funds long enough, eventually, in the NFL, you become a billionaire.
So no, when it was announced Tuesday that Marvin Lewis would get a new 2-year contract to return as coach it was no surprise.  I'm sure Brown looked at the 20,000 empty seats in the stadium this year, compared that to the re-treads and unproven coaching candidates around the league, and decided that the safe investment was with something he already knew.
And ignore that business of Lewis going public, demanding that his coaches be treated with more respect financially.  Rehearsed like a scene from Days Of Our Lives – like sands through the hour glass!
That's the first thing that didn't surprise me.
The other?
All of you Bengal fans – and many that I know personally in Miami and Shelby counties – guffawing, throwing up your hands, spewing effusives over a fish bowl at Bing's, and swearing that you'll never personally attend another game.  Horse Hockey!
You're really not that upset at all.  I know you guys.  I see your Facebook posts.  There is no amount of mediocrity that will keep you away from Paul Brown Stadium.  You've been "Bengalized".  And why?
Because it's the NFL!  Which to die-hards must feel like a beach-front suite in football heaven – palm trees, warm breezes, no Stephen A. Smith, and all the Bud Light you can drink.
So, you just got what you deserved because as a group you cannot keep from staring at football cleavage;  and you just got punched in the nose (again) for doing it.
Given that, I've always had the utmost respect for Cincinnati Enquirer columnist Paul Daugherty.  He's one of the best anywhere.  But there's one detail that I disagree with him on, vehemently!
In a column I wrote several years ago, with "Doc" as my interview guest, I asked the question, "Do the Bengals drive you nuts, given their record of 'blah' since Paul Brown died in 1991?"
His answer:  "Bad NFL football is better than no NFL football alone."
I disagree.  Given now what we know about the bad actors, league management, character, sportsmanship, issues of respect to national institutions like military and law enforcement, for a team like the Bengals to continually charge $75 to the obviously unsuspecting…and maintain that status quo of mediocrity (on the field, or off) is Bernie Madoff stuff – a ponzi scheme.  But I do understand…that it's a ripe fruit for the picking for a columnist as good as Daugherty.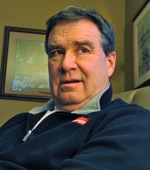 So, again, you got what you deserved because you'll be gullible enough to double down for another year.  More 'Who Dey', more jerseys, hats, license plates, mail boxes and anticipation of the draft.  And no surprise there, either.  They'll take Baker Mayfield if he's available because Mike Brown loves quarterbacks…and Sam Darnold and Josh Rosen will be gone by the time they pick.
And if you want to argue, show me.  Either stay home on Sundays…or explain to me why bad NFL football is better than no NFL football, at all.
But you'll have to go some to beat Paul Daugherty.  He's really good!