The fun begins now as the presumptive favorites move into the new year and league play, and the tension mounts on Versailles and Fort Loramie to prove their worth as regional candidates in their respective divisions.
My phone rang at 1 am Saturday morning, just an hour following our post of last Friday's 43-30 win by Fort Loramie over Jackson Center.
"So, tell me how good Fort Loramie really is," said a weekly reader of the site, and a professed 'geek' of area basketball. "I was surprised by the score."
Surprised, I asked?
"Sure, I thought that would be a trap game for Loramie, because Jackson Center is so hard to beat at home when they play their defense," he countered. "Yes, I was surprised."
"Shouldn't you be gloating over the Buckeyes' win," I asked. "Is there no celebratory hydration going on?"
"The Buckeyes game sucked," he noted. "I should have gone to the Loramie game."
So, to his question…if the score didn't scream something besides defense by two of the Shelby County League's traditionals, here's what Friday's 43-30 outcome said about Fort Loramie.
A year ago they may have struggled to win that game, given their dependence on the jump shot and three-point shooting. If Dillon Braun and other shooters like Eli Rosengarten were hot they were an odds-on favorites. And Corey Britton alluded to that in his post-game comments.
"It would have impacted our ability to play defense on the other end," said Britton. "Now, that hasn't bothered us. We're committed to being solid at both ends."
And to that end, they are. If you look at their record thus far through eight games only three times have teams scored as much as 40 points on the Redskins.
And then this.
"After last year's regional loss to Lima Perry we knew we had to have other ways of scoring when the (jump) shots weren't falling," said Dillon Braun before the season. "This year we're going to be better at doing that."
And yes, check the record. Friday's 43-30 win over Jackson came with just three made shots behind the three-point line. And Saturday's win over Bethel, on the road, featured the strong inside presence of Tyler Siegel (20 points). So, as of now, from what I've seen…Loramie is the "elephant in the room", with SCL rival Russia on Friday, and then another area pachyderm, Versailles, on the schedule January 9th.
As to the other elephants…!
Versailles is still clean after a frenetic road win at Anna (by one point), and a crushing win on Friday night over Miami East. The Tigers (9-0) have Parkway and a non-con game with Fort Loramie next week before settling into the real meat of their conference schedule…Marion Local, Fort Recovery, Minster and St. Henry.
Anna, now 7-2, has anything but a breather in the coming week, with a road game at Marion Local on the 6th…and another road date on the 12th at Fort Loramie. Much will be determined about how real, and how relevant, the heretofore impressive Rockets will be with those two games.
We got our first look at Bethel (7-2) this past weekend, against Loramie, and the Bees, as was suggested to us prior to the season, were impressive…even without Caleb South, who's not scheduled to return until the middle of the month.  He was still wearing a boot cast on his foot on Saturday.  They have size, they have shooting, and they compete.  Down double digits in the first half to Loramie, they came back to tie the game at 37-37 in the fourth quarter, before losing.
Likewise, Ray Zawadzki's Troy Christian, the most overlooked Division IV team in southwest Ohio, had impressive holiday tournament wins over Covington (by 32 points), and Division I Piqua (by 2 points).  6'8″ center James Anderson makes the Eagles legitimate every time they step on the court, and they, too, are a real elephant to the unsuspecting, at 6-2, and play Yellow Springs and Houston this week.
Marion Local came out of the blocks in their first couple of games looking like gang-busters…then came up curiously short in their past two games against Lima Shawnee and Coldwater. I actually sense some post-football hangover here because it's just not that easy to regroup that fast after a 15-week football season. Just ask Minster, who's 4-1, and easing into their own schedule with Delphos St. John and Ottoville this weekend.
On the girls side, Versailles continues to roll (10-1), and they will roll, excepting this Saturday's date with Tippecanoe, until they play Fort Recovery and Minster on the 18th and 25th, respectively. It's the kiss of death to take anyone for granted, but this is a team that's just too talented and too deep for the sake of much artificial patronization of opponents. Tipp, this Saturday, will be fun, with a lot of great players.
Minster, ditto, for the fact of a big, deep, and talented group that plays defense like my wife and daughter shop…all day long! 9-0 at this writing, it's hard to see someone threatening the 'Cats until they play Ottoville (traditionally a thorn in their side) on January 20th, and then Versailles on the 25th.
By the way, Fort Recovery is out there at 5-1, but haven't played enough to gauge how good those five wins are. They, too, have the heavy lifting still ahead of them…with all the MAC heavies!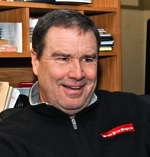 In Division II, in a word…Tipp. Undefeated through the first six weeks of their season (9-0), the Red Devils have Xenia on the road this week (Thursday), and then a date with Versailles, in Versailles, on Saturday. Well worth the trip if you're interested in comparing to of the area's best.
That's it for this addition. Until next week, Happy New Year to those who have a rim and a net in their den…instead of picture of your mother. See you next week.