They squandered an early double-digit lead.  But the Loramie Redskins had enough game, and presence of mind, to finish and win impressively over Bethel.
Brandt, OH – If anyone, including Corey Britton, had wondered previously how the Fort Loramie Redskins would fare against a "really good" opponent, under pressure, and on the road, the answer was served up Saturday night as Britton's 'Skins completed their two-game holiday weekend road trip with a hard-fought 55-47 win over the Division III Bethel Bees.
The pressure, such as it is, was to keep their unbeaten streak intact.  Loramie is now 9-0, the only unbeaten left in the Shelby County Conference.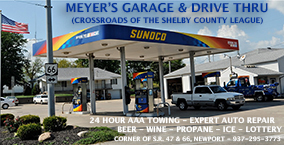 And as to the matter of a quality win on the road, for years the Bethel Bees have been an absolute Bermuda Triangle for quality visiting teams hoping to stave off an ambush.  It's just a hard place to win.
And as for the "really good" element in this story, those were Britton's words before his team boarded the bus back to Shelby County.
"That's a really good Bethel team,"  he gushed.  "They're going to win a ton of games before the end of the year."
Truth, because Brett Kopp's Bees (7-2) almost pulled off the ambush, coming back from a first half 12-point deficit to eventually tie the game at 37-37 at the 7:30 mark of the fourth quarter.  And had it not been for the confidence that comes from senior experience – and a huge game by 6'8″ center Tyler Siegel – Britton's Redskins might well have been counted among the vanquished.
Loramie outscored Bethel 15-8 in the first quarter, largely because Siegel got the ball in the low post and Bethel's 6'7″ answer, Alex VanHarren, couldn't stop him.
But Siegel was also assessed a pair of fouls quickly, and went to the bench for all of the second quarter, during which that 12-point Loramie lead would begin to shrink – to four by halftime (23-19), as Bethel's Ryan Rose would begin to heat up…and Loramie carried over a nasty habit from Friday night of missing point-blank opportunities at the rim.
The third quarter was a see-saw affair that saw Siegel continue his dominance at the rim, scoring eight points, while Rose would shoot over the top of Loramie's defense, helping Bethel to outscore the Redskins 15-14.  Loramie held a slim 37-34 lead as they started the fourth.
Rose kept shooting, and at the 7:30 mark of the quarter his three-pointer from the wing, his fourth of the night, finally tied the score at 37-37, Bethel looked in full ambush mode, and the 'Triangle' looked open for business!
But this is a Loramie team that Britton had lauded just 24 hours earlier for their coolness under fire, and a commitment to defense when shots (besides those of Tyler Siegel) weren't falling.  They went on an 8-2 run, thanks to Siegel and four points scored in defensive transition by teammate Evan Berning, to retake the lead and force Bethel into foul mode.
From thereon it became a game of attrition, as Dillon Braun and Siegel would connect on 7 of 8 from the foul line over the last two minutes to salt away the win…and quell the cynics who had previously questioned as to how Loramie would answer against a quality opponent such as Bethel, on the road.
They answered just fine!
"It was a battle, back and forth, and what we needed right now,"  said Britton as he waited to board the bus.  "Bethel is really, really, really good.
"This makes two big wins for us on the road, big games, and it was nice to get out of here tonight with a victory.  We had to handle some things tonight.  Tyler got into foul trouble early, and we had to play five guards at times in the first half.  And then they hit some big shots in the second half, they tied the game at 37, and we go on to hit a bucket, get a foul, and score the next seven or eight points.  It was a game of runs, we did a nice job of handling things, we battled, hit some key free throws at the end…we did a nice job."
It was perhaps the most complete game of Tyler Siegel's career.  20 points offensively, coupled with four blocks at the rim, effectively negating any size advantage Bethel might have had with Van Haaren inside.
"I don't know if we gave him the ball enough," said Britton, with a smile.  "He really did a nice job with those points in the third quarter, and that's tough when you sit the entire second quarter.  But he didn't go stale, and he continues to contest things defensively.  He's averaging about four blocks a game and it's just a process right now for him.  He's getting better and better."
Loramie won it with 43% shooting from the field, led by Siegel's 20.  Dillon Braun added 16, Evan Berning had 8, Nate Raterman had 7, and Austin Siegel and Nick Brandewie each had 2.
Bethel lost shooting 39% from the field, led by Ryan Rose's game-high 22 points.  Teammate Jacob Evans added 14, while Van Harren had 6 and Karry Hamlin and Ben Lawson each had 2.
At 9-0 there's room for improvement, still, if but subtle, as Loramie readies now for another stretch of quality challenges against the likes of Marion Local, Versailles, and a twin-bill with league rival Anna, who was there in force Saturday night to scout.
"To come back the way we did against a team like Bethel, handle their run, and make free throws down the stretch was huge,"  concluded Britton.  "But there was a period there before the half when we didn't do a very good job, and we missed some cheap ones again tonight.  We gotta' make those shots."
But despite that…he left with a smile.  Back-to-back wins on the road against Jackson Center and Bethel is a pretty good weekend for anyone.  They survived the 'Triangle', and the questions, at least for a few days, were answered.
And New Year's eve just got happier!