It was symbolic of the weather outside.  The shooting inside was just as cold, but Fort Loramie scored enough to remain unbeaten with a Shelby County League win over Jackson Center.
Jackson Center – There's not reason to soft-sell it.  It was just an ugly basketball game.
In fact, the conditions inside the gym at Jackson Center Friday night were largely symbolic of the conditions outside, where it was 17 degrees with steady, mounting snow – the worst night of the winter so far, just nine days into.
But in an even larger sense it was symbolic of Shelby County League basketball, too, where seldom does anyone have a tropical night in Jackson Center's gym, against Scott Elchert's defensive-minded Tigers.
But to good teams playing in the midst of whispers of a 'special season', it just doesn't matter.  Oakland Raiders coach and owner Al Davis used to say, "Just win, Baby", and Friday the Fort Loramie Redskins played that familiar tune, not perfectly, but good enough.  They beat Elchert's young, developing Tigers 43-30, in the first of what Loramie coach Corey Britton would later call a pair of weekend road tests – holiday road tests!
It was defensive on both ends, where it was obvious that both Elchert (by necessity) and Britton (because he could) would make the respective offenses earn every point.  Every possession was contested, and both teams played enough zone to put a premium on outside shooting.
In Britton's case, it worked to perfection…and it should have.  Loramie was bigger, more athletic, and deeper at nearly every position on the court.  The out-manned Tigers shot just 13 of 39 from the field (33%) overall, and hit 3 of 14 from behind the three-point line.
"There were two things to consider,"  said Scott Elchert in his office, afterwards.  "One, their defense had a lot to do with the outcome.  Man for man, at very position they're bigger than us, and in some cases by multiple inches.  And two, the opportunities that we had on the perimeter, shots that we had been making the the games leading up to this game, we didn't make them tonight.  So you put those two things together and that's why we had 30 points."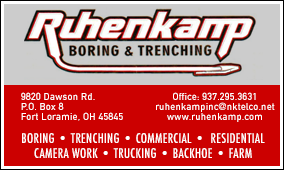 Like we said, no reason to soft-sell it.  The numbers don't lie.
Jackson held serve the best they could through the first eight minutes, trailing Loramie 14-10 at the end of one quarter.  But Britton's Redskins extended that margin out to 23-15 by halftime, and appeared to have the Tigers in a headlock.
However…never, ever, take any given SCL basketball game, or team, for granted.  Jackson held Loramie to just eight points in the third quarter, and at one point early in the fourth trailed by just six points.
But that was a close as it got.  One of the strengths of the highly-anticipated Redskins is their ability to shoot from the perimeter – Dillon Braun, Eli Rosengarten, Evan Berning, et. al. – and a three-pointer by et. al, in this case Nathan Raterman, sparked a 10-2 run by Loramie that effectively secured the outcome.
Jackson tried to play desperate catch-up from behind the three-point line, but as the coach maintained…it simply wasn't there for them on this night.  They ended up 0-for-the-second-half on deep shooting, while 6'8″ senior center Tyler Siegel punctuated things with two minutes left with a rattling dunk off the baseline.  It roused the Redskins faithful, sure enough, and sent what was left of the JC crowd for the exits and home for a good seat and snacks for the Cotton Bowl game.
"Anytime you play Jackson Center it's going to be tough, regardless of the score,"  said Britton afterwards.  "Because, this is the eighth time in four years we've played them and we're now 1-7.  We've one once in that span, so anytime you play them it's going to be tough and physical.  You gotta be ready to go or you're going to get beat."
It accentuated the fact that familiarity and experience dictates when you play against Elchert's defense, you HAVE TO MAKE the most of the opportunities you have.  And to that end, Loramie did just enough (42%) to get it done.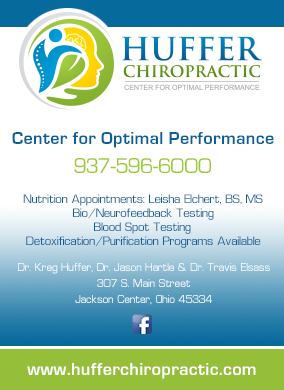 "It was tough, like it always is,"  added Britton.  "In the first half we had four or five turnovers and missed four or five layups.  We had some good opportunities, but that's how it goes.  You're going to make shots and you're going to miss some.  But a year and a half ago we wouldn't have defended on the other end like we did tonight when those shots weren't falling.  It would have affected us defensively, but we didn't let that happen tonight.  We got after it and held them to 30 points, and that's a great achievement."
Jackson Center (4-5) lost the game with having just five players score.  Bryce Sosby led them with 9 points, Trent Platfoot had 8, Calvin Winner contributed 6…while Aidan Reichert and Christopher Elchert finished with 4 and 3, respectively.
Fort Loramie won the game with more balanced scoring – seven players in all.  Dillon Braun was the only player for either team to reach double figures, with 1o points, while Austin Siegel had 8, Nick Brandewie had 7, Tyler Siegel had 6, Eli Rosengarten and Nate Raterman each netted 5, and Evan Berning finished with 2 points.
The win moves unbeaten Loramie to 8-0 for the season, and they conclude their 'Holiday Road' trip Saturday night with another, and bigger, travel challenge with a non-conference game at Bethel, where the Cross County Conference favorite Bees are 7-1, and highly touted.
"Actually, tonight was a helluva' challenge for us,"  corrected Britton, taking issue with any assumption that Bethel is the more important of their two weekend road games.
But for the record…people are talking about Bethel at this point.  You don't hear so much…about the Jackson Center Tigers.
"That's because they don't know Shelby County League basketball,"  huffed Britton.  "We've been talking about Jackson Center all week.  You take games like this one day at a time, and when I get off the bus tonight I'll go home and spend more time watching Bethel than I do the Buckeyes."
And that would have been time well spent, because by the time he did get home the Buckeyes were up 24-0.  But 'holiday roads' giveth and they taketh away.  Corey Britton takes nothing for granted.
"They're good,"  concluded Scott Elchert of the Redskins.  And as he praised Anna a week ago, he was similarly appreciative of the Loramie team Friday that had just beaten him.
"They're really playing well at this point of the season, probably as well as any team around.  They have multiple weapons, a 'big' inside that can score, a dynamite point guard that understands his role, and of course Braun's been a helluva' shooter his whole high school career, and I think he's amped it up another level this year."
But that said, there's no such thing as a moral victory with the coach of the Tigers.
"We just won three straight games, and tonight was a challenge to our youth and lack of size.  I told the guys that I thought we came through that test OK,"  he said.  "But, we want to be in a position where we're beating the better teams."
For Corey Britton and the Redskins, they've been there, and to his own words there was a year and a half's difference Friday night in the team that used to lose to Jackson Center – seven out of eight times.  Now they're EXPECTED to beat the better teams, like Bethel, on the road, Saturday night.
That's what all the whispering's about!