St. Henry was 4-0 entering Friday's Mercer County holiday hoops bash, but the Marion Local Flyers dashed any plans the Redskins had for a perfect Christmas with some bashing of their own.
Maria Stein –  Let's be honest, and Marion Local coach Kurt Goettemoeller was, afterwards…the 77-40 final score was no indication of either how good Marion Local was in winning, or St. Henry was in losing.
St. Henry was 4-0 entering Friday night's Mercer County holiday hoops hollipalooza, but Marion got out early, hit a three-point shot at the halftime buzzer to take a 10-point lead, scored the first eight points of the second half…then pretty much cruised to that 77-40 eventual margin.
"Well, I don't think the final score is indicative of how good or bad either team is at this point,"  said Marion coach Kurt Goettemoeller.  "It was  kind of a slugfest in the first half, then Tyler Prenger hit a big shot at the end of the half to get us up ten.  Then Justin Albers came out and hit three big 'threes' in the third quarter.  That really got us going, and if we're shooting the basketball well…we're really difficult to defend."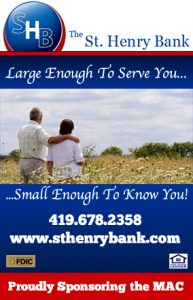 In a nutshell (and you can pick your holiday nut), that was the bottom line.  Marion did shoot the ball well (70% on 26 of 37 attempts), unexpected for a team making only its second start of the season…and simply 'grinched' St. Henry, who could not keep pace.  The Redskins, smaller, and intense with their defensive focus at the outset, fell victim to just 25% shooting on their own, and you do the math.  70% trumps 25% every time!
Marion beat them off the dribble.  They beat them from mid-range.  They beat from behind the arc (6 0f 10), on the boards, and in transition.  They didn't leave much to chance!
You wouldn't have guessed that Tyler Prenger (8 pts), ( Nate Bruns (14 pts), Tyler Mescher (23 pts), Nick Tangeman (4 pts), Jack Buening (6 pts), Sam Huelsman (2 pts.), and Matt Rethman (2 pts.) (all football players) had only been in the gym for two weeks.  They ran the court and played with the instinct of the Golden State Warriors.  Add the shooting of non-footballer, Justin Albers (13 pts.), their size and athleticism, and the Warriors might have been challenged over the same 32 minutes.
Mescher, for his part, was a LOAD.  At 6'2″, and about 225 pounds, he's expert in using his size to shield off would-be defenders at the rim…and Friday he looked like he'd never worn pads and a helmet in his life.
"Tyler's a veteran,"  said Goettemoeller.  "And he just knows how to use that 6'2″ size inside.  They didn't really have a good matchup for him, and when they did close down on him a few times it gave us some good open looks on the perimeter.  Tyler's just a warrior."
Marion led 17-12 at the end of one, and extended that lead to 30-20 at the break, despite some early shooting from St. Henry's Ryan Luttmer (2 of 6 from three point range), and Zach Niekamp (2 of 7 from behind the arc).  But thanks to that buzzer-beater from Prenger, the Flyers carried all the halftime momentum into the locker room.
And then…before the 20-20 winner could settle in his seat to count his money, Marion hit a layup and a pair of threes to start the third quarter to extend the lead to 18.  St. Henry never challenged after that.
The lead grew to 20, and then 30, as Goettemoeller substituted freely…but everyone who came in was as hot as the player he replaced.
"It felt good to get back out there,"  said Tyler Mescher.  "It was awesome to get back into the groove after football.  It was just a good feeling to be back out there with these guys."
In fact, it looked natural…as if they'd never been away.  Mescher's 23 points was eerily reminiscent of so many nights from last year.
"I think it helps to be playing with the same guys,"  he added.  "I mean, with the seniors, the six of us have stuck it out since the third grade.  We've been playing together all that time, so we know how everybody works."
But still, in just their second game of the season….?
"Well, our offense was really on tonight,"  added Mescher.  "I mean, everyone was on.  It seemed like we had four or five people with double digit points (actually, there was three).  And our defense…Tyler Schlarman is a phenomenal player and we held him to like ten points.  Ryan Luttmer is a terrific shooter and we talked about how to stop him at halftime.  It was just a good night.  Everyone did really well."
In fact, Schlarman managed 11 points, and Luttmer, after hitting a pair of early 'threes', finished with 9.  Zach Niekamp would conclude his night's work with 7…but beyond that only four other players would tally for the Redskins, and four just 13 points, collectively.
Again, from Kurt Goettemoeller…over his team's ability to transition so well from football to basketball.
"Well, the credit goes to the kids,"  he said.  "But they're accustomed to doing it.  And I've asked a lot of them.  We've practiced twice a day some days, they've put in the work, and we're deep.  We can play ten or eleven.  We're not where we want to be yet, but we can give some guys rest when they need it, and that all helps."
Early, yes.  But Marion is a team that many point to, even this early, as capable of making a lot of noise when they do get their conditioning…and when they do get to where they want to be in basketball mode.
"We have a tough early season schedule,"  said Goettemoeller.  "And we have Lima Shawnee tomorrow night, so they'll test us because they're very, very good.  You know, I've been doing this for seven years as a head coach, and you realize after a while that it's just one game.  We have to put this aside, even though we'd like to celebrate tonight.  Tomorrow we have to get back to work."
We didn't have an opportunity to talk with St. Henry's Eric Rosenbeck, but he's coached for a while, as well.  And yes, had we had the chance it's likely he would have said, too – that one game doesn't say much about about how good, or how bad.  They're not going to shoot 25% every night;  and they not going to surrender 77 points on 70% shooting very often, either.  Friday's outcome was a far cry from their holiday plans.
Had he been asked to sum it up in one word Rosenbeck could have said, "We got Grinched."  And everyone who saw it would likely have agreed.
That's pretty much how it happened!