Minster got off to a fast start, settled into a war of wills, and staved off a furious finish by Lehman to win by four;  and they did it with one hand tied behind their back…sort of!
Minster – It wasn't pretty by any measure…and for either team.  There was a lot to be desired in Minster's 55-51 win Wednesday night over the Lehman Cavaliers, but in the end Wildcats coach Mike McClurg smiled appreciatively and said, simply, "Well, we won."
But for McClurg, winning his first two starts now has been anything but easy.
One, half of his roster got into basketball four weeks late because the Wildcats just won the Division VII football championship three weeks ago.  So while other area teams have had their full roster complement, McClurg has missed such names as Jared Huelsman, Isaac Schmiesing, and Alex Lemkuhl.
Two, the football players that were late getting to basketball have been forced to sit for the first two games because of disciplinary suspension following the state championship football game, for, shall we say…failure to adhere to the agreed upon rules regarding how to celebrate.  It happens, and you move on.  And let the record show that McClurg's 'de-clawed' 'Cats, for their trouble, are 2-0!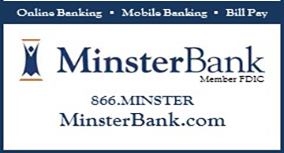 How?
Well, Wednesday night McClurg went to war with the 1-3 Lehman Cavaliers with just two of his normal starters…point guard Mike Ketner and center Jarod Schulze.  Bench players Adam Knapke, Jacob Salazar and Cody Frericks filled in, and filled in admirably.  They shot out fast, and led Lehman 12-2 at the end of the first quarter, but not without some bumps in the road.
Ketner had a horrible shooting night and finished with 2 points.  But Knapke came out firing, snapping off three made 3-pointers on his way to 17 points;  and for the second game in a row Salazar, just a sophomore, finished in double figures with 11.  Frericks added 9.  And Schulze, the 'Cats 6'9″ junior post player, provided the coup de gras, with a game-high 20 points, simply unstoppable from the paint.
But perhaps more impressively, the five of them played about 30 of the 32 minutes of regulation time.  Faced with little or no substitution options from the bench, Ketner, Knapke, Salazar, Frericks and Schulze were as good as they had to be.

"A 'W' is a 'W'," said McClurg afterwards.  "I wouldn't even want to look at the stat sheet because we didn't play well from a lot of respects.  But that's what Lehman forces you to do with their zone.  We didn't have any subs – and the two subs we did have tonight were freshmen, so we got tired quickly.  But we ground it out.  We're playing against teams that have already played five or six games so we're not that worried about results right now.  We'll spend practice time tomorrow focused on what we're getting done, rather than on how we played tonight."
Statistically…it wasn't as bad as McClurg might have imagined.  Unofficially, his team shot 38% from the floor (21-54), and 5 of 21 (24%) from three-point range.  Free throws could have been better than 10 of 17 (59%), but tired legs have a lot to do with shooting percentage when you know there's no help on the way.
Lehman, on the other hand, had its full complement of roster…and shot worse.  The Cavaliers finished 20 for 61 (32%), and just 8 for 29 from three-point range (27.5%).  Preston Rodgers led them with 15 points;  and Kameron Lee had 13 to join him in double figures.  But after that there were a lot of long faces from the other five Cavs that scored.  Collectively, they hit just 1 of 11 from three-point range and added 21 points, but it wasn't from want of trying.  Lehman just couldn't put the thing…in the ring!
Still, Tim Gleason's team kept battling back, going on a pair of Kam Lee-led runs in the second half to cut Minster's advantage down to just 4 points with 27 seconds remaining.  But that was a close as they got, with a turnover and a bad possession in the final minute of play.
Still, from Minster's perspective, a 'W' is a 'W', and McClurg was highly appreciative of those five 'iron men'.
"Mike Ketner is our point guard and he just didn't have a good game tonight,"  said McClurg.  "But I thought Adam Knapke played well, and Jacob Salazar played well for us, too.  In Jacob's case, I'm not sure he would have dressed varsity had it not been for the situation of being short-handed.  But he went to Wapakoneta last week and dropped 14 points on them.  He's not very big, but he's a fighter and he loves the game of basketball.  Everything he does on the court is right, and accurate, and we don't win either of these games without Jacob.  And the reality is, when everyone gets back he may not be playing varsity.  But it's a great example of someone taking advantage of an opportunity and proving to everyone that he's here and ready to play."
Jarod Schulze was another matter.  It's evident from his work in the paint that his game has come a long way since last year, and his 20 points inside against Lehman's zone was proof of his commitment to improvement.
"I worked a lot on it this summer,"  said Schulze.  "I played AAU out of Van Wert and we put in a lot of work on my game and footwork.  Then I went to Findlay's camp and that helped out, too.  It taught me a lot about how to be better at the varsity level."
In the vernacular of war, Mike McClurg can make the case for his five 'iron men' having given him the time he needed to get everyone back – reinforcements – in game shape, and still with the luxury of having won those two games.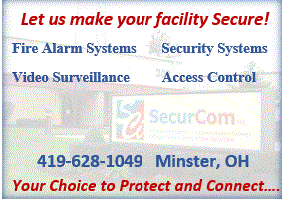 "It feels good to get through this,"  he added.  "Just because those five guys came out Saturday night and tonight and were warriors for us.  Everyone else will be back Friday, and the good thing about this is the extra minutes our other guys have gotten.  This makes our bench a lot stronger than it would have been at this point of the season.  And now we have a couple of weeks to figure out some things…we have Anna, Russia, and Houston coming up, so the Christmas and New Years time coming up is going to be tough."
But, at Minster they have the 'iron men' – Mike Ketner, Adam Knapke, Jacob Salazar, Cody Frericks, and Jarod Schulze.  And all they've done is prove – at least through two games – that they're as tough as the times!