In vintage see-saw Shelby County League fashion, Russia found its game late, and benefited from a courageous second half effort by Jordan York to hand Anna it's first loss of the season.
Russia –  Let's see…who between the ages of 40, and oh, say, 100, with any knowledge at all of Shelby County League basketball, would have been surprised at the outcome?
That the Russia Raiders (5-2), who by the admission of their own head coach had not played well in their previous six games…would somehow find their collective mojo in time – and enough individual game from junior Jordan York – to hand the previously unbeaten, and highly-touted Anna Rockets, 57-56?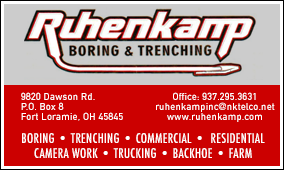 And who among that same demographic would have been surprised that Russia trailed until the 2:21 mark of the fourth quarter, when that same Jordan York would hit a heroic three-point shot from the deep wing to give his team its first lead of the game, 52-51?
The answer, of course…is no one.  That's how the forgotten thrive and the mighty fall in what's arguably the most contested small school basketball conference in Ohio.  You NEVER, EVER, take anything, or anyone, for granted in Shelby County.
For, in fact, Russia did trail throughout the game – by as much as nine points in the second half – and yet, kept fighting and clawing, taking advantage of some untimely Anna turnovers in the second half (and some missed opportunities by the Rockets at the foul line) to give themselves a chance.  And then, when they needed it most, York would hit consecutive deep three-pointers to put them over the hump…for good!
"We really hadn't played well through our first six games,"  said Russia coach Spencer Cordonnier.  "In fact, we had a 15-point lead over at Arcanum last week and lost it in the second half because for some reason we decided that we were going to quit throwing the ball into the paint."
And for a time at the outset of the second half, after Anna had built a nine-point lead, it looked eerily like Arcanum again for the Raiders.
"I called a timeout,"  said Cordonnier in his post-game office.  "And all I said was, 'Do you remember the Arcanum game?'"
Point made, and from that point on Russia did get the ball into the paint as they whittled that nine-point advantage down to seven, to five, to two, and eventually tied the game at 49-49 midway through the fourth quarter.
In the meantime, Anna (5-1) was suffering from the same bad turnovers and missed scoring opportunities in the second half that plagued Russia in the first half.
"We had a lead with four or five minutes left to go.  It wasn't a big lead, but it was a lead,"  said Rockets coach Nate Barhorst.  "And then we failed to protect the basketball.  We had some key turnovers and we didn't execute offensively.  And credit them…they switched it up between zone and man defense, we had some trouble finding the open guy, and we turned it over and it led to points on the other end for them."
But missed free throws at the end – a pair of them by 6'4″ junior Griffin Doseck when trailing 53-51 – seemed to take the air, what air was left, out of the Rockets' sails.
"We had a chance, some opportunities at the end,"  added Barhorst.  "We missed free throws, and we missed shots.  We had some second and third opportunities that didn't go in.  Normally we put those back up and in.  But the ball just didn't bounce our way tonight."
It went Russia's way enough for the Raiders to finish shooting 42% from the floor, and 70% from the foul line.  Not hall of fame numbers, but enough when it counted the most…at the end.
Anna shot almost an identical percentage, 40.7%, but most of that came in the first half, and in the third quarter, when Russia DID STOP (for a time) throwing the ball into the paint and taking advantage of point blank opportunities by Daniel Kearns and Hunter Cohee.
But the Rockets at one stretch missed four of six free throws in the fourth quarter that proved large…given that on their final possession of the game leading scorer Wyatt Bensman would finally ring in a three-pointer as time expired to cut the final margin to just a single point, 57-56.
For Russia, junior Jordan York led the Raiders with 17 points, while Cohee and Kearns added 13 apiece to account for 43 of their total of 57 points.
For Anna, nothing came easy offensively, even during periods where they built a pair of seven-point leads…and that nine-point advantage in the third quarter.  Bensman led all scorers with 21 points, but he had to work for 'em.  And Joel Cathcart and Doseck each collected double figures with 12 and 10, respectively, but it took a lot of shots…and a lot of shots hotly contested by the Raider defense.
"You know, we're not a great offensive team, but when we move the ball and get it inside we're alright,"  said Cordonnier.  "Not great, but alright.  We've got a couple of 'bigs' that can score, and a couple of guys that can shoot.  But offensively, for the most part tonight was our best game of the season.
"And defensively, we just kept mixing it up and tried to control the tempo.  They're fast (Anna), and they're quick, but our kids did a pretty good job, overall.  We lost them a couple of times in the first half, because they got us while we were switching defenses.  But we were good enough to give ourselves a chance and the kids responded."
None more than Jordan York, who came out of an early season shell to sparkle when it mattered the most…with a pair of shots that could resonate throughout the rest of the Raiders' season.
"They have a really good offense so we wanted to come out and play to our strength, which is defense,"  said York, deflecting any individual attention.  "We just tried to slow them down."
But his three-point from the wing that finally gave his team the lead was purely individual, an instinctive shot opportunity that found him wide open in front of his own bench, with Spencer Cordonnier standing closer than any of the Anna defenders.
"It was just came inside-out, I was there and I just shot it,"  he added, shyly.  "I don't know if it's a season-changing moment because we have a lot of games left and a lot of work to do.  We still have more to play.  You can't take anything for granted."
"We've been trying to get him to do what he did tonight,"  said Cordonnier of York.  "He's a big strong kid.  He might have been the strongest kid on the floor tonight for both teams, and we've been telling him to use his strength to take the ball to the rim – that it's going to be tough for people to stop him.  And for some reason for the first six games he decided that he didn't want to go to the rim.  But tonight he just played.  He hit those two HUGE threes in the fourth quarter, the second one from farther out than I thought he should have.  It takes some guts to take that shot, but he took it and he made it."
It was a significant win, of course, for the fact of it being Anna's first loss – a team that's going to have a lot of good nights, and better nights, between now and the end of the regular season.  This is a team, as Jackson Center coach Scott Elchert credited after last Friday's loss to the Rockets, that will be heard from in Division III's southwest region.
But it was also significant for the fact that Russia, a team overlooked through the season's first three weeks, showed that it's plenty capable of having a say in deciding the pecking order of the league.  If the presumptive favorites, Anna and Fort Loramie, hadn't taken notice previously…they will now.  After all, there's plenty of people in those two communities between the ages of, oh, say, 40 and 100.
"There's still a lot of basketball to play,"  reminded Tuesday's de facto hero, Jordan York.
And where basketball's concerned in Shelby County…don't ever forget the Russia Raiders!