When it was recorded and submitted to American listeners in 1962 it was dubbed by entertainment notable as "the neatest song he'd ever heard".  Fifty years later…nothing's changed!
Since our recent series of music blogs has proven to be so popular with so many, it seems very timely to share at least one more.
For in December, 1923, composer Bent Fabric was born in Fredericksberg, Denmark.  Big deal, you might say, because I'm sure there isn't one in 10,000 of you that have ever heard of Bent Fabric…and probably question the legitimacy of his name.  That's OK, because his given birth name was actually Bent Fabricius-Bjerre, and that means even less to even more.
Fabric for many years worked in the European music market as a composer of sound tracks and as a session pianist, never making much of name for himself…just a decent living.  But he enjoyed writing novelty tunes – little 'diddies' that made people tap their foot and remember the melody to the point of humming or whistling.  In 1961, he (Fabric) hit the jackpot.
He noodled around with a tune that he eventually scored under the title of "Omkring et flygel".  The English translation in
Denmark was literally "Around The Piano".  It was an immediate hit in Denmark, and before long, most of Europe.
As things like this are want to happen, Fabric's tune found it's way to New York, where it had no traction under the name "Around The Piano", so Fabric was convinced to rename his tune, and he chose as a title… "Alley Cat".  It was auditioned for Ed Sullivan's popular variety show, and at the time, Sullivan, who was trying to extend the zenith of his television career, was desperately trying to attract a newer, younger audience with acts like Elvis Presley and The Beatles.
When he heard Fabric's tune, he liked it and asked to hear it again.  Sullivan was said to have called it, "the neatest song he'd ever heard", and requested that Fabric be contacted about making an appearance on the show.  It never happened, despite Sullivan's insistence, and frustration, over the Danish composer's apparent ambivalence about coming stateside to promote his song.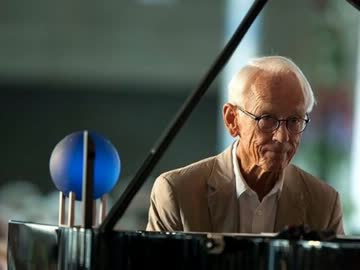 The tune was popular in America, climbing to #2 on the adult contemporary hits chart, and #7 on the Billboard Hot 100 charts.  It definitely spurred Fabric's career, and led to other instrumental works, that while endured by an anticipating public, never found the popularity that Alley Cat did.
Since its original debut, the tune has been recorded by many notable instrumentalist in the United States, including trumpeter Al Hirt, clarinetist Pete Fountain, and saxophone great Boots Randolph.  Many, in fact, have imitated, but none ever did it better than the man who wrote it…still alive, and going strong at age 93.
Still, one of the neatest songs ever heard!