Not to be outdone by league rival Anna, the Fort Loramie Redskins flexed some muscles of their own Saturday with a 36-point take-down of the New Bremen Cardinals.
Fort Loramie –  If the unbeaten Anna Rockets' 66-39 win over league rival Jackson Center Friday somehow symbolized 'check' (using chess terminology) for Shelby County League braggin' rights…then what the 5-0 Fort Loramie Redskins did to MAC rival New Bremen Saturday night surely stood as their version of 'check mate'.
Or in poker terms…I'll see your 27-point win and raise you nine.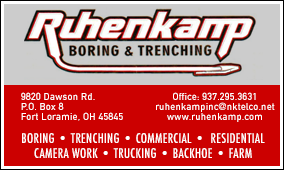 'Cause that's exactly what Loramie did to the powerless Cardinals Saturday, landing an early haymaker in the first quarter – and the first half – on their way to an eventual 67-31 win over now 1-6 New Bremen.
And, like Anna, they did with it with balanced scoring and three of their 'shooters' hitting for double figures while shooting 52% from the floor as a team.  Dillon Braun had a fantastic night, efficiency-wise, leading all scorers with 19 points, while Nathan Raterman added 16, and Tyler Siegel finished with 14.
In all, nine different Redskins actually scored, but when you have three that can account for 49 – and play defense the way Loramie's playing it – well, you can win against just about anyone on any night.
Except…Anna will likely have something to say about that after the first of the year when the two teams hook up in January for the first of their two Shelby County League contests.  But more about that later.
In a word, you can't play much better than Loramie did Saturday, shooting a good percentage while taking care of the basketball;  and, for the fifth time in as many outings…they held the opponent to less than 40 points.  New Bremen got off to a horrible first quarter start, suffering from turnovers and poor shooting, and trailed 18-4 after eight minutes.  They never recovered, and the thought of them breaking Loramie's string of defensive gems seemed as far off as the North Pole.
By halftime the margin was 30-15.  By the end of the third quarter it was 53-24.  And by the time Corey Britton emptied his bench midway through the fourth quarter the stands had largely emptied, as well.
The Redskins played with confidence, sharing the basketball, and defending with instinct far beyond that of a mere five games.
While New Bremen, which came within a 55-51 losing score of knocking off league rival and presumptive Division III regional favorite, Versailles, on Friday, apparently left it all in the gym after losing to the Tigers.  They struggled to shoot, but more…they struggled to find and defend wide-open Loramie shooters like Braun, Eli Rosengarten, and even center Tyler Siegel, who punctuated his 14-point night with a three-pointer from the top of the key in the fourth quarter.
"We actually shot well last night at Fairlawn,"  said Dillon Braun in the post-game locker room.  "And it carried over to tonight.  I came in this morning to work on my shot, and actually missed my first shot in the game tonight, but after that I made my second and everything felt good after that."
Braun WAS good, hitting the three's, hitting from mid-range, and getting to the rim in transition.
But he had plenty of help.  Teammate Nathan Raterman had his best night of the season with 16 points;  and Tyler Siegel's 14 points filled out the trifecta of double-digit scorers.

"Oh yeah, having that kind of production across the board really helps,"  added Braun, with the understatement of the year.  "It's nice when you have another guy that you can depend on to score the ball."
It was eerily like Anna, who themselves had three to score in double figures 24 hours earlier in their win over Jackson Center.
"When our kids share the basketball as they did tonight, and play together, we're really, really good," said Corey Britton, in the second-biggest understatement of the year.  "Now, when we don't move it, when we don't share it, and we don't play together…we're not very good.  And tonight, like last night at Fairlawn, we popped it around and had nine assists and zero turnovers by halftime."
To the point of their playing with confidence beyond that of their five games, Britton pointed to earlier in the week and an object lesson at the hands of non-conference opponent, Franklin-Monroe.
"We were sluggish in some areas, we turned the ball over, and we got tested.  I think that woke the kids up a little bit,"  admitted Britton.  "We were just going through the motions after the first couple of games, and Franklin-Monroe came in, really played well, and we didn't handle it very well.  We got leads a couple of times, then let them back into the game.  But last night and tonight we built leads and then stepped on the gas.
"But the credit goes to our kids.  Holy smokes (a Jack Albers reference), we're just flat-out defending people.  We're playing hard, and the ball never stops moving.  We had fifteen more assists tonight and when we can move the ball like that we've got a chance to be pretty dangerous."
Which all points to the pre-season hype for this Loramie team and it's being one of the presumptive area favorites to make a deep post-season run, come March.  None other than Jackson Center coach Scott Elchert said that very same thing Friday night about Anna after losing to the Rockets;  and Britton looks towards a brutal schedule over the next thirty days that will serve as a barometer as to just how good they are…or could be.
"We've got Versailles, St. Henry, Bethel, Flyin' To The Hoop, Minster, and Anna twice coming up,"  says Britton.  "So we're going to go into the gauntlet and we'll find out where we're at as a basketball team.  It's early, but we're playing well right now.  And Anna…us and Anna are about the only two Shelby County League schools that play the really, really good out-of-league and MAC schools.  It's makes us both better, and if you come out on a Saturday night, and you play well and drop one, there's no hurt to it."
And about those two games with Anna coming up, that loom bigger than just 'large' to not only the respective communities but area basketball junkies, as well.
"Well, when they come over here on January 23rd I'd bet there's going to be about 2,500 hundred people in this place,"  smiled Britton.
Vintage Shelby County League basketball, with some Russia thrown in along the way.  'Cause you wouldn't want to forget about the Raiders.
Check…and checkmate!