He didn't score much, and he didn't have to.  But Wyatt Bensman's defensive presence set the table for a second half offensive explosion by the Anna Rockets in a Saturday night massacre over New Knoxville.
Anna – Sports is full of its ironies.  Otherwise, thoroughbred racing jockies, the smallest athletes to command million dollar salaries, would be irrelevant.
It might have been what Theodore Roosevelt was thinking when he famously said, "Speak softly and carry a big stick."
But here's another one to consider.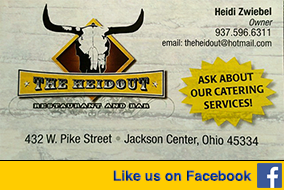 Entering Saturday night's contest with New Knoxville, Anna guard Wyatt Bensman was averaging 33 points a game in the Rockets' first two wins over New Bremen and Houston.  He scored 36 against New Bremen…and 30 against Houston.
But Saturday night he scored 4 – that's right – 4.  But his four points had to be the loudest four points in Shelby County, because in thirty minutes of playing time his "defensive" presence actually powered the Rockets through a slow first quarter start to an eventual 72-40 win over the now 1-3 Rangers.  Those four points came on a pair of free throws in the first quarter…and a thunderous dunk off a Knoxville turnover in the open court in the fourth.  In between…Wyatt Bensman wrought havoc.
Leading 13-12 after the first quarter, Bensman ignited his teammates with five individual blocks of point-blank New Knoxville shot attempts in the second quarter alone.  That led to points in transition, increased energy and confidence, and by the halftime break Anna owned a 31-23 lead.
They weren't done.

The Rockets came out to score the first ten points of the third quarter – and then go on a 36-12 run that saw senior Joel Cathcart and junior Griffin Doseck take the game over offensively.  Cathcart would finish with a game-high 20 points;  and Doseck with 16.  And in large part, they were able to run the floor and score over the overmatched Rangers  because Wyatt Bensman was denying everything they shot from the paint.  His energy became infectious.
"It really helps when you have the kind of backside help that he (Bensman) gave tonight,"  said Cathcart.  "It gives the guards a chance to gamble when you have a guy like Wyatt do what he did, then drive with the ball and kick it out to the shooters and give us a chance to make a play."
Well put, and that's just about the tale of the tape regarding how Anna was able to overcome a slow start offensively, and then finish with a flourish, shooting 48% for the game.  That backside help created a lot of loose balls and opportunities for teammate like Cathcart and Doseck to make plays.
The other beneficiary of this irony was coach Nate Barhorst, who was eagerly appreciative…but with a caveat.
"We're athletic enough to play that way,"  said Barhorst in the post-game locker room.  "The only thing is we have to do it in a controlled way.  And when we're able to do that I'm OK with it.  We just don't want to get greedy out there like we were against New Bremen and have to bring guys out of the game because they get in early foul trouble.  Tonight I thought we did a much better job of realizing how the game was being called and playing it smart.
"Defensively, we're willing to ride off that because it translates into offensives scores like that.  And I thought we did a good job of rotating tonight and keeping guys fresh, which allowed our depth to prevail, because their depth is a little bit of an issue for them."
Some numbers….
Anna had nine different players score to validate Barhorst's point about depth – Cathcart's 20, Doseck's 16, Mason Platfoot (9), Bart Bixler (8), Riley Huelskamp and Drew Brodman (5 each), Bensman (4), Carter Elliot (3), and Justin Murray with 2 points.
For New Knoxville…Ben Lemmers and Jonah Lageman led the Rangers with 13 and 14 points, respectively.
But to further quantify the irony of how the points came about, Barhorst was equally recognizing of the defensive contribution of his team leader, and usually, its leading scorer.
"He's a kid that brings everything to the court,"  said Barhorst, with a broad smile.  "He's the leader on the court, he's a guy that can be your best scorer on one night and your best defender the next.  He brings a lot to the table, and having a guy like that on this team is very instrumental.  He's long and lanky, and he plays deceivingly tall.  And that's how you best describe him."
Bensman, himself, was crediting to another element of how the Rockets gained momentum after their slow first quarter start.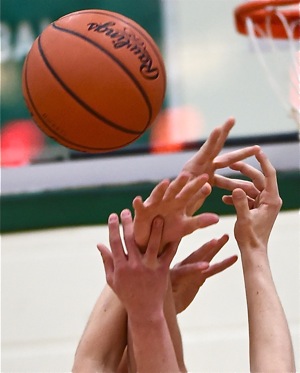 "Our student section,"  he laughed.  "They're super good and it's always fun when they get involved with the game.  It really helps get our team going and gets the tempo in our favor.  They're crazy, but I like having a bunch of crazies when they're ours."
But to the serious subject of basketball….
"I feel like this team has been very positive so far this year,"  said Bensman.  "In the past I'm not sure we've been competitive enough – just wanting to get through the season – but I think this team really wants to be out here, play, and win.  That's our goal…just win every night.  It doesn't matter how we win, just as long as we win."
His performance Saturday, during the first snowfall of the year outside, was proof on the inside that Nate Barhorst's Rockets can heat things up in a hurry, and in any number of ways.
"He's very capable of scoring points in bunches,"  said Barhorst of his senior leader.
And on other nights…his ability to quell opposing offenses with his defense is enough to give time for everyone else to get into the flow of the game.  Ask Joel Cathcart and Griffin Doseck.
Or, you can ask the student section.
Either way, Saturday night Wyatt Bensman had the loudest 4 points…in area basketball!