Neither team shot well, a testament to their respective defenses.  And when it was over both coaches admitted that it was worth the effort…and all those missed shots!
Minster – Some would say there was a door left open to the outside, allowing both teams' cold shooting to match Tuesday night's plummeting temperatures.
Others would say that there was still a hangover of some kind from celebrating Minster's weekend state championship in football.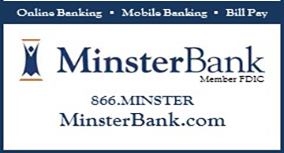 But the truth is…when Fort Loramie and Minster get together in girls basketball it's usually a low-scoring game because of their respective commitment to playing defense.  And that's exactly how it played out Tuesday as Minster remained unbeaten by limiting Loramie to just 26% shooting from the floor in a 35-26 Wildcat win.
But for their part, Carla Siegel's young Redskins gave as good as they got, holding what some are calling the state's best team in Division IV girls basketball to just 34%…and just three made baskets for the entire second half!
But whatever you call it, it wasn't what Dr. Naismith had in mind when he invented the concept of putting the ball in the basket – and ironically, neither Mike Wiss (Minster) or Siegel (Fort Loramie) seemed to mind.  More about that in a minute.
Minster held just a one point lead after the first quarter, 8-7, before going on a 20-4 run in the second that expanded that lead into what should have been an insurmountable 28-11 halftime lead.  But not so fast.
That business about holding Minster to just three made buckets in the second half?  Loramie came out and outscored the Wildcats 15-7, turning the tables defensively on Minster while whittling away at 17-point deficit.  And had they been able to hit some free throws (5 of 13)…it could have really gotten interesting by game's end.

But Loramie simply dug itself into too great a hole in the first quarter.  And Minster's defense was the reason.  They forced Loramie into 16 turnovers for the half, igniting that 20-4 run, but then had to rely on that same defense in the second half to salvage the win.
"It's always that way when Minster and Loramie play,"  said a relieved, but satisfied, Mike Wiss afterwards.  "It's always low-scoring, and it's always a defensive battle.  It's a game of who's the strongest with the ball, and who's the strongest between the ears.  That's what it amounts to, and a game like this taught Loramie, and it taught us.  It teaches you to develop thick skin as a player,  you learn from your mistakes, and then you forget it.  And you have to do it fast."
It was a game of bad matchups, as well.  Loramie's lack of size and experience versus Minster's tall front line of Taylor Kogge, Paige Thobe, and Courtney Prenger.  But despite shooting poorly from the field and the foul line, Siegel's lineup of a freshman, three sophomores, and one senior got back into contention in an old familiar way.  They scrapped and clawed in the second half and forced Minster to turn the ball over, shoot poorly, and at times simply outhustled them.
"I told the girls not to play like they were afraid,"  said Siegel.  "I told them to go out and play hard and they did play harder in the second half.  Look, we're a better free throw shooting team than 5 of 13, and if we make a few of those I think the ending would have been completely different.  But the first half hurt us and we had to battle back in the second half and I was happy with our effort.  When you can limit the #1 team in the state to just three field goals in the second half that's pretty good.  So there are a lot of positives that we can take from this game."
For Loramie...Kennedi Gephart led them with 7 points, while teammates Abby Holthaus and Marissa Meiring each chipped in 6 points apiece.  Taylor Ratterman had 5 and Kenzie Hoelscher had 2.
For Minster…Courtney Prenger led them with 9 points, while Taylor Kogge had 8, Demaris Wolf had 5, Jessica Falk, Danielle Barhorst, and Ivy Wolf had 4 points apiece…and Alli Fischer added the final point to their total of 36.

"It's just a battle when you play them and I have a lot of respect for what they do,"  added Wiss.  "You've got to make your bunnies when you have the opportunity, and you have to be physical.  Sometimes you have to go up through someone with your elbows (to get to the rim).  We'll learn from this tonight, we'll come back from it, and we'll go right at our first league game (Parkway) on Thursday."
Loramie's record drops to 3-1, having previously beaten West Liberty, Anna, and Botkins.  Loramie returns to action on Saturday with a league game of their own, at Fairlawn.
In JV action prior to Tuesday's varsity contest, Loramie exacted got some satisfaction with a commanding 43-30 win.  They led by as much as 25-5 at one point, only to see Minster cut that deficit to 13 by game's end.