Buckeyes make their case for college football playoffs with 27-21 win … Barrett shows guts while playing six days after surgery … Defense and Dobbins lead the way as Ohio State improves to 11-2.
Columbus – If Ohio State was looking to win with a flourish and give the college football playoff committee an easy decision and a short night, it didn't happen.
If the Buckeyes wanted to show the nation they're a complete team that could compete with Clemson, Georgia or anyone else this year, their fingernail-gnawing win over Wisconsin wasn't very persuasive.
Their quarterback was the third-best passer on the field in the Big Ten title game Saturday night, behind Wisconsin's starter and that kid making those 10-yard, two-handed throws at halftime into the Dr. Pepper bin.
They might be the only really good team in America that makes a habit of committing Plaxico-Burress-shoot-yourself-in-the-leg mistakes.
But they have a relentless defense (Nick Bosa is a beast), a top-tier offensive line and a freshman running back in J.K. Dobbins who showed how special he is while rushing 17 times for 174 yards (10.2 average) to win the MVP award.
Are they flawed? Sure. But trust me, all four teams selected for the playoffs at noon Sunday are imperfect. And the Buckeyes made a pretty good case that they belong after claiming the Big Ten championship with a 27-21 win over the last unbeaten team in the country, Wisconsin.
Full disclosure here: When the Buckeyes lost in such a lame fashion to Oklahoma in the second week, I wrote that their conference title hopes and playoff aspirations were toast.
I did it again after they lost by 31 points at Iowa. Shows what I know.
Turns out, I underestimated how much collective drive the Buckeyes have, how invested they are in the program Urban Meyer has built and how they really don't have NFL-bound players already with one foot out the door. And I certainly couldn't see them going as far as they did with Joe Thomas Barrett at quarterback.
Let's face it, Barrett had probably his worst game of the year against the Badgers. He finished 12-for-26 for 211 yards and two TDs with two interceptions and ran 19 times for 60 yards and another score.
Most of the passing yards came on an 84-yard bomb to Terry McLaurin and a 57-yard catch-and-run by Parris Campbell.
To the chagrin of Buckeye fans, he reverted back to his early-season form and was Joe Tentative Barrett all over again. He was the main reason Wisconsin was even in the game, scoring 18 points off Buckeye turnovers.
One touchdown was a nine-yard pick-six on a Barrett blunder in the first quarter. A Mike Weber fumble at the Ohio State 11-yard line was turned into a field goal in the second period. And another TD (and two-point conversion) came after a Barrett interception at the Wisconsin 48-yard line late in the third quarter.
But he showed all-world heart while leading a 15-play drive in the fourth quarter with the Buckeyes nursing a three-point lead. And his one-yard, second-effort run on fourth-and-1 may be the most important 36 inches ever gained in the Meyer era.
It set up a chip-shot field goal for a six-point lead, and the defense did the rest with two stops in the final five minutes.
Remember, Barrett had undergone arthroscopic knee surgery just six days before the game, had no real practice and played against the top-ranked defense in the nation without his usual burst and cutting ability.
Let's give him a pass for some of his errant throws. And let's allow him to bask in accomplishing something many of us were convinced he couldn't pull off — leading the Buckeyes to a Big Ten title.
Does this get them in the playoffs? We'll find out soon enough. But I don't see how the committee can pick Alabama — the only other apparent candidate for the fourth and final spot — based on its resume.
The 11-1 Crimson Tide has beaten just two top-25 teams in No. 17 LSU and No. 23 Mississippi State, unless the committee slides another SEC foe into the final ratings.
The 11-2 Buckeyes will have two top-10 wins in Wisconsin and Penn State and another quality victory over No. 16 Michigan State — giving them three wins better than any of Bama's conquests.
Working against the Buckeyes is that Iowa thrashing and the fact that no two-loss teams have made the playoffs before.
But Ohio State has what Alabama doesn't: a conference championship. And the committee chair, Kirby Hocutt, has seemed to go out of his way of late to emphasize how important that is to the folks picking the field.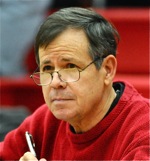 Could the committee go on reputation or the so-called eye-ball test and just say they feel Alabama is one of the four best teams? Maybe, but that's not been their M.O. before. Could they ding Ohio State for that 31-0 loss to Clemson last year? That shouldn't be part of the 2017 discussion.
I like the Buckeyes' chances, and I'd be shocked if the committee isn't swayed by what they said they've valued all along: quality wins and league titles.
But if the Buckeyes make it, they're going to need better quarterback play.
Maybe that Dr. Pepper halftime winner is available.