Jared Huelsman was spectacular, and completed the spectacular year's script.  Minster captures its second state title, crushing Cuyahoga Heights in the Division VII Final.
(Ed. Note:  One of the best memories from the 2017 football season, we're pleased to share the story again of how the Minster Wildcats stunned the Division VII field by winning their second state title in four years.  Enjoy it again with our Press Pros encore.)
Canton – Frankly, it didn't start out so hot.  Wide receiver Austin Brown tried to run with a Jared Huelsman pass before he caught it – and a Cuyahoga Heights defender picked it off at the Minster 30 yard line.
But, the Minster Wildcat defense rose to the occasion, kept the Cuyahoga Heights offense out of the end zone, and from that point on for the next 48 minutes…it was a clinic on how MAC teams rise to the challenge of title football.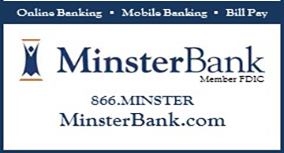 The Wildcats would go on to crush Cuyahoga Heights, 32-7, to win their second state title in four years – the 124th MAC team title, overall.  Or, it might be the 125th.  No one from the Ohio High School Athletic Association seemed exactly sure.  Can you say…embarrassment of riches?
It was a day that again highlighted the fabulous play and leadership of senior quarterback Jared Huesman, who scored on touchdown runs of 3, 3 and 9 yards, and rushed, overall, for 221 yards on 31 carries.  In the post-game press conference Cuyahoga Heights coach Al Martin simply called him…an exceptional athlete and a great football player.
It was a day when Minster's defense perfectly complemented Huelsman's effort, shutting down Cuyahoga Heights, denying them on four different trips inside the red zone, and except for a lone first quarter touchdown by Heights' Dylan Drummond, limited the Redskins to just 7 points and 246 total yards.
It was a day, and a title game, truthfully, that was nearly perfect for the Minster Wildcats!
After Austin Brown's muffed reception to begin the game, he atoned quickly at the 7:07 mark of the first quarter by hauling in a Huelsman pass for 44 yards and a touchdown, a post pattern ran to perfection right down the middle of the field.
Heights quickly answered at 3:36, but Minster would come right back at 4:45 of the second quarter to take the lead for good on the first of Huelsman's three touchdowns, a 3-yard run behind a solid wall of orange and black blockers.
Heights couldn't move the ball effectively, punting to Minster, who then finished the first half with drivdes of 94 and 83 yards, the second of which culminated with a one-yard run from the three yard line on fourth and goal.  Eschewing a field goal opportunity, Geron Stokes showed his confidence in his senior quarterback and his offensive line.  Huelsman rewarded that confidence with his second touchdown of the game.
Leading 19-7 at the half (the only failure so far were three failed extra points), Minster quickly took the momentum, and the game, in the third quarter with an Isaac Schmiesing interception that ultimately led to Huelsman's third score, a 9-yard run that made the score (after yet another missed kick) 25-7.
The Wildcat defense gained even more momentum, frustrating Heights quarterback Ryan Polk with a pair of second half interceptions (both by Schmiesing), and corralling running back Lucas D'Orazio. who was held to just 68 yards for the game.
Huelsman and the offense, however, were determined to punctuate the day, the win, and their third title in school history with a final drive that saw Schmiesing take it across the goal line with 3:41 remaining.

The crowd, the sideline, and Geron Stokes went nuts with joy, and the sure and certain knowledge that once again…the MAC had been heard at the state football tournament.
"Their offensive line and Jared Huelsman were the difference in the game,"  said Martin.  "He's a really good football player, and their offensive line was huge.  They were well-coached, and they played with confidence.  They did a lot of good things today, but their defense simply stopped us.
"They were really well-prepared, they played really hard, and they're a very talented bunch.  I couldn't be more proud of our guys for what they accomplished this year, but Minster was a very good football team."
His words were echoed along the Cuyahoga Heights sideline, as one after another remembered last year's losing verdict against Marion Local, another "MAC" team that "simply doesn't lose when they get to the state tournament,"  said one Redskin fan.
"You'd better bring your 'A' game when you play a team from that league,"  said another, nodding with the utmost respect.
But to Geron Stokes, now a two-time state champion, the win simply symbolized the commitment and excellence of character of his senior class.
"This was a display of who our seniors are and what they stood for today,"  said Stokes.  "Everyone saw their resiliency, their character, and their toughness.  They got to see how much they care for one another.  They got to see how they were willing to compete with those stops they made in the red zone.  You could see today how much fun these guys have playing the game.  They lead the country in 'slapping fives'.  I just thought today was a cool display of who these guys are."
For the sake of history….
Minster won it with 396 total yards of offense – 255 on the ground, and 141 passing on 12 completions in 20 attempts.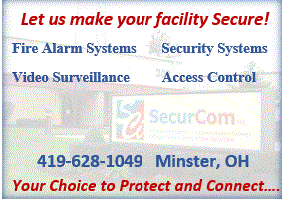 Huelsman, of course, led the ground game with 221 yards.
And Austin Brown led through the air, grabbing seven Jared Huelsman throws for 92 yards.
Cuyahoga Heights lost it was those 246 yards – 130 rushing and 116 through the air, on 11 of 23 attempts, but victim to four huge interceptions by Minsters…interceptions that continually aborted would-be scoring opportunities.
"This is just so cool,"  said Huelsman on the field before receiving the title trophy.  "It probably seemed like a long shot back during the four-game losing streak, but we don't define our season that way, anyway.  We just wanted to maximize each game.  We never thought in terms of a championship, we just kept working.  Nothing really changed within our program during that time, maybe we just got a little more desperate."
Huelsman has no particular football plans beyond graduation in June.  His life plan is to attend the University of Toledo and study engineering.
But the excellence of his character – that attribute that Geron Stokes insists on talking about over football – was on full display Friday, before, during, and after the Division VII title game.  To the disagreement of some throughout the season, this website consistently mentioned Jared Huelsman as being the best football player in the best football conference in the state of Ohio.  And on this day, his coach added his own stamp of approval.
"I don't want to discredit him as a football player, but I'd also take him as the best person in the state, too,"  said Stokes.  "His talent and what he is as a football player is a credit to what he is every single day – who he is and how he treats other people.  It's about how he listens, how he behaves, and how he wants to be coached.
"I think a lot of people miss the boat about Jared, because all they talk about is football.  But if played soccer or tennis he'd be exactly the same guy.  With him, it's about who he is, not what he is."
There will, of course, be a big celebration on Friday night back in Minster – at Bud's and Willy's – but in true Geron Stokes fashion he addressed the issue of how his Wildcat players would celebrate once they got there.

"They'll do the right things,"  he insisted, pounding his fist on the table.  "The other stuff is for the adults.  These guys will make good decisions and do the right things."
And to a final question in the post-game room as to how they did it, and why today, Stokes was again vintage.  The 'prince of pessimism' as I once called him, again rose to the occasion by extolling the character of his football team one more time.
"Good things happen to good people,"  he said.  "You see it everyday."
And Friday the state of football in Division VII got an eyeful.  They saw Minster – nearly perfect – in the biggest game of the year, and if Geron Stokes has his way…they'll be just as perfect when they get back home.
Let the parties begin at Bud's and Willy's!