It's our list and our list alone.  Subjective?  Sure.  But inarguable if you were there either to see our top ten performances of area high school football talents in 2017.  We WERE there, and proudly write about it.
Look, we've tried before…and I can tell you that it's impossible to write an objective All-Area team of high school football.  If you want proof, just look at the All-Ohio teams released this week and try to figure that out.
Still, performance, deserves to be recognized, and written about,  particularly in light of athlete who was exemplary on a regular, and consistent, basis.  But it has to be on performance;  and it had to be seen, observed first-hand, for our list;  and thereby we think our 2017 list of the top ten area high school performers trumps any other list.  Because…we did see it, and in some cases, night after night, after night!
It's actually fun, despite the stress of getting it right – of it being "fair" in the popular vernacular – to look back and write about that which to some has been forgotten;  to others, overlooked in the first place.  But we've done it now for years, knowing that every list is going to miss someone – leave off someone deserving.  And yet, it's the chance you need to take if you want to make the case for anyone.
Again we say…if you read the All-State list comprised by the Ohio Sportswriters Association (most of whom formerly voted for the now abandoned AP teams), we think you'll appreciate this list even more.  Some will surprise you, others will make you stop and think – or say, I never realized.  To wit, read on, and enjoy.
In no particular order…!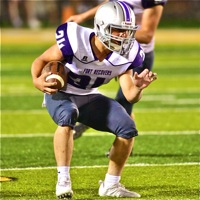 Will Homan, Running Back (Fort Recovery)…He was named this week as the Offensive Player of The Year in Division VI, and there should be no argument.  Homan was the staple of the Indians' offense and he led the MAC Conference with  2,267 rushing yards and averaged 227 yards per game, while scoring 22 rushing TDs and averaging 9.7 yards per carry.  Impressive, when you consider that every opponent knows that Will Homan's going to touch the ball at least 30 times a game…more if they can find a way.  He almost single-handedly beat St. Henry in Week 9, eclipsing 300 yards in that game, and had three touchdowns of 50 yards or more.  Not big, "But mighty quick, and strong", in the words of PPM football analyst Tim Boeckman.  Tribute paid to him throughout the 2017 season was well-deserved!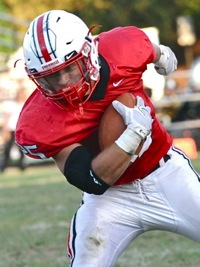 Cole Barhorst, Running Back (Tipp City)…Let's be frank, if not popular.  Cole Barhorst, in football terms, is simply the heart and soul of the Tipp program again in 2017, and has been now for three years.  Yes, he's had good people around him.  But the Red Devils' senior running back is unparalleled in terms of competitive desire.  He likes the responsibility of leading, and he wants to win.  He led the Red Devils again this year with 1,226 rushing yards this year (7.6 yds per carry), averaged 122 yards per game and scored 13 rushing touchdowns.  But to highlight the issue of competitive desire – his performance versus Sidney in a 49-42 in October loss speaks volumes.  He rushed for 225 yards and scored three times…and finished behind the Yellow Jackets' indefatigable Isaiah Bowser in that game, who ran for 247 yards!  Fun to watch, and a joy to interview.  Cole Barhorst deserves to be on anyone's "Top" team!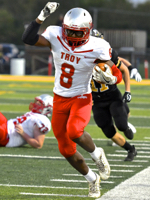 Jaydon Culp-Bishop, Running Back (Troy)…Who?  You might ask?  Well, if you do you weren't paying attention to the Trojans' dynamic junior who came from nowhere at the start of the season to light up Trojan opponents in 2017.  He rushed for 1,549 yards, averaged 154 yards per game, and scored 11 rushing touchdowns during the Trojans' 8-3 season.  Like so many other area runners, he's not big (5'8″ and 170 pounds), but his competitive desire to play and perform were unmatched as he finished third, overall, in GWOC rushing statistics behind Sidney's Isaiah Boswer and Trotwood's Ra'veion Hargrove.  He'll be back in 2018, so don't be surprised if you hear about him early and often.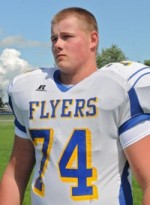 John Dirksen, Offensive Tackle (Marion Local)…It isn't often that you hear that someone's offensive tackle is the best player on the team, but we've heard it consistently from rival coaches the last two years.  John Dirksen (all 6'6″ and 290 pounds of him) is the best player on the undefeated, top-ranked, and defending state champion Marion Local Flyers.  "He impacts every play,"  said Chaminade coach Marcus Colvin, after Marion whipped his Eagles on opening night the past two seasons.  "It's hard to account for someone that big, and that good."  And he didn't go unnoticed.  He'll attend Notre Dame next year (the one in South Bend, not downtown Cleveland) and his upside is tremendous.  However, what he does often falls into the category of going unnoticed.  Such is the life of a lineman.  He'll lead the Flyers into Saturday's Division VI championship game with Kirtland, seeking their 10th state football title.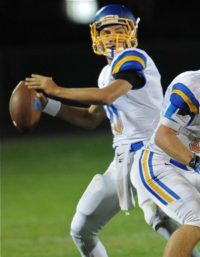 Elliott Gilardi, Quarterback (Lehman)…It's often hard to be objective about the comparative talents of Division VII players against the likes of the players from bigger schools.  But if you watch Dick Roll's Lehman Cavaliers it doesn't take long to figure out that he puts the game squarely in the hands of his diminutive junior quarterback, and Elliott Gilardi doesn't often disappoint.  He was one of those who did it…night after night, after night!  Armed with big, athletic wide receivers, Gilardi throws the football, plain and simple, and in high school football…that's a dangerous prospect for just about any defending team in any division.  More, he's athletic enough to tuck it and run, and is willing when the need arises.  Hampered by a sprained ankle the last two weeks of the season, that injuries seriously limited the Cavaliers' post-season prospects (they lost in Round 2 to Delphos St. John), but Gilardi returns in 2018 to throw it again.  And guess what?  The Cavaliers will have another winning season.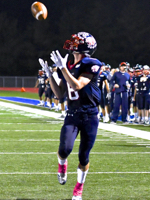 Hayden Schrubb, Wide Receiver (Piqua)…Piqua's Hayden Schrubb may not make anyone else's list, the fact of a special night and a career of consistency going unnoticed, again.  But back on October 13, against Vandalia Butler, Schrubb hooked up with life-long friend, quarterback Austin Davis, to catch four touchdown passes in a 33-27 Piqua win over the Aviators.  And the significant thing about his night was…that every one of those touchdown passes mattered towards the outcome of the game.  Every one of them either tied the game or gave Piqua the lead.  "I never dreamed I'd have a game with four touchdowns,"  he would say afterwards.  Buy hey, it was no fluke.  Schrubb finished the season as the GWOC's second-leading pass catcher with 53 catches for 911 yards and 15 touchdowns.  We just happened to be lucky enough to be there the night he had a quarter of them!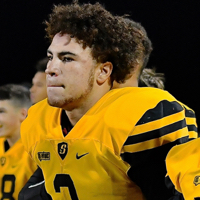 Isaiah Bowser, Running Back (Sidney)…It doesn't take much imagination to find a place on our list for the top rushing leader in the GWOC.  The Sidney Yellow Jackets' senior ran for 2,389 yards and 25 touchdowns in 2017, and averaged (get this)…239 yards a game.  He went over 200 yards so many times it became common, but it was anything but mundane on the night the Jackets played Tipp City, and Bowser won out in the man-to-man dual with Tipp's Cole Barhorst.  Bowser finished with 247 yards and three touchowns, including the win 70-yard run; and Barhorst had 225 and three scores, as well.  A recruit to attend Northwestern University next fall, they don't come better as an individual, and more unique for the path he's followed to this point of his success.  Isaiah Bowser deserved to be on someone's list for something…just about every night!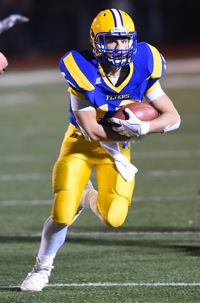 Nolan Habodasz, Running Back (Marion Local)…This is another of the unnoticed variety of accomplishments, but it came at a time when there was no room for substitute, or error.  In last weekend's Division VI state semi-final game with a determined Liberty Benton team, Habodasz, a junior tailback running on a gimpy ankle, turned in 144 yards and two touchdowns in Marion Local's 31-13 win over the Eagles.  "Their running game was a difference in the game,"  said Liberty Benton coach Tim Nichols.  "You're facing a pretty steep hill when their big guys lean on you and they get their run game going."  Nichol's reference was, in fact, about the committee of Marion running backs. But specifically, it was Habodasz whose 14 carries and 144 yards set the pace for the Flyers to move on to this weekend's state final game with Kirtland.  "We really haven't had that one guy to run the ball this year,"  said Marion coach Tim Goodwin.  "Habodasz was becoming that guy until he hurt his ankle."  But on a night when there was simply was no room for error, or case for substitute, Nolan Habodasz came up big.  Some of us noticed!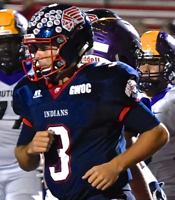 Austin Davis, Quarterback (Piqua)…It's a shame for 126 completions, and a 63% completion rate, with 25 touchdowns and 1,821 passing yards to go unnoticed.  And we won't.  Such is the case for Piqua's Austin Davis, who highlighted his senior senior season by leading the Indians to a 6-4 record, and that four-touchdown night to teammate Hayden Schrubb we wrote about previously.  On top of that, his efficiency was admirable, as well.  Along with his 25 touchdowns he had but three interceptions while averaging 183 yards passing per game.  Overall, he finished fourth overall among all GWOC quarterbacks with a 177 QB rating.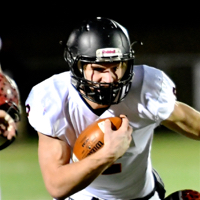 Jared Huelsman, Quarterback (Minster)…We've written throughout most of the season that Jared Huelsman was among the very top players in the Midwest Athletic Conference.  But after the Minster Wildcats' four playoff wins to date we ready to proclaim…that Jared Huelsman is THE BEST player in the Midwest Athletic Conference, with his impact on both sides of the ball.  To eliminate any doubt, consider his game last weekend against top-ranked Norwalk St. Paul.  Huelsman carried the ball 44 times, scored five touchdowns, and amassed an amazing total of 271 yards against a defense that knew he was coming on two-thirds of Minster's offensive snaps…and couldn't stop him.  Rarely has anyone come up bigger this season when his team needed it most.  He'll lead the Wildcats into this weekend's Division VII title game with Cuyahoga Heights, seeking their second title in the past four seasons.