Minster used a punishing offense and Jared Huelsman, a dominating defense, and rolled past top-ranked Norwalk St Paul to return to the Division VII title game next week in Canton.
Lima – The Minster Wildcats are crashing the Division VII high school football state championships.
And they did it by shaking the state's top-ranked team with a punishing offense, rattling them with a dominating defense and rolling into the state title game for the third time in four seasons.
Minster – the lone team among the four state semifinalists not ranked among the top five teams in the state, let alone the top 10 – stunned No. 1 Norwalk St. Paul with another MAC-nificent effort highlighted by senior quarterback Jared Huelsman's 271 yards rushing on 44 carries.
Minster dropped 40 points on a team that had allowed 80 points all season in a victory that left both sidelines nearly speechless.
"Daggone, we didn't see this one coming," Minster coach Geron Stokes said following Minster's 40-7 victory in the D-VII state semifinal game at Lima's Spartan Stadium on Friday night.
As Stokes searched for enough superlatives to properly credit Minster's team effort, St. Paul simply walked off the field in silence following a post-game talk as short in length as the Flyers' held the lead.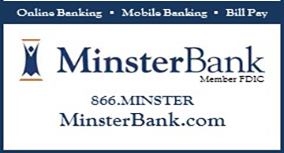 St. Paul's playoff history with the Midwest Athletic Conference wasn't stellar with a 1-4 record overall entering Friday. That included a 1-2 record versus St. John's in state title games (1997, 1999, 2009) and an 0-2 record against Marion Local in a state semifinal and state title game (2006 and 2014). Still, the Flyers liked their chances this time.
St. Paul (13-1) entered ranked No. 1 in the final state poll. The Flyers were outscoring opponents 43-6. And they had the Northwest District defensive player of the year in linebacker Luke Nickoli and co-offensive lineman of the year in Zak Reed.
But they didn't have Minster's offensive line. Left tackle Luke Puthoff, left guard Dan Becker, center Dustin Frericks, right guard Sam Schmiesing, right tackle Duke Bernhold, tight end Cody Frericks and August Boehnlein helped the Wildcats dominate the Flyers like no team has this season.
"I asked (Huelsman) earlier this week if we can pound him this week," Stokes said. "Him running that offense takes a toll on his body. He said coach do whatever you need. Let's get to Canton. He was a bull tonight."
St. Paul entered the game allowing 71 yards rushing. Huelsman had 170 of his 271 yards by halftime as the Wildcats grounded out 304 yards rushing on 53 carries.
St. Paul had allowed just three rushing touchdowns this season. Huelsman scored on TD runs of 13, 1, 1, 3 and 4 yards – that's five rushing TDs overall – against the Flyers.
St. Paul had outscored opponents 198-0 in the first quarter. Minster needed just 4:52 to snap that streak and take a 6-0 lead (the extra-point attempt failed) with a 13-play, 72-yard drive in the first.
No team had scored more than 20 points on St. Paul this season. Minster had 26 at the half.
"We executed like crazy. Just an unbelievable effort," Stokes said. "I saw a different fight and a different look in our kids. These guys get so much better when they get challenged. … Nothing rattles us. I don't believe it's coaching. It's just the character of our kids."
Following last week's lackluster 20-0 regional final win against Delphos St. John's, Stokes said the Wildcats had to get better fast. The seniors took it upon themselves to make sure that happened.
"The seniors definitely stepped up," Huelsman said. "We said don't come out flat again because if we do we're done." a
Minster scored on all four possessions in the first half on drives of 13, 14, 5 and 13 plays. Three of the drives went 72 yards or longer. The only blemish was a 65-yard touchdown pass surrendered to the Flyers that gave them their only lead, 7-6 with 10 seconds left in the first quarter.
After that it was all Minster.
Huelsman patiently followed his blockers for consistent chunks of yardage of five yards or more. He was just as precise passing. Huelsman completed 11-of-16 passes for 93 yards and a 13-yard touchdown to Isaac Schmiesing, who had a nice spin move at the 5-yard line that helped him pop into the end zone.
"We were just taking what we were given," Huelsman said of his carries. "That's a credit to the offensive line. Just pounding it the whole game. They've been working all year and it's showing."
Huelsman's season high before Friday was 34 carries against Anna and 151 yards against St. John's during the regular season.
"I didn't know what to do with myself I had so much space. I didn't know where to cut. It's a good feeling," Huelsman said.
"(The offensive line) probably puts in the most work out of everyone. Every day they come in at 7:15 and watch film. They're working their tails off. They don't get enough credit for what they do. They're the ones that earned this, not me."
Minster's aggressive defense – led by a three-man front – pressured the Flyers and held St. Paul's 1,000-yard rusher Thane Crabbs to 33 yards on nine carries. The Flyers finished with 43 yards rushing overall, well below their average of 298 per game.
Overall, the Flyers managed 216 yards. That's 228 yards below St. Paul's season average.
"They're physical so we thought it was going to be a real battle. We just wore them down," Cody Frericks said. "We got a lot chippier at practices this week. We were forcing each other to get better."
A team that lost four straight games during the regular season now finds itself playing in the D-VII state title game for the third time since 2014, when the Wildcats won it all. They lost in the title game last season.

"I think it's a credit to past teams and the work we've put in this year," Becker said. "Ever since our coach came here our work ethic has gone through the roof. … I think the difference comes down to work. I honestly believe, and our coach says it too, the team that works harder day in and day out wins.
"From day one we're told to work at our top end. We get called out for slacking in practice. If we go hard in practice we believe it makes the game easier."
Minster advances to the state title game against Cuyahoga Heights (12-1) 10 a.m. Friday at Tom Benson Hall of Fame Stadium in Canton. Minster – and Marion Local, which plays for the D-VI title on Saturday – attempts to keep the MAC string of state titles going. Since 2003 the MAC has won at least one state title every year except 2009.
The MAC also improved to 38-7 against non-MAC schools in state semifinal games after Friday's two victories.
"Unbelievable effort by our guys this week in preparation," Stokes said. "They treated every single rep in practice as important this week. That wasn't from the coaches, that was from the guys. … Just really proud of our effort. I think it's a testament to how we approach every single day. It's not a fluke. They've earned the right to do things like this tonight."
And next week, too.