Reader comments continue to roll in on everything from coach of the year…to competitive balance, and why some new teams in the state finals would be good for high school football.
It's state semi-final weekend in Ohio high school football, and Thanksgiving day was particularly fertile for those bored with the turkey and in-laws…who took the time to write to Press Pros.  We were flattered!
There was a very brisk response to our column earlier this week highlighting Sidney's Adam Doenges as our choice for area Coach of The Year in high school football.  Many positives about Adam – along with a number of "did you even consider" comments about someone they felt we overlooked.
One, in particular, was Coldwater's Chip Otten, about whom many wrote to say, "He did his best job yet" in coaching the rebuilding Cavaliers to a 9-4 record, and a berth in the regional final game with Marion Local.  We would agree with you.
Another was Fort Recovery's Brent Niekamp, who one writer simply described as the man who saved Recovery football;  and does more with less than anyone you could name.  Well, maybe.  It's really hard to consider running back Will Homan as being in the "less" category.  But the sentiments, otherwise, are well-thought.
Several others wrote to blast us for the column questioning the value of the OHSAA's competitive balance initiative for 2017.
One wrote, "I'm tired of hearing about Donald Trump, and I'm tired of reading about Marion Local.  It's time for something different."
I'm not sure you how that person equates the two, but others chimed in to say…"that if competitive balance brings some diversity to high school football it would be good, and welcomed."
"If new teams can find success and confidence through competitive balance, how can that be a bad thing for high school football?  It only strengthens the game,"  wrote Keith Grossmeyer.
But from that same column…two in particular wrote to affirm that community responsibility for hard work and high standards never hurt anyone, and those who favor a lesser standard with winning are only fooling themselves – public and private.
"Personal responsibility is the same whether you attend a private or public school.  And it starts and ends at home,"  wrote Kevin, from Troy.
And….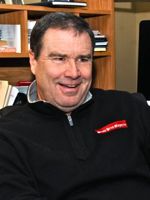 "Hard work and commitment is the same, regardless of where you go to school,"  said Tom Lis.  "We all find that out soon enough."
"I laughed when you made the point about it's always about SPORTS.  No one ever cares if a private school recruits the best math student.  Well-said,"  said James Spence.
Indeed, we'll all find out soon enough.
Thanks for reading, and have a great holiday weekend, everyone!