Buckeye offense performs at torrid pace in blowout victory … Illinois no match for Ohio State on Senior Day … Barrett has strong showing in final game at Ohio Stadium.
Columbus – Ohio State coach Urban Meyer has drawn the ire of fans at times for keeping his starters in long after a game has been decided. He did it last week against Michigan State — and J.T. Barrett promptly tossed an interception early in the fourth quarter of a 48-3 bashing.
But Meyer tried to be gracious against the jayvee team sent to Ohio Stadium by Illinois on Saturday. Actually, it was the varsity, of course, but it easily could have passed for a freshman team.
In major rebuilding mode, the Illini have had more freshmen play (22) and start (16) than any school in the nation — and none looks like a candidate to be next Red Grange or Dick Butkus.
That's not to say anyone expected the Buckeyes to thrash the visitors as thoroughly as they did. They led 38-0 before even giving up a first down on their way to a Big Ten East Division-clinching 52-14 victory Saturday.
Yes, Illinois toted an eight-game losing streak to Columbus, but they were giving up a semi-respectable 28.4 points per game, and they held their previous four opponents under 30 points.
The Illini were so overmatched, though, that not even Meyer seemed inclined to step on their throats. He pulled Barrett and offensive starters with 5:53 left in the second quarter, giving them a final bow on Senior Day. And it was the right call to show restraint with the showdown against Michigan lurking.
The Buckeyes had a 358-43 advantage in total yardage and 17-1 edge in first downs in the first half.
The time elapsed on their four touchdown drives in the first quarter: 3:18, 2:07, 1:13 and 0:44.
But Meyer went back to Barrett and the starters after a fumble by back-up Dwayne Haskins was returned for a touchdown early in the second half, making it 38-7.
The Buckeyes promptly scored — so much for the Merciful Meyer — and Barrett's day was officially over. He was 11-of-19 passing for 141 yards with two touchdowns — giving him 101 career scoring passes, extending his school record. He also rushed five times for 33 yards and another TD.
Like most Buckeye observers, though, I've been lukewarm toward Barrett as a passer, especially after watching him throw six interceptions the previous two games.
But he's been picked off only one other time. And you may be shocked, as I was, to learn just how proficient he's been this season compared to other major-college QBs.
Going into the game, he was first in the Big Ten and fourth nationally in pass TDs with 30. Missouri's Drew Lock started the day with 35, West Virginia's Will Grier 34 and Oklahoma's Baker Mayfield 31.
He was first in the Big Ten and 13th nationally in total offense at 312.9 yards per game.
He was first in the league and fifth in the nation in completion percentage at 67.4.
He was first in the conference and sixth in the country in pass efficiency.
Does Ohio State sound like a team with quarterback issues?
I know, I know, outside of how expertly he directs the read-option with his running backs, Barrett doesn't cause defenses to tremble. But how many teams would trade their starter for him? Maybe 95 percent or more?
He also has a chance to be first Ohio State QB to go 4-0 against Michigan, which certainly would cement his place in Buckeye lore.
Either way, the Buckeyes have won their third East Division crown in Meyer's six seasons, though that doesn't quite capture how dominant they've been in that stretch.
They weren't eligible for the division title when they went 12-0 in Meyer's first season because of the tattoo fiasco. Nor was second-place Penn State, coming off the Jerry Sandusky scandal.
Remember that when former Wisconsin coach Bret Bielema gets credit for that Big Ten title. The Buckeyes were 8-0, the Nittany Lions 6-2 and the Badgers 4-4.
In 2013, they were East champs and probably were a fourth-down conversion away from beating Michigan State in the conference title game.
They won it all in '14. And they finished in a tie for first in the East the next two years. They had the same record as Michigan State in '15 (7-1) and Penn State in '16 (8-1).
They didn't go to the Big Ten title game because they lost the head-to-head tiebreakers.
But while they don't need to beat Michigan to play for the league title, no season can be considered a success without a win over the Wolverines. And the Buckeyes seem to be on a good trajectory going into their trip to Ann Arbor.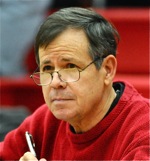 They look like a cohesive team, which was somewhat in doubt during the collapse at Iowa. On the second series, Parris Campbell ripped off a 44-yard run on a reverse. He didn't quite score, but his fellow receivers, Johnnie Dixon and Benjimen Victor, certainly did their part with downfield blocks and were demonstrably upset when he was stopped at the 4-yard line.
Maybe it's a little thing, but that might be a glimpse into what's going on behind the scenes after 11 games into the season.
The Buckeyes will be hard to handle with how they can pile up points. And they'll be even more dangerous the rest of the way if players don't care who does the scoring.