Neither Minster nor St. John's cracked the top 10 in the final D-VII state poll – Minster finished at No. 11 and St. John's at No. 12. But both put themselves a win away from the state semifinals on Friday night.  Stokes knows Minster has to clean that up for next week's state semifinal game.
Wapakoneta – Game film and a regular-season meeting in September suggested Delphos St. John's defense would get a steady dose of Minster dual-threat quarterback Jared Huelsman Friday in the Division VII regional championship.
Instead, it was the legs – and the arm for one momentum-inducing play – of senior running back Isaac Schmiesing that did in St. John's on a cold and blustery night at Wapakoneta's Harmon Field. Minster beat St. John's for the second time this season, this one a 20-0 victory for the Region 28 championship.
The victory gives Minster its second straight appearance in the D-VII state semifinals and third trip in four seasons. Minster (9-4) plays Norwalk St. Paul (13-0) next Friday night at a site to be announced by the Ohio High School Athletic Association on Sunday.
Top-seeded St. Paul gave No. 3 Pandora-Gilboa (10-4) a 49-7 thumping for the Region 26 championship.
Minster coach Geron Stokes likely took notice of the score updates as they were announced during the Wildcats' game. His message to his team for next week?
"We have to get better," Stokes said after Minster's third shutout this season. "That was as undisciplined as we've been all year. There were no halftime adjustments. It was just play better. We did a little bit, but not much. That's a credit to Delphos St. John's."
Minster beat St. John's 41-14 in Week 3 this season. Friday's game had a similar feel early when the Wildcats forced the Blue Jays into a three-and-out punt, then scored four minutes into the game. Schmiesing took a pitch around the right end and beat the Blue Jays' defense to the pylon for a 10-yard run. Extra-point holder Jacob Hoying hit Joe Winner for the two-point conversion in the back of the end zone for the quick 8-0 lead.
But the score remained stuck there until early in the third quarter.

St. John's missed a scoring opportunity when an ineligible player down field penalty wiped out a completion for a first down. Instead, the drive ended on fourth-and-11 from Minster's 26-yard line when Wildcats sophomore Austin Brown batted away a pass.
The Blue Jays drove to Minster's 37-yard line late in the second quarter only to see that drive end on senior Alex Lehmkuhl's diving interception in the end zone.
And on the final play in the first half, St. John's junior quarterback Jared Wurst threw just behind his receiver at the Wildcats' goal line for an incompletion.
As for Minster, the Wildcats punted on their three drives that followed Schmiesing's touchdown … though one did come from the St. John's 35.
"It didn't feel like things were clicking at first," Huelsman said. "Once we got back to doing our thing you could tell. We just came out flat. As seniors we need to do a better job leading. We can't let that happen again. That needs to change."
It did in the second half.
Minster junior August Boehnlein stepped in front of a Wurst pass and returned it 15 yards to the St. John's 45. On Minster's first play from scrimmage, Schmiesing took a lateral pass from Huelsman, stopped behind the line of scrimmage and hit a wide-open Brown for a 45-yard touchdown with 8:35 left in the third quarter.
It's a play Minster runs routinely in practice and used for a touchdown – Schmiesing to Brown again – in a regular-season win over New Bremen. The extra-point kick failed for the 14-0 lead.
"It worked the first time so coach decided to go back to it again," Schmiesing said. "It was a momentum builder for us. The first half we didn't play very good."

"That was huge. It was a huge momentum swing for them," St. John's coach Todd Schulte said. "We were a big play or two away from maybe tying the game. You could feel a little bit of the air come away from our sideline, for sure."
Unofficially, Schmiesing finished with 101 yards rushing on 24 carries and 45 yards passing.
"My offensive line has done a great job all year," Schmiesing said. "They're competitors and everything you want in an offensive line. They're tough."
Though his strike to Brown was perfect, Huelsman isn't worried about giving up play-calling duties to Schmiesing.
"That's all him," a grinning Huelsman said of Schmiesing's form. "He always claims he should be the quarterback. We'll give him his glory."
Huelsman – a 1,000-yard passer and rusher this season – tacked on the Wildcats final touchdown when he rifled a 14-yard throw that Lehmkuhl held on to despite having a St. John's defender smother him at the goal line.
Huelsman completed 3-of-6 passes for 98 yards. He added another 61 yards rushing on 15 carries.
In the regular-season win over St. John's in September, Huelsman threw for 171 yards and rushed for 138. Schmiesing had 54 yards.
"Great game plan by them," Schulte said. "Not that it hurt us a whole lot, but we expected to see more of Huelsman."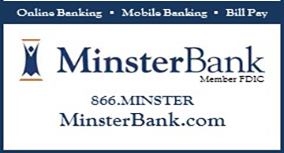 What did hurt was Minster's three interceptions. The Wildcats, who forced five turnovers during the regular-season meeting, rushed a three-man front of senior Max Prenger, junior Cody Frericks and sophomore Kyle Riethman at St. John's. That allowed the Wildcats to sit back on defense.
"We were able to do some things passing the ball but we just couldn't find that big play we needed, especially early in the first half," Schulte said. "They're just all over. They put so much pressure on you and those front three guys, we weren't moving them. That's where it starts. From there it's really hard after that."
Wurst completed 12-of-24 passes for 135 yards. He was also the team's leading rusher with 55 yards on 15 carries.
"That's what we do. We felt good about forcing their quarterback to throw it," Stokes said. "They did a decent job of keeping it in the pocket. We had opportunities to create turnovers in the first half but we didn't take advantage of them. We have to get better."
Minster dropped or failed to capitalize on about three other interception opportunities, including dropping one that could have gone for a 25-yard touchdown on the third play of the game.
Stokes knows Minster has to clean that up for next week's state semifinal game.
For a night, though, the Wildcats are just thrilled to be celebrating another regional championship. The game was a match-up of two teams that have combined for 82 playoff victories (54 for St. John's and 28 for Minster) and eight state championships (six for St. John's and two for Minster).
Neither Minster nor St. John's cracked the top 10 in the final D-VII state poll – Minster finished at No. 11 and St. John's at No. 12. But both put themselves a win away from the state semifinals on Friday night.
D-VII final state poll: No. 11 Minster and No. 12 Delphos St. John's
"It's fun getting another week," Huelsman said of a Wildcats team that rallied after a four-game losing streak left them 3-4. "That's what we're looking for. Just another week with this team staying together."