Armed with a veteran lineup of shooters, and with size, Corey Britton and Fort Loramie basketball can't wait for cold weather…and some hot nights!
Fort Loramie – You warmbloods out there will forgive Fort Loramie basketball coach Corey Britton for his impatience for winter weather.
And here's why.
Cold weather means basketball season, the 'piece de resistance' in Shelby County.  Cold weather means competition. And cold weather means working with what portends to be one of the area's strongest Division IV lineups this season when Britton's Redskins take the floor in a couple of weeks.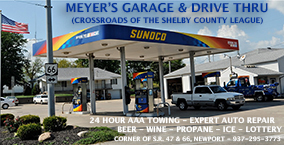 Coming off a 21-6 season, a sectional tournament win over Russia to take that sectional title, and a berth in the Division IV regional tournament, Britton hasn't had a pat hand the likes of Dillon Braun (Sr.), Austin Siegel (Sr.), 6'7" Tyler Siegel (Sr.), Eli Rosengarten (Jr.), and Evan Berning (Sr.) in his five years as head coach.
Toss in an excellent bench and competition for playing time – along with promising sophomore Nick Brandewie – and as far as the Redskins are concerned…get out the snow tires.
"Yeah, we're anxious to get started," he said this week. "We finally got everyone together this week after football for the first time, so these first few practices are pretty tough.
"It's nice to get everyone (from football) back this early, but it's all relative. Had they won Friday night I doubt if we would have been playing Anna in two weeks, but getting them back, and getting their experience back, makes things easier to game plan for the opening game."
They finished 8-4 in the Shelby County League last year, and on nights when they had it going they shot the ball well…really well. Overall, for the year the 'Skins shot 47% from the floor for the year – and seniors Dillon Braun (14.6), Evan Berning (9.5), and Tyler Siegel (11) got the 'go-to' points when needed.
More, Braun, Berning and junior Eli Rosengarten all averaged 37% from three-point range. So this is a team that can shoot.
But there were times when they didn't shoot well enough, as in their season-ending loss to Lima Perry in the regional semi-final, when a shrinking rim required them to find another, different way to win. They couldn't, but now they hope a year's experience and the memory of that gut-wrenching loss can propel them at least one tournament round farther come next March.
"Everyone's back to square one in that regard," says Britton. "As much as we have back…we've got to get better. We have to prepare to be like we were last year, and then fight to beat the big "C" word, complacency.
"But, it was a challenging summer," he adds, speaking of this past off-season. "We lost Evan Berning for a while with labrum surgery, Nick Brandewie had a sore back all summer, and we had to fill in with some bits and pieces. The good news is that some younger kids got to play and hopefully that helps us with our depth."
Still, they averaged just over 50 points a game last year in a league known for torrid defense and sinister atmospheres on the road at places like Jackson Center and Russia. Dillon Braun, one of the area's best streak shooters, believes they can improve on that in 2017-18.
"I just feel more confident with the added year's experience," says Braun, who's presently nursing a sprained hand. "I think the Lima Perry game showed us last year that we have to finish better in the paint on nights when the shots are falling. If the shots ain't comin'…you have to figure out a different way to score."
Of course, it helps in Division IV to have 6'8" in the post, and senior Tyler Siegel anchors the Redskins' interior defense, besides being that go-to scorer around the rim.
"We have plenty of guys on the court who can shoot and score," says Siegel, emphasizing the understatement. "But, we have to be better down low, big and wide, powerful, and be able to rebound and put it back up for points."
If you ask around, Division IV fans are already pointing to Loramie as a possible front-runner for a deep tournament run, the likes of which Tri-Village has been for the past four years. And if that's not early motivation enough…the Redskins open their season on December 1st with a road date at rival Anna.
"Anna's always a big game, especially over there in their gym," says Austin Siegel. "You always look forward to big games like that. It's what you play for because it's an exciting atmosphere and a big crowd. It's a great way to start."
To borrow from Dillon Braun and Tyler Siegel, their 21-6 record from last year could easily have been 24-3, or better, if they could have found a way to score on nights "when shots weren't falling" (Braun). And if they can do a better job of "being big and wide, powerful, and putting rebounds back in" (Siegel), this is indeed a team capable of making a Division IV run at Columbus.
Of course Anna, Jackson Center, and Fairlawn will have something to say about that, but Nate Lessing's (Fairlawn and league's all-time leading scorer) doing this thing now at UNOH (University of Northern Ohio), so Corey Britton can breathe a little easier now without him.
"Yeah, I'm going to miss him," he smiled. "I looked at their box score this week and he (Lessing) played ten minutes and had twelve points.  He hasn't changed.
"But the Bensman kid (Anna) is really good. Kerns and Dapore are really good at Russia, and the Sosby kid from Jackson Center will do their part to take his place. There's at least a dozen really good players in the league…and I hope at least three or four of them play for us.
Now you know – why winter looks like winning…at Loramie!