Running attack carries Buckeyes to 48-3 victory … Barrett has bounce-back game after fiasco at Iowa … Ohio State takes control of Big Ten East
COLUMBUS — I had a brief conversation with a press box inhabitant while Ohio State was treating 12th-ranked Michigan State like a last-place PeeWee squad whose foremost concern was getting to the post-game snack.
Him: How did this team lose to Iowa by 31 points?
Me: Uh … I got nothin'.
How's that for expert analysis?
In a battle for control of the Big Ten East Division, the 13th-rated Buckeyes tallied TDs on five of their first six possessions while soaring to a 48-3 win — and they might have made it six-for-six if center Billy Price didn't snap the ball once over J.T. Barrett's head for a 23-yard loss.
Where to begin? Mike Weber showed he's more than your garden-variety understudy at running back. The defense was meaner than a pack of badgered pitbulls. And the coaches learned from their gross neglect of the ground game at Iowa and adjusted their play-calling accordingly.
But while all of that was pertinent, the most important aspect of the rout was that the Buckeyes didn't just go on autopilot with their playoff hopes erased and played with heart after that debacle last week. Maybe a league title in this playoffs-or-bust era still means something to this group.
A loss to Michigan State would have left Ohio State in also-ran territory and bound for their worst season since going 8-4 in 2004, aside from the lost year in 2011 between Jim Tressel and Urban Meyer.
And coming off three blowout defeats in the previous 10 games, it would have triggered questions about the culture within the team — whether Meyer's commitment was waning, if burnout was setting in after so much coaching turnover or whether his skill as a program developer had vanished.
The answers to those queries appear to be no, no, a thousand times no.
News flash: Weber has another gear. The third-year sophomore has battled injuries and was beaten out by freshman J.K. Dobbins, and he was considered a tough-yardage guy, not a break-away threat. But he blasted through a hole, veered to his right and out-ran defenders for a 47-yard score on the Buckeyes' opening series.
We've heard he'd been trying to improve his speed in the offseason (can that really work?), and, I must admit, I thought it was the faster Dobbins with the TD sprint until the start of the celebration around Weber in the end zone.
The 5-foot-10, 214-pound Michigan native also had a career-long 82-yard run for a TD. He found an opening through the middle and was gone. The Spartan DBs looked like greyhounds at a dog race that can't quite catch up to the mechanical rabbit. Who knew?
We need to pause here to point out that the Buckeyes not only were keeping Weber busy, but Dobbins, too. They had eight and 10 carries, respectively, in the first half, while Barrett had seven.
The run-pass ratio in the first two quarters was 27-9.
The howls among fans were deafening after Barrett rushed a team-high 14 times and uncorked 34 passes at Iowa. Dobbins had six rushes for 51 yards and Weber five for 27.
The final tally Saturday was Dobbins 18 rushes for 124, Weber nine for 162 and Barrett nine for 55.
Dobbins topped 1,000 yards for the season (he's got 1,038) a year after Weber reached four digits.
The staff was lulled into thinking Barrett was a gun-slinging QB after that masterful showing against Penn State, and that's not him. He's at his best when he's asked to be a distributor, spreading the ball around to the Buckeyes' ample supply of playmakers.
He's pretty good at that, too. He moved into second in Big Ten career total offense with 11,975 yards (passing and rushing). Drew Brees' record of 12,692 is within reach.
He finished 14-of-21 for 183 yards and two TDs. The only real blemish was an under-thrown ball that was intercepted late in the first half, allowing the Spartans to kick a field goal to cut the lead to 35-3.
He also was picked off early in the fourth quarter on first-and-goal at the 7-yard line with a 48-3 lead. What's he even doing in the game at that point?
The defense was outstanding even without injured starting linebackers Jerome Baker and Dante Booker. Defensive end Nick Bosa is a beast. He may not have the natural tools of older brother Joey, but it's close. And he might be more relentless than the guy currently tearing up the NFL.
Michigan State QB Brian Lewerke had thrown for more than 400 yards in his last two games but finished 18-of-36 for 131 yards and two picks.

The Spartans' best player was their punter, Jake Hartbarger, who kicked eight times for a 45.5 average.
The Buckeyes (8-2 overall, 6-1 in the Big Ten) have all but locked up a trip to Indianapolis for the conference championship, as long as they beat lowly Illinois next week. Even if they lose at Michigan in the season-finale, they'd win the division based on tiebreakers except in the unlikely scenario of a two-way tie with the Wolverines.
Michigan State (7-3, 5-2) finishes at home against Maryland and at Rutgers.
Penn State (8-2, 5-2) concludes at home against Nebraska and at Maryland.
Michigan (8-2, 5-2) plays at Wisconsin and home against Ohio State.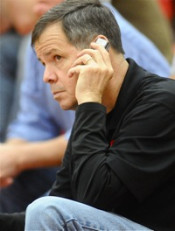 When the point spread for this game first came out and I saw the Buckeyes favored by 16, I was astonished. If I were a betting man, I would've taken the points and placed a sizable wager on the Spartans.
Silly me.
The bigger mystery perhaps isn't how could Ohio State lose by 31 to Iowa, as my press-box neighbor wondered, but how did Michigan State manage to beat Penn State and Michigan this year?
The Buckeyes, though, are that good. If they're motivated — and if the play-callers don't lose sight of where the ball needs to go — they're capable of making any opponent look feeble.