The Flyers were down a point and had the ball on the sidelines, 35 feet away from the basket. All that was left was, 'Our Father, who art in heaven, give us. . .
DAYTON — For the first five minutes of his first official game as the new University of Dayton basketball coach, Anthony Grant was ready to sit back, relax and enjoy the raucousness in UD Arena Friday night.
How about a La-Z-Boy recliner and a glass of merlot to relaxingly watch the rest of the game?
In the first five minutes, a highly-regarded Ball State University team, a team with four returning starters from a team that won 21 games last year, missed its first 11 shots, some not even drawing iron.
And that huge and gorgeous new scoreboard above Blackburn Court reported the score: Dayton 14, Ball State 0.
A romp? A runaway? A ho-hummer? A walk in the park?
Oh, no. Not at all. Not even close. Well, yeah, it turned out real close.
And with :01.9 seconds left in the game, Grant was not in a rocker sipping spirits. He was sweating bullets and draining water bottles like a guy who just found an oasis after 36 hours in the desert.
The Flyers were down a point and had the ball on the sidelines, 35 feet away from the basket. All that was left was, 'Our Father, who art in heaven, give us. . .'
Then the miracle. During a long delay, about five minutes, while officials checked a replay to make certain UD should have the ball out of bounds after a deflection, Grant meticulously drew up the play.
With :02.9 seconds left and the ball 50 feet from the basket, UD point guard John Crosby, all 6-foot-3 of him, threw the ball in. It was deflected out of bounds with :01.9 seconds left.
While the officials congregated around the court-side monitor for nearly five minutes to determine possession, coach Grant was mapping strategy, trying to avoid becoming only the second basketball coach in UD history to lose the first game he coached for the Flyers.
He decided to replace the 6-foot-3 Crosby with 6-foot-9 Xeyrius Williams to throw the ball in — six more inches of viewing possibility.
The plan was to get the ball to senior Darrell Davis at the top of the lane for a quick turnaround jumper. But when 'X' checked the spot where Davis was, two Ball State defenders had him draped.
That's when he saw 6-foot-7 Josh Cunningham breaking on a crossing pattern toward the basket. 'X' hit the spot perfectly — a high, arcing pass that Cunningham caught, above two Ball State defenders like a tight end. No surprise there. Cunningham was a wild receiver at Chicago Morgan Park High School.
Cunningham caught the Williams pass and put it above the basket and watched breathlessly as the ball kissed both sides of the rim and fell through.
Dayton 78, Ball State 77, :00.1 on the block and the UD Arena occupant going stark-raving bonkers.
"'X' (Williams) was just supposed to look for somebody open to get the shot, get the ball up to somebody who could lay the ball in," said Cunningham. "It was a great play drawn up by coach Grant, an excellent play down to the 'T.' It was amazing just to make the shot.
"I had two guys on me and I knew I could outjump 'em, but I didn't know where the pass would be," he added. "It was a great, great, great pass by 'X.' It an amazing pass right in the key and I just jumped up and got the ball," Cunningham added. "As soon as I got the ball I knew I was running out of time and just had to put the ball in the basket. I caught the ball and came down and knew I had to go right back up very fast. I knew time wasn't on my side and had to go back up as soon as possible."
Cunningham finished with 22 points on 8 of 1 shooting and 6 of 8 from the free throw line and led the Flyers with seven rebounds en route to getting Grant his first UD victory.
"It was amazing to win this game for coach Grant," said Cunningham. "We wanted to do it for him because he played here and we knew it meant a lot for him."
After the Flyers jumped to the 14-0 lead, Ball State finally found a GPS that enabled the Cardinals to locate the general location of the basket and they chipped way.
The game became like a he said-she said argument, back and forth and back forth and back and forth.
Ball State climbed to within 23-19 with 7 ½ minutes left in the half. Then the Flyers scored eight straight to push it back to 32-19. But they were outscored 12-2 the final 3:45 and led by only 34-32 at the half.
Ball State, only 5 for 16 from the three-point line in the first half, began tossing in threes in the second half from Moraine and barged to a 58-51 lead.
That's when senior Darrell Davis took over and scored seven straight points to draw the Flyers within one, 60-59.
And new point guard John Crosby, replacing graduated senior Scoochie Smith, scored six straight points to push the Flyers to a 71-64 lead with 3:44 left.
Over? No, not yet.
Ball State, led by ever-active point guard Tayler Persons, outscored the Flyers 13-5 and Persons drove the lane for a basket at :03.3 seconds to give Ball State a 77-76 lead and a pall enveloped UD Arena.
Game over? No, not yet.
Williams and Cunningham then pulled off their miracle play to pull it out from the bottom of the Great Miami River.
"I'll state the obvious," said Grant. "Really excited to get the win. We were fortunate to win. A lot had to go our way with :01.9 to play. When you look at the sequence of events, we were very, very fortunate to get the ball where it was (35 feet from the basket) and give us a chance to catch, pivot and score.
"We drew up plays multiple times (during the replay/review delay)," said Grant. "'X' (Williams) made a great decision to give Cunningham the opportunity to catch, pivot and shoot.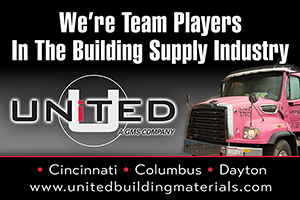 "Williams had to play 34 minutes and he was cramping a bit and played the last four minutes on heart," Grant added. "I'm really proud of Josh, our captain, for stepping up and making the big play."
Grant also had words of praise for his new point guard, John Crosby (13 points, four assists).
"Crosby made some really big plays for us, getting the ball where it needed to be and staying aggressive offensively. Darrell Davis (16 points, seven rebounds) and Jalen Crutcher, for a freshman, made some big plays for us (six points two assists), played with some poise."
Of his first game as UD coach, Grant said, "I'm blessed, every day to do what I do. I don't take that for granted. It's a surreal feeling to go out there and see 13,000 strong. You can feel it at different points of the game. They understand it, they get it.
"They were able to spur us when we got down in the second half and get us through to the end," he added. "You could feel the air go out of the building in terms of the disappointment at the end. Then to hear the building explode like it did at the end — I cherish every moment of that."