In straight sets New Bremen wiped out a century of frustration, taking the school's first, the community's first, and Auglaize County's first state title in volleyball with the Division IV win over St. Thomas Aquinas.
Fairborn – Let someone else write the statistical particulars of how the New Bremen Cardinals, and seniors Paige Jones, Julia Goettemoeller and Rachel Kremer captured the school's first and the community's first team title in history…and Auglaize County's first title in volleyball.  The story is better than pure numbers.
However, it bears reporting that they won it in straight sets, 25-9, 25-18, and 25-20;  and that Paige Jones recorded another 25 kills in the match, giving her another state record for most 'kills' in the Finals…72!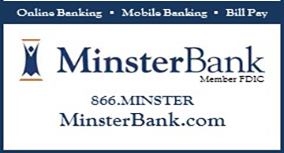 You can't take away from all that, because history won't allow it.
But the better story is the anticipation of a coach, a team, a town, and a conference (The MAC) that on the same day chalked up its 122nd state title in the relatively short span of 45 years.
The story is the emotional relief expressed by head coach Diana Kramer, who allowed winning that title was akin to her wedding day, or the birth of her first child.
The story is about the overwhelming support shown not only by the village of New Bremen, which brought an estimated 3,000 people to the Nutter Center to see it…but the entire volleyball community of the Midwest Athletic Conference, there in support of both New Bremen (Division IV) and Versailles and Coldwater, as well, who played the following game in Division III.
And yes, the story must be shared of the awe expressed by St. Thomas Aquinas coach Alyssa Thewes and senior hitter Katie Hiestand who simply said, "She (Paige Jones) was as good as anyone we've ever seen (and we've seen good ones in Stark County), and they (New Bremen) were just an awesome team."
A team awesome enough to strike intimidation into a State Finals opponent with a record of 23-4.  Because the story starts with the Bremen's overwhelming win in the first set of the match, in which St. Thomas scored but 9 points.
"We were nervous,"  said Hiestand.  "We knew we were playing in the state finals."
To the contrary, Bremen had suffered from the 'big-eye' in their regional win over Fort Lormamie and state semi-final win Thursday over Buckeye Central.  On Saturday there was none of that.  They came out aggressive, served well, and appeared to be as cool as the other side of the pillow.
"We talked about it on the bus coming down," said Paige Jones.  "We knew if we came out nervous it wouldn't be good.  We left the nerves out of it."
"We played well today,"  said Diana Kramer in her post-game comments.  "I was very, very proud of them, and our conference schedule prepares us for days like today.  We've been playing in 'we can't lose situations' since we lost to Fort Recovery back in September.  So we were ready;  we were prepared.  And I felt very confident coming into this match.
"We knew we were playing a very well-coached opponent with some great athletes.  But we were just better today."
Diana Kramer, in contrast to a lot of other coaches, is relatively unfiltered when it comes to her opinions about her team.  From the outset of the year she's insisted that if they played their game, there was no one out there that was capable of keeping from winning the state title.
Saturday, she proved…or rather, the Cardinals proved her right.  They played confidently, they served with surgical accuracy.  Trying to negate Jones as much as possible (so said Alyssa Thewes), nonetheless you can't avoid someone of that skill forever.  She finished with 25 kills, gaining momentum as the game progressed.  And she had plenty of help.
Fellow senior Julia Goettemoeller actually had three of the first four kills of the match, proving that there's far more in the New Bremen nest…than just Paige Jones.
"We thought it was important for us to know that there are other hitters on the team besides Paige,"  Goettemoeller said.  "It helps our confidence when we know that we're all ready to go."
"We're a high risk, high reward team," said Kramer.  "That's my philosophy because against the competition we play if you allow people to pass and get into system you're going to have some long nights.  We served really well at the outset, and when we're serving well, and we're passing well, we're really, really hard to beat."
Bremen's ability to serve 'lasers' across the net Saturday put St. Thomas on its heels…and kept them there.  Jones and Taylor Paul each had three serving aces, but the ones that St. Thomas returned never allowed for any kind of rhythm, or "system".
Bremen was just effective on defense, allowing for 45 digs and 8 block attempts.
But speaking of "system", Bremen far outscored St. Thomas in the category of assists, setting up their scorers, with 39 total, compared to just 19 for the Knights!
At match point Paige Jones lifted off the court far above the typical 30-inch vertical jump from which she scorches opponents with her shot.  Her teammates piled up on the court, while those on the bench streamed for the pile.  Diana Kramer, who tried her level best not to take the Bremen job when she was hired two years ago, turned to her assistants, tears streaming, and hugged them.  Her record in two seasons of 51-5 suddenly trumped by the one win that trumps all others…the one that carries "champion" in its description.  All those years of frustration – of waiting – were over!
"They've had great volleyball at New Bremen for years,"  she added in her post-game remarks.  "There's never been anything wrong with it.  But the competition has just been phenomenal for years.  When Fort Recovery and Marion Local square off in the sectional finals – when #5 has to play #7 because that's the proximity of all the schools – there's nothing wrong with the volleyball.  New Bemen has had unbelievable teams for years.  But as good as those teams were there were days when they ended up playing someone just a bit better on that day.  As good as you are, you have to have a lot of luck to win a state title.  It finally all came together today for New Bremen."

Thousands of pictures were taken.  And for years going forward people will tell the story of being there at the Nutter Center on the day that New Bremen, Paige Jones, Julia Goettemoeller, Rachel Kremer, Abbie Thieman, Taylor Paul, Macy Puthoff, Blake Snider, Madison Pape, and Claire Pape (those listed in the official box score) brought history to its knees.
OSHAA Director of Communications Tim Stried was careful to craft the words just right.
"The first school title in history,"  he said as he presented the championship trophy.
"The 122nd title in the history of the MAC Conference," he added, emphasizing the schools new-found membership in the MAC brotherhood of champions.
"And I didn't know this before today, but this marks the first volleyball title in the history of Auglaize County.  You should be very proud."
The three thousand who came rose in thunderous unison to cheer the moment.  There were no dry eyes – only dry throats.  And those were sure to be slaked upon arrival back home…after the Versailles-Coldwater title match in Division IV.
"The town is going to burn down tonight,"  smiled Paige Jones when asked about the party to come.
And let it burn.  It's been a long, long time!