Less than 24 hours after Paige Jones' tourney record, those that hadn't seen her play previous are still shaking their heads.
Wright State University – New Bremen's Paige Jones made more than an impression on the OHSAA volleyball record books Thursday afternoon.
And her 47 kills against Buckeye Central eclipsed the old tournament mark of 29…by 18.  She didn't just beat the record, she DESTROYED it, a fellow media person from Westerville, Ohio observed.
"She was just a joy to watch, notwithstanding the record,"  he offered.  "I lost track of what I was doing officially, just watching her play."
And, in fact, for the approximate crowd of 5,000 that came to the Nutter Center to watch the Division IV semi-finals Thursday, more than one admitted that they came, in part, just to see what Paige Jones, University of Michigan recruit, was all about.
"Yeah, I had heard about her,"  said Ed, from Deleware, Ohio.  "I had heard that she was a fabulous athlete and that she had chosen Michigan over Ohio State.  I don't know if that's true, but I can see now that she probably had her choice of any school she wanted."
"What amazed me was her endurance,"  said another observer from Columbus.  "I mean, when you swing 109 times that's a pretty phenomenal number.  And they never subbed for her.  She was on the court every minute for all four sets."
"We knew about her,"  said Buckeye Central Coach Jaclyn Reinhart.  "And we hadn't seen anyone in our regular season schedule like her – just some players in the tournament that played with that kind of relentlessness.  There no question…she's just a great player."
New Bremen's Diana Kramer was by no means surprised by Jones' big performance in the biggest game of the season…the biggest of her life.
"She just makes everyone better on our team,"  Kramer has insisted throughout the year and the Cardinals' tournament run to this point.  "Paige can do anything you ask of her.  If teams want to serve to her she's a great passer.  And she's equally effective from hitting in the front or the back row.  Teams know that we're going to set her a lot, but it doesn't make any difference.  Paige Jones is Paige Jones.  I think she's the best player in the state."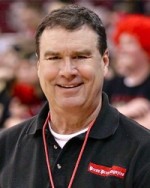 "The amazing thing is that 47 isn't even her personal record (53), I heard,"  said yet another writer.  "I heard that she had 47 kills against Coldwater earlier in the year (the only match that Coldwater lost).  It should make for a very interesting final against St. Thomas Aquinas."
Rest assured.  They were there, too, on Thursday.  They had heard.  And they saw…the real Paige Jones.
And they were still talking about it…the morning after the day before.