One of the youngest to contribute this past weekend for the top-ranked New Bremen Cardinals, Macy Puthoff hopes to reprise her regional championship role in the weekend's state finals.
There's no question about it – that during the early struggles of the New Bremen Cardinals in the first set of last Saturday's regional final match with Fort Loramie, Coach Diana Kramer was looking for some leadership.
As a large partisan New Bremen crowd looked on…the Cardinals could not have played worse, dropping the first game of the match, 25-19. They served poorly. They hit shots uncharacteristically out of bounds, and they walked around like a bundle of nerves. The #1-ranked Cardinals were ripe for the picking. The moment, for a time, appeared too big!
You would think on a team with the state's top player, Paige Jones, that they would turn to her for calm. But Jones, herself, was having some issues.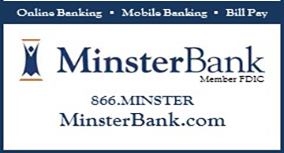 You would think, then, that the Cardinals' other significant senior, Julia Goettemoeller, would be the person to bring order to the confusion.
But in fact it was the last person you might have expected…a sophomore that ultimately stepped in during the mid-point of the second set and played with a calm well beyond her years – with much more maturity than you would expect.  Macy Puthoff turned out to be exactly what the Cardinals needed; and when they needed it most.
Her statistics were nothing special. She had four kills, and five serving aces. But most important, she played mistake-free for the balance of the match. No, it was her on-court personality, her manner and ability to perform under pressure that impressed those who appreciated not only what she did, but when she did it.
"Macy played great," said Diana Kramer afterwards. "She took the pressure off. Look, I'm nervous before every game. And I told the girls before the game Saturday that they should be nervous. But the nerves really caught up with us, and we were making mistakes that we haven't made all season.
"Macy was a spark. It just takes one girl to step up, one girl to make an athletic play. She did that and we began to turn plays into points. She was a difference maker in a total team effort."
After dropping the first set, what Puthoff did for her team enabled it to catch fire. They took the next three games, the match, and the regional championship. And when reminded of that after the match, the Cardinals' energetic sophomore was quick to credit anyone but herself.
"We were nervous," admitted Puthoff. "We're a younger team. But once we got past that we were able to play our game. Everyone just needs to get some confidence; and once everyone is up there's no stopping us.
"This wasn't just for our team. This was for our whole town. They've been waiting for this for so long. It's just special that this team is the one that's been able to do that."

She might be 15, 16 years old, tops. But in the aftermath of the most important match of her life and her school's history, Macy was able to talk strategy with the best of more experienced players.
"Volleyball is a game of momentum, and we were able to get the momentum back for us with our serving in the second game. And once you get the momentum and a big lead it's really hard for someone to come back. Once we got that we were able to go on, and stay on, a roll."
Paige Jones and Julia Goettemoeller graduate next year, leaving huge voids for Diana Kramer to consider in her lineup. But come August, regardless of how the coming weekend plays out, she'll look back upon last weekend's regional finals with clarity and confidence for a source of leadership on what will still be a very young Cardinal team.
"Macy had five serving aces, four kills, and zero errors," concluded Kramer, speaking of her sophomore of the day. "You know we hadn't lost a first set all season. So the fact that we could lose the first set in a regional final and find a way to stay composed and not get rattled…to continue to play through the nerves, that's just a remarkable accomplishment."
And somewhere in all of that Macy Puthoff displayed the rarest of all qualities, the courage of youth.
She was…as big as the moment required.