Sidney had a blast – seven of them, actually – as the town has embraced the football program. It was standing-room only with 4,000 fans packing the home-side grandstand of Memorial Stadium.
Sidney – A small cannon located near the end zone of 30-0 Field goes off after every Sidney Yellow Jackets touchdown. It might have been running low on ammunition Friday night.
Sidney had a blast – seven of them, actually – in a 46-33 win over the Belmont Bison in the Division II, Region 8 quarter-finals at Memorial Stadium. Much like the Yellow Jackets' nine wins during the regular season, this one was loaded with big plays.
Perhaps the two biggest came within seconds of each other midway through the fourth quarter. In game where it felt like the team holding the last possession would win, Sidney (10-1) was trying to hold onto a 33-26 lead facing the Bisons' versatile wing-T offense run out of the shotgun.
Belmont, seeded No. 5 in the D-II, Region 8 playoffs, had first down on Sidney's 20-yard line when junior defensive end Braydon Dean stripped Belmont's quarterback of the ball. Senior teammate Tony Straman fell on the fumble at Sidney's 32-yard line.
One play later, senior running back Isaiah Bowser took a draw up the middle, turned left and raced past the Belmont defense for the 68-yard touchdown. Fourth-seeded Sidney led 40-26 with 8:22 left in the fourth quarter.
"I had to break one tackle, I got a stiff arm and I saw the open field," Bowser said. "I couldn't get caught."
Belmont's quarterback wasn't so lucky.
"I was just in the moment. I got to him," Dean said. "I just stuck to my keys and did what my coach told me."
The touchdown was the final shot for Bowser, who on his first carry of the game set the tone by delivering a shoulder blow to a Bison defender before Bowser was run out of bounds. He finished off that series with a 30-yard touchdown run for the Yellow Jackets' first touchdown.
Bowser – who broke numerous tackles in the backfield on several carries – finished with 228 yards and four touchdowns on 32 carries.
On another of his touchdown runs, this one an 8-yarder to put Sidney up 14-12, senior fullback Devan Rogers delivered a key block to spring Bowser.
"Our defense definitely stepped up," said junior quarterback Andre Gordon, who completed 6-of-15 passes for 114 yards and two touchdowns. "It's the playoffs so it's time to play. Everyone came to play."
Belmont (9-1) entered the game with a defense allowing a meager nine points this season on a touchdown and a field goal. The Yellow Jackets surpassed that total in one quarter. And they weren't done there.
Gordon scored on a 1-yard touchdown run to tie the game 20-20 with 8:07 left in the second quarter. His first touchdown pass to junior receiver Caleb Harris came with an assist. Gordon rifled a throw over the middle. Senior receiver Kelton Stockton leaped to get his hands on the ball at the 10-yard line but couldn't grab it. The ball bounced off Stockton's hands right to Harris at the 5-yard line and he took it in for the 26-20 lead with 1:01 before the half.
There were five lead changes in the first half and seven overall.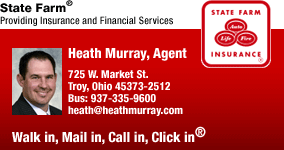 Belmont's Dawson Martin tied the game 26-26 with a three-yard touchdown run late in the third quarter, but Sidney responded. They scored 14 straight points for the 40-26 fourth-quarter lead. Belmont scored with 4:55 left in the game to pull within 40-33, but Gordon helped put the game away with a 15-yard touchdown to Harris with 32 seconds left.
On fourth down, Gordon scrambled and – with the Bison defense coming up to contain Gordon – flipped a pass to Harris in the end zone.
"We just practiced as hard as we could and it transferred to the field on Friday," Dean said.
They'll need another week of that. Sidney advances to play Cincinnati LaSalle in the Region 8 semifinals. Top-seeded LaSalle, the three-time defending state champions, beat No. 8 Harrison 45-10 on Friday. Sidney and LaSalle play 7:30 p.m. next Friday at a site to be announced by the Ohio High School Athletic Association on Sunday.
"We have to go out and compete. That's what football's about," Gordon said. "We don't care about their name. We don't care about how many state championships they have. We have athletes and we're going to what we can do."
Sidney finished with 427 yards of total offense on Friday, including 313 yards rushing. Belmont had 260 yards. The 33 points marked the third time in 10 games the Bison had failed to score 42 points or more.
Sidney senior defensive end Tyler Shiflett recovered a fumble and junior defensive back Josiah Hudgins intercepted a pass to halt a pair of Bison drives.
"We told our kids there are going to be ups and downs tonight," Sidney coach Adam Doenges said of Belmont's unusual offense. "They're a good team and they're going to make us look really silly on offense, on defense and on special teams. We told them we have to keep weathering the storm and come through in the end. … We knew going in this is definitely the one time this year when the other team is going to be way faster than us. I'm just proud of the kids to keep battling."
This is Sidney's second playoff appearance in school history and first since 1989, when the Yellow Jackets went 2-1 and reached the state semifinals.
The town has embraced the football program and it showed Friday. It was standing-room only with about 4,000 fans packing the home-side grandstand.
"Oh my gosh. This is crazy," Bowser said. "We haven't made the playoffs in 20 years and to win a playoff game? It's a little crazy here."
Some might even say it's been a blast.