Minster scored early, often, and simply outplayed rival Fort Loramie, making the Redskins an early scratch from the Division VII playoff race.
Minster – In horse racing they'd have called it a "scratch" – an entry that never made it to the post.
In golf, they call such a mis-start a mulligan – a do-over.
But in football, there's no such thing as either.  It is, as the popular saying goes, what it is.  And when it's playoff time, you'd better show up to play, and be ready to play…because there are no mulligans.  No do-overs.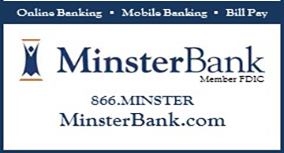 Such was the case for the Fort Loramie Redskins Friday in their opening round Division VII playoff date with Minster.  Whit Parks, no doubt, would have liked a do-over – a mulligan – as his Redskins made it to the post…but the race was over by the time they got to the backstretch.
Minster (7-4) scored 13 points in the first quarter – 27 in the second – to cruise to a 40-0 halftime lead, then suffered through a lackluster performance by their JVs in the second half on the way to an eventual 40-24 win.
"It was a surprise," said Minster coach Geron Stokes on their whopping start.  "But we had a great week of practice.  There's a hunger in our locker room because of our seniors, and every day – Monday, Tuesday, Wednesday, and Thursday – their mission was to come out and protect the house.  They were on fire tonight."
On fire to the tune of 358 yards, offensively, in the first half alone, and on  just 26 plays!  South of the border they'd call it…FUEGO?
It was too cool Friday night for a psunami.  This was an avalanche.
At 5:21 of the first quarter Isaac Schmiesing scored on Minster's first possession on a two yard run to make it 6-0.
At 1:57 of the first Jared Huelsman scored from a yard out to make it 13-0.
At 9:56 of the second quarter Schmiesing cracked the line of scrimmage and raced untouched 73 yards for his second score…20-0.
At 6:53 of the quarter Huelsman scored his second touchdown on a five yard run…26-0.
At 4:17, barely two minutes later, Huelsman hooked up with Cody Frericks on a 25 yard pass.  That made it 33-0, and officially a rout.
And at 00:49, Frericks caught an 11-yard strike from Huelsman for his second score…40-0.  And bring out the bands.
"We were prepared for a dog fight,"  said Huelsman later.  "But when it turned out like this, I guess we were prepared for that, too.  It didn't change how we played, or how we did anything."
It couldn't have been a worse start for Loramie, who tried to run the ball on their first three series of downs against a Minster defense that must have looked like a team photo of the Los Angeles Rams.
Worse, the Redskins were tentative on a wet, slick field, trying to feel their way along the line of scrimmage.
In contrast, Minster – Huelsman, Schmiesing, and company – slammed at the Loramie defensive front, Huelsman breaking a 50-yard run on their first series to set up the game's first score.  And on their second series, they sucked the Loramie defense in with play action and hit over the top with a perfect strike from Huelsman to wide receiver Austin Brown to set up the second score.
"We just came out fighting,"  added Huelsman.  "We came in with a great offensive game plan, got a little play action on that play with Austin…we got 'em to bite…and he was so wide open I was afraid I'd miss him.  That was my first thought…don't miss him.  But seeing him catch it was just fun."
But it wasn't fun for Loramie, who came in as the fifth seed in Region 28 with an 8-2 record.  By all accounts, with a great group of athletes and a strong running game, the Redskins were thought to be a threat to do some real damage – certainly to challenge the likes of Minster, Lehman, St. John, and Convoy Crestview, all higher seeds in the region.
To their credit, they didn't quit in the second half against a running clock, while Minster adjusted by removing Huelsman, Schmiesing and many of their starters and replacing them with JV personnel.
Loramie took advantage, scoring 24 unanswered points on a Nick Brandewie 5-yard run, a safety, and a pair of long touchdown runs by Max Hoying, of 44 and 55 yards, respectively.  They got the game into a respectable margin, and brought the clock back to conventional timing, but it was too little and too late, owing to their horrible first half start.
Parks had little to say afterwards, just "that they're a good team."  And really, there wasn't much else to say.
For Stokes part, he had plenty to say – playfully, and otherwise.
As to things to work on in the coming week for their second round game against Crestview, he cracked, "Well certainly, we need a better defensive effort from the JVs next week."
But realistically, "So what?  Now what?"  he said.  "We're moving on.  No one cares now that we beat Loramie.  We have to prepare for the next opponent."
And would that be easier, given the confidence gained by the way they executed the 'game plan' against a quality Loramie team?
"Starts with our quarterback,"  said Stokes.  "He prepares like really good players are supposed to prepare.  Tonight was unbelievable effort and unbelievable focus by our entire eleven on both sides of the ball.
"The big plays we had in the first half were fun, because they were exactly the way we had practiced them.  The kids were locked in all week and it was clearly evident tonight that they had done that (those plays) before.  Tonight was great, great focus by our seniors to lead us.  Incredible effort by our guys."
Some numbers:
After that wild first half, Minster finished with 374 total yards – 219 rushing and 155 passing.  Isaac Schmiesing led them in run yards with 110 on seven carries, while Huelsman contributed 93 more on eight carries.  Alex Schmitmeyer added 26 in relief.  Through the air, Huelsman connected on 8 of 11 attempts for 155 yards.

For Loramie, Max Hoying, on the strength of his two long second half touchdown runs, had 107 yards on just four carries, while Nick Brandewie tallied 78 yards in six tries.  Mike Hoying had another 41.  Passing-wise, Austin Siegel connected on 6 of 13 for 73 yards and had a pair of interceptions.  In total, the Redskins wrapped up their season with 310 total yards on 48 plays.
Next up…a date next Friday with Convoy Crestview, a blowout winner over Ansonia (63-22), and another statement to be made by Minster aginst the overall quality of Division VII football in the region.
"It was good to see what we saw tonight, because we're going to need it.  We'll face another, better team next week,"  said Stokes.  "We need our guys to be guys – our playmakers to be playmakers this time of year.  It's critical now, and we tell 'em…when it gets cold out it's time for 'dudes' to be 'dudes'.  And it's cold out now.
No scratches, no mulligans.  Just 'dudes', being 'dudes'!