Miami East came up inches short on a fourth down attempt of a potential game-winning drive with 1:23 left in the game and fell to Cincinnati Reading 27-25 in the opening round of the state playoffs.
By Ben Robinson for Press Pros
CASSTOWN – Miami East coach Max Current has been a part of the game of football for virtually his entire life. He's witnessed the highest of highs and the lowest of lows as a former player at the high school and collegiate levels and now a head coach.
With his experience, Mac Current has a complete understanding of how the game of football is the epitome of life.
Which is why Mac Current is the perfect coach for a Miami East team who came up inches short in a heartbreaking 27-25 loss to Cincinnati Reading in the opening round of the Division V State Playoffs on Friday.
"Like the old cliche says, it's a game of inches," said Current after his team failed to convert a fourth down attempt from inside the Reading twenty with 1:00 left on the clock on a potential game-winning drive. "Like I told the kids, you can play your rear end off and one or two plays here or there can be the difference in winning and losing. That's life."
Miami East took over at its own 36 trailing 27-25 with 5:16 left in the game and methodically moved the ball down the field behind the running of Justin Brown and Vincent Villella, who combined for 228 of Miami East's 283 rushing yards as Villella had 165 yards and Brown 63 yards.
The lone pass on the drive was a first down hookup from Ian Gengler to Blaine Brockschmidt to keep the Blue Devil defense honest.
With 2:52 left in the game the Vikings converted a fourth-and-three at the Reading 36 and appeared to be primed for at worst a game-winning field goal attempt as they moved the ball to the 27.
But on a fourth-and-five, Justin Brown took the pitch and appeared to lunge past the sticks before being driven back by the swarming Reading defense.
"I thought he (Brown) had it by a foot or two," Current explained. "I had a pretty good look as it was on our sideline and I thought he had the ball across before being driven back."
When the ball was spotted the chain gang was called from across the field to measure and the end result was at most four inches short of the needed mark for a first down.
"We were looking at worst a field goal," Current explained. "We executed that drive perfectly – moving the chains and taking time off the clock. Our plan was to score either a touchdown or a field goal and leave them as little time as possible. We just came up a little short."
The reason Current didn't want to leave Cincinnati Reading time on the clock is because his team had a hard time stopping wideout Mancini Jackson.
Jackson had torched the Vikings for three scores of 65, 57 and seven yards.
"He's a stud," praised Current of Jackson. "You can't simulate that speed in practice and he caught us with the big catch and run on the first possession of the game. But I felt our kids started to get a handle on his speed as the game wore on."
Still, Jackson torched the Vikings once again in the third quarter as he took a short pass in the flat and weaved his way 57 yards for his second touchdown of the game. He then caught a seven-yard touchdown moments later on a miraculous catch off the back of a Viking defender.
"I thought we had him bottled up, but he's tough to bring down if you don't wrap up," said Current of the 57-yard score by Jackson. "The last one, he just made an unbelievable play."
Still, Miami East, who outgunned Reading 353 to 331, showed the heart and desire of a typical Max Current coached football team as it responded every time Cincinnati Reading converted a big play.
Trailing 7-0 early, Miami East used 6:00 to cut the deficit to 7-6 on a five-yard run by Kaleb Nickles and then scored on a 19-yard run by Vincent Villella to make the score 14-12 after Reading scored on a short 8-yard pass.
After Villella's touchdown run, Miami East used a little trickery with an onside kick and recovered to set up a seven-yard run by Villella to give the Vikings an 18-14 lead at the break.
"That was a big momentum swing for us," said Current of the onside kick and eventual touchdown before the break.
But Miami East went into the half knowing it left points off the board thanks to a missed extra point and back-to-back failed two-point conversions.
"We missed on some opportunities, that's for sure," Current said.
Miami East received the ball to start the second half, but was intercepted at the Reading three to end a potential scoring threat.
A few plays later Jackson scored on a 57-yard pitch and catch to give Reading a 21-18 lead and then on a seven-yard touchdown catch to push the visitor's advantage to 27-18 as the point-after attempt was blocked by the Vikings.
"A lot of times, especially in a win-or-go-home situation like this, a team would tuck their tail when down by two scores like that," said Current. "But our kids never wavered in confidence. They kept plugging' away."
And it took a big play by the Viking defense to light a spark as it forced and recovered a Reading fumble eight yards from the end zone.
Two plays later Villella powered his way in from five yards out to cut the deficit to 27-25 on the final play of the third quarter.
"This is the hardest playing team I've ever coached," praised Current of his kids. "They play their rear ends off four four quarters or however long it takes."
And it showed in the fourth quarter as the Vikings did everything humanly possible to keep Mancini Jackson from breaking loose once again – even when Jackson lined up at quarterback in the wildcat.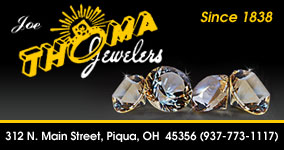 This kept Reading off the board and gave the Vikings one final chance to put the final touches on what the Blue Crew hoped would be a memorable comeback win.
But it was all for naught as the Vikings came up inches short on a spot of the football.
"I'm so proud of our guys for the effort they gave tonight and all season long," Current said. "We came up short, but it wasn't for a lack of effort by the kids."
Miami East ends its season at 9-2, but the future is as bright as ever for Current and his group of gritty football players.
"We only have four seniors, so we have a lot of kids coming back next year," he said with his eye on the future. "This kids will take this feeling they have tonight and use it as fuel for next year – work even harder and come back next year that much stronger. Hopefully it leads to a nice tournament run."
And a game of inches that goes the Vikings way.